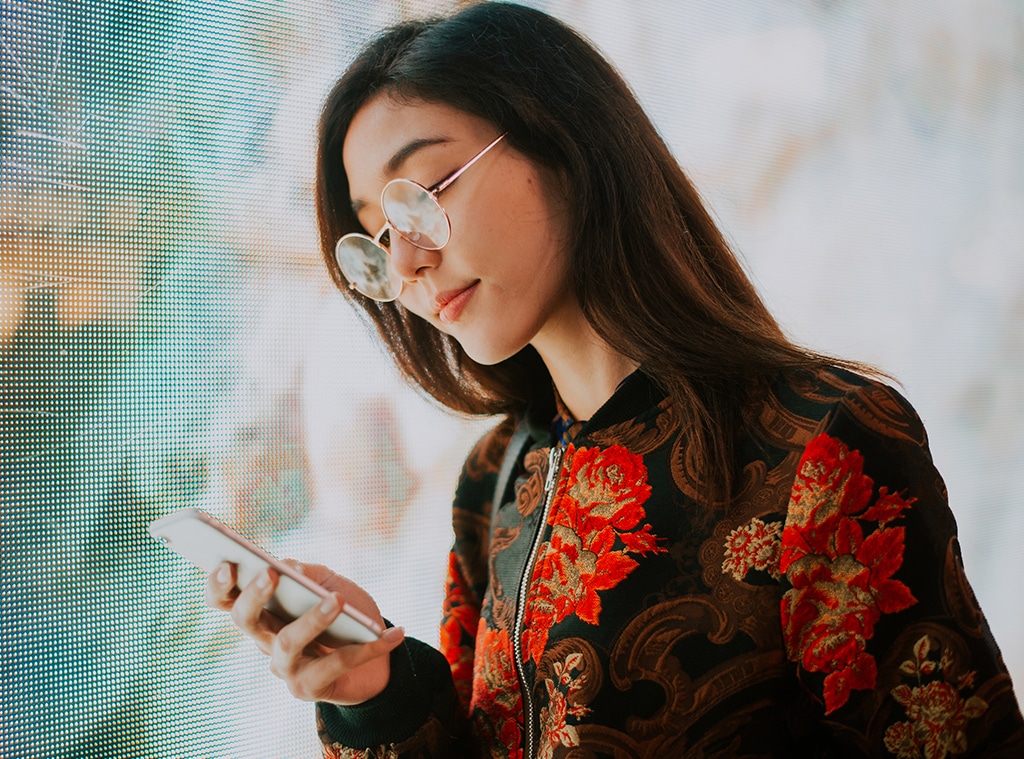 Getty Images
We love these products, and we hope you do too and at these prices. E! has affiliate relationships, so we may get a small share of the revenue from your purchases. Items are sold by the retailer, not E!. Prices are accurate as of publish time.
We hate to break it to you but Mercury retrograde is back. Sorry! Fortunately, astrologer Lisa Stardust, bestselling author of the Saturn Return Survival Guide and The Astrology Deck revealed what we can expect during this winter's Mercury retrograde and what can be done to survive it. 
In case you didn't know, Mercury goes retrograde about three to four times a year. It's a time where Mercury slows down, so Earth appears to be moving much faster. Since Mercury is associated with communication, travel and information, you may experience delays, misunderstandings and issues with phones, computers and pretty much anything tech-related.
We all dread this time of year, but it's really not meant to be some kind of punishment from the universe. "Contrary to popular folklore, Mercury retrograde is not necessarily a bad time," Lisa told E! News. "It's an opportunity to update your views, beliefs, and resumes. To Rethink. Revise. Reflect. These are things we should all be doing."
The winter 2022 Mercury retrograde begins today and lasts until Feb. 3. This "planetary moonwalk" starts off in intellectual Aquarius and glides back into earthy Capricorn on Jan. 25. Venus, the planet of love, beauty and money, is also currently retrograde until Jan. 29. So prepare yourselves for some pretty intense energy in the upcoming weeks. 
"This retrograde is asking us to take a step back and to evaluate friendships, goals and the way we connect with others," Lisa shared. "It's also pushing us to assess our financial and professional visions, and to align it with who we are now which may be different from who we started out as. Times are changing, as are we."
Wondering how Mercury retrograde will affect your zodiac sign? Lisa shared what to expect and what you can do to survive it.
Aries (March 21 - April 19)
Over the next few weeks, Aries will be thinking about former goals and beliefs they've put on the back burner. While starting something new during a Mercury retrograde period isn't always ideal, it's a great time to think about where you are, what you've learned and what needs to be done for you to get to where you want to be. Come up with a brand new plan that will set you on the right path to make your lifelong dreams a reality.
GoGirl Agenda Planner
These colorful weekly and monthly planners from GoGirl are perfect for the zodiac's ultimate go-getters. They feature spaces for you to write down your vision, goals, strategies and daily rituals. They're also compact enough so you can take it with you wherever you go. 
Taurus (April 20 - May 20)
Alright, bulls. Prepare yourselves for old work opportunities and endeavors to come back out of the blue. You may hear from an old boss looking to bring you on board, or that company that pretty much ghosted you a few months back may give you a call to schedule a final interview. So get your resume in good shape, keep your go-to interview outfit handy and be sure to take every call that comes your way. Also, don't forget check your spam folder just in case an important email lands there. It's going to be an interesting couple of weeks. 
Kate Spade Cara Large Tote
Kate Spade's Cara large tote in the bold candied cherry red is just the thing Taurus needs to walk into an interview feeling extra confident. It's gorgeous, luxe and practical. You can fit your laptop, portfolio and anything else you might need that day.
Gemini (May 21 - June 20)
Mercury retrogrades tend to affect Geminis more than other signs since it is your ruling planet. This winter, you may find yourself revisiting an interest or hobby you've had in the past, which may spark your need to explore and learn more through online classes. Just be aware, you may have to deal with people who aren't on your same wavelength. Usually, you're a master at adapting to new people and situations. However, it is Mercury retrograde. Remain calm and be open to other opinions and beliefs, even if you strongly disagree. Having an open heart and mind will allow you to evolve and grow during this time. 
The Astrology Deck: Your Guide to the Meanings and Myths of the Cosmos by Lisa Stardust
This retrograde period, Gemini may have to deal with people they just don't get. Luckily, Lisa created an astrology deck that can help you understand why some people are the way they are. The Astrology Deck: Your Guide to the Meanings and Myths of the Cosmos comes with 70 cards filled with info on zodiac signs, planets, asteroids, eclipses, and more. You can also learn how certain astrological events, like Mercury retrogrades, can affect aspects of your life from love to friendships to career.
Cancer (June 21 - July 22)
Sweet, sensitive and nurturing Cancers have a tendency to take on other people's burdens as if they were their own. Since Mercury retrograde will be throwing many of our lives into total chaos, you may take it upon yourself to work extra hard at making sure everyone is going okay. Just be sure to take a step back every now and then. Respecting boundaries in your friendships will help you maintain, strengthen, and evolve your relationships to their fullest potential at this time. It's also important for you to be clear about your boundaries as well.
The Set Boundaries Workbook: Practical Exercises for Understanding Your Needs and Setting Healthy Limits
Truth be told, there's nothing wrong with being a nurturer. As a Cancer, taking care of your loved ones brings you total joy and fulfillment. But sometimes, you do have a hard time saying no. This workbook is a step-by-step guide to setting, communicating and enforcing healthy boundaries with others. According to reviewers, it's presented in a way that's very easy to understand and it gives you space to reflect and jot down your feelings. It's a workbook that can be helpful during Mercury retrograde and beyond.
Leo (July 23 - August 22)
Leos were blessed by the cosmos to be the fabulous kings and queens of the zodiac. So, why are you allowing old baggage to drag you down? This Mercury retrograde, it's finally time to give your phone the cleansing it needs. Delete any contacts that give you nothing but negative vibes and let go of any old hurts and resentments. If you come across a name you have unfinished drama with, resist the urge to reach out. Instead, write what you want to say to them on a piece of paper. It'll feel good to just put your emotions out there. You should also use this time to connect with friends, especially ones who live far away.
Friendship Lamp
These fascinating friendship lamps will keep you and your long-distance friends connected in a really unique way. Every time you tap your lamp, your friend's lamp will light up as well. It's a fun way to let someone know you're thinking of them, and you can connect as many lamps as you want. These would make perfect Galentine's Day gifts this year!
Virgo (August 23 - September 22)
Like Gemini, Mercury rules over the sign of Virgo. Naturally, this means you'll be one of the zodiac signs affected most. This time around, your colleagues may create extra stress for you to the point that you may have to take on extra work in order to meet deadlines. You're a very generous and giving sign who loves to be of service to others. But over the next few weeks, be sure to check in with yourself. If you already have a lot on your plate, it's okay to say no. This also applies to your friendships and love life. 
Weekly Planner Cork Board
There's nothing Virgos love more than staying organized. This cute weekly planner cork board will make the perfect addition to your desk. You can use this to pin all the important events you have coming up for the week. Be sure to add some time in there for self-care as well!
Libra (September 23 - October 22)
Mercury retrogrades have a way of making exes pop up out of nowhere, and lucky Libra is the zodiac sign most likely to reconnect with a former flame this winter. Since your ruling sign Venus is also currently in retrograde, you may be thinking about exes a lot these days. Despite what some believe, it's not a bad thing to reach out during this time. It's actually a great opportunity to catch up and maybe even reflect on your past relationship together. You may find that breaking up was truly for the best and you can finally get the closure you need to move on. Plus, there's nothing wrong with a little friendly catch up. So if anyone from the past comes back in the upcoming weeks, don't be afraid to respond and take it from there. 
My Mercury Retrograde Journal
If interacting with a former love brings up some uncomfortable feelings, this breakup care package from Easy could help cheer you up. There are three sizes of boxes to choose from. The small zen box comes with a candle, a customized matchbox, body butter, vegan lip balm, an amethyst crystal necklace and more.
Scorpio (October 23 - November 21)
Scorpios are known for being intense, mysterious and closed off. You can't always help it, you just have a hard time trusting people. But this Mercury retrograde, you may find yourself opening up a little more. Instead of looking at others through a critical lens, you'll be much more open to seeing what they're all about without passing any judgment beforehand. Learning how to lead more with love and kindness will do wonders for your relationships. Truthfully, it shouldn't be too hard for you since you care deeply about the people you love.
I Am & Co I Am Everything Affirmation Card Deck
Scorpios can be pretty pessimistic, but you may experience a shift in mindset this Mercury retrograde. This I Am Everything affirmation card deck comes with 30 powerful cards that can help you shut down the negativity and welcome the positivity. It's a great one to incorporate into your morning routine. 
Sagittarius (November 22 - December 21)
Although Sagittarius is one of the more fun and playful signs in the zodiac, you can get serious and put in the work. As a fire sign, you'll do whatever it takes to make your dreams a reality. If you've been feeling overworked lately, Mercury going retrograde is the perfect time to slow it down a bit. Don't feel the need to take on extra work right now. Instead, focus on you. Rest and relaxation is essential if you want to survive Mercury retrograde this winter, so make sure you take time to decompress.
ColourPop Bath Sesh Set
Take some time to unwind with these mega-sized bath bombs from ColourPop. The Bath Sesh set comes with three scents: Vanilla Dream, Sparkling Mimosa and Presecco Punch Scent. They'll make you feel like you're on vacation.
Capricorn (December 22 - January 19)
Money will be on Capricorn's mind this Mercury retrograde. Then again, when isn't it? After all, stability and security are very important for you. That's why you work so hard each and everyday. Taking stock of finances and making a budget will help you stay on track over the next several weeks. Be sure to put a few dollars away in your piggy bank and save it for a rainy day. According to Lisa, it may be coming sooner than you think. It never hurts to be prepared!
Mean Girls Inspired Budget Binder
This fun Mean Girls-inspired budget binder comes in two sizes and includes six zipper envelopes that you can use to put cash in. It's great for saving and staying on budget. There's an envelope for rent, vacation, bills, self-care and more. When you place your order, you can even customize them to fit your budgeting needs. You can even choose which color you want your binder to be. So fetch!
Aquarius (January 20 - February 18)
This winter's Mercury retrograde can bring up some uncomfortable memories or feelings for you, Aquarius. It's a time for you to take a step back, do some self-reflection and work on healing any past hurt you may still be carrying around. You don't have to do it alone either. Opening up to friends and family is highly recommended at this time. It won't be easy, but releasing your inner resentments and pain will lift the weight that's been on your heart and shoulders for the past few years.  
House of Intuition Healing Magic Candle
If you need spiritual guidance during this time, you may want to consider getting the Healing Magic Candle from House of Intuition. It's lightly scented and dressed with crystals that can help with the healing process.
Pisces (February 19 - March 20)
Prepare yourself dear Pisces, this Mercury retrograde is going to be a tough one. You may have to deal with nasty gossip, misunderstandings and a lot of drama in the next few weeks. You may find yourself in situations where your relationships are being tested. Although you like to see the good in others, making note of the real motives of people in your social sphere will allow you to see who your ride or dies really are.
Mystic Mondays Tarot Card Deck
For a highly intuitive sign like yourself, tarot can be helpful in figuring out what may be going on with the people around you. The Mystic Mondays tarot deck features gorgeous colorful art, and the cards are thick and sturdy, yet easy to shuffle. It's a really great deck and the book it comes with is super helpful as well.