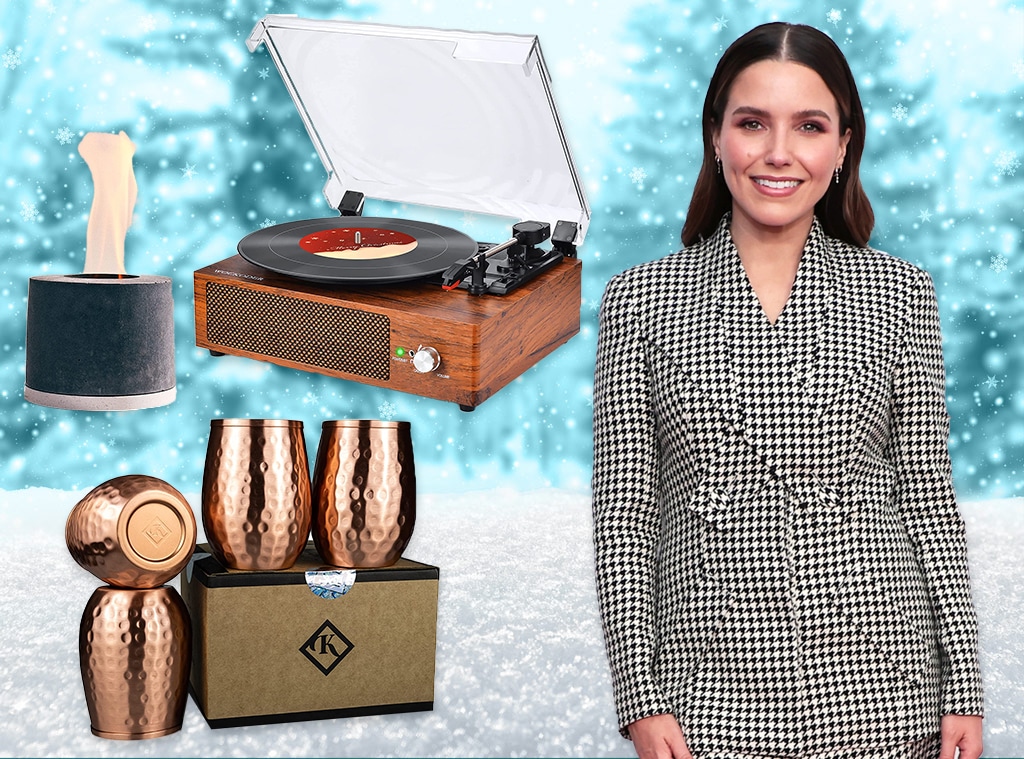 Dimitrios Kambouris/Getty Images for Tribeca Festival
We interviewed Sophia Bush because we think you'll like her picks. Sophia has partnered with Amazon Launchpad. E! has affiliate relationships, so we may get a commission if you purchase something through our links. Items are sold by the retailer, not E!.
Actress, activist (and small business owner herself!), Sophia Bush has teamed up with Amazon Launchpad to highlight some of her favorite small businesses this holiday season. She's encouraging us to shop local, but from anywhere, thanks to the convenience of shopping on Amazon and their fast Prime shipping! She shared her holiday gift picks with E! News, and they're all from incredible small business and startups, available on Amazon Launchpad.
Sophia said, "I love that Amazon Launchpad makes it easy to shop products from small brands, all in one place. Some of my longtime favorites, that are on my holiday list, used to be so hard to find! I'm so happy that on Launchpad, they're getting more exposure to consumers, who I'm sure will become huge fans as well. Plus, all the brands and products on Amazon Launchpad are super accessible."
If you want a guarantee that there's air conditioning everywhere you go, then check out the portable air conditioner/humidifier/night light that Sophia selected. If you're on the opposite end of the spectrum, seeking out some warmth, Sophia found a portable fireplace (which is also safe to make s'mores on). If you want to step up your hosting game, check out the record player speaker that Sophia picked. Keep on scrolling to see the rest of Sophia's gift picks and to learn more about Amazon Launchpad's features.
E! What are your favorite features of Amazon Launchpad? 
SB: The categories on the landing page are easy to navigate whether you know exactly what you're shopping for or you're just browsing for inspiration. I love the "Meet the Launchers" section, where you can discover new brands by reading the bios and history of each business. It really personalizes the makers and their goods, and lets you search in ways that create more inclusivity too. There are categories within categories on the "Meet the Launchers" page like Black-owned, social good, Latinx-owned, focus on sustainability, women-owned, and family-owned. In this way, Amazon Launchpad is making shopping more seamless, and more thoughtful. 
Another helpful tool for shoppers, especially now during the holiday season when it can be difficult to find out-of-the-box gifts for your friends and family, is the variety of gift guides that live on the homepage. There are so many guides to check out, in addition to mine.
Wockoder Record Player Turntable Vinyl Record Player with Speakers
Sophia chose this record player because of "the music, of course," explaining, "This is a modern take on a vinyl player, which makes it a crowd pleaser whenever I have friends over. Not only is it great for my vinyl, but it's easy to use with my phone too. I love that combo."
It's also available in two other colors.
Evapolar evaCHILL Portable Conditioner Small Personal Evaporative Air Cooler and Humidifier Fan Mini AC
Sophia told E!, "I love using this! It's mini and portable so I can carry it around with me, from the trailers in basecamp to our various sets, and it really does get the job done."
This three-in-one device is a humidifier, night light, and air conditioner, which is also available in grey and blue.
Kosdeg Copper Cups 12 Oz set of 4
"I like having these when I'm entertaining. Whether for a backyard barbecue in the summer, or cozy cocktails by the fire over the holidays, they're perfect. And they perfectly match my décor," the actress shared.
These copper cups keep water, wine, and your other favorite beverages at an enjoyable temperature thanks to their supreme conductivity.
FLÎKR Fire- The Original Isopropyl Alcohol Personal Fireplace
"This might be one of my favorites! It's super cute and innovative and undeniably a favorite once people see it. Plus, it's small enough to be integrated into centerpieces for dinners. It's also a flame that doesn't create any carbon monoxide, which is why I feel good having it around beyond just its good looks," she shared.
This personal fireplace has a 45-minute burn time and it can be used both inside and outside. It's even safe enough to cook over, hello s'mores. 
E!: Tell me about teaming up with Amazon Launchpad to create this gift guide. 
SB: As an advocate for small businesses and financial equity, I'm really passionate about shopping small, and integrating small brands into my daily life. Teaming up with Amazon Launchpad was a no-brainer. To be able to shine a light on so many small businesses is an amazing opportunity. And it feels like a privilege to be able to do so, especially after the last year when so many small businesses were hit hardest by the pandemic. Being able to give them exposure this holiday season is a true joy. And I was actually already a fan of a lot of these products. The fact that I can find them so easily now is a thrill! There are so many creative, innovative products; I ordered a bunch of them in multiples so I could have them up at my ranch, and on the Good Sam set with me in Toronto too. From home & kitchen items, to beauty, wellness, and tech, I'm stocked up. 
E!: With such easy access to big brands, why is it important to shop small/emerging businesses? 
SB: Shopping small and emerging businesses is a community effort that helps everyone. You are helping to fuel someone's passion and, more importantly, their livelihood. That can help people's dreams come true. When we shop small, we help to establish more jobs, especially within our own communities. And for me, I find that shopping small is not only a way to support great people, but a way to give truly unique gifts too. 
MAYU Portable Container Water Bottle with Bamboo Lid Eco Friendly & BPA Free Borosilicate Glass Water Bottle
Sophia revealed, "Honestly, this is what gets me through the day when it comes to staying hydrated. Being able to see my progress keeps me going. And it's a sustainable option, as it helps you avoid single-use plastic bottles."
Salt and Pepper Grinder Set, Sustainable Wood
Sophia described this salt and pepper grinder set as a "kitchen staple with a sustainable twist," remarking, "I love having these in my kitchen! They match my cutting boards and spoons beautifully. They're so aesthetically pleasing."
Saltverk Gift Box w/Lava salt + Pure Salt
Sophia said, "Everyone who's ever shared a meal at my house knows that I love great seasoning. And for me, that always starts with good salt. This isn't your average salt set. There are two different kinds of fabulous salt, and both are sustainable. It's a win for flavors and the planet"
The Pure Flaky Sea Salt is recommended cooking while the Lava Salt is great as a finishing salt on foods including soups, salads, and steaks.
If you're looking more celebrity holiday gift picks. Oprah selected these Amazon items from brands owned by Meghan Markle, Sarah Jessica Parker, and Jessica Alba.