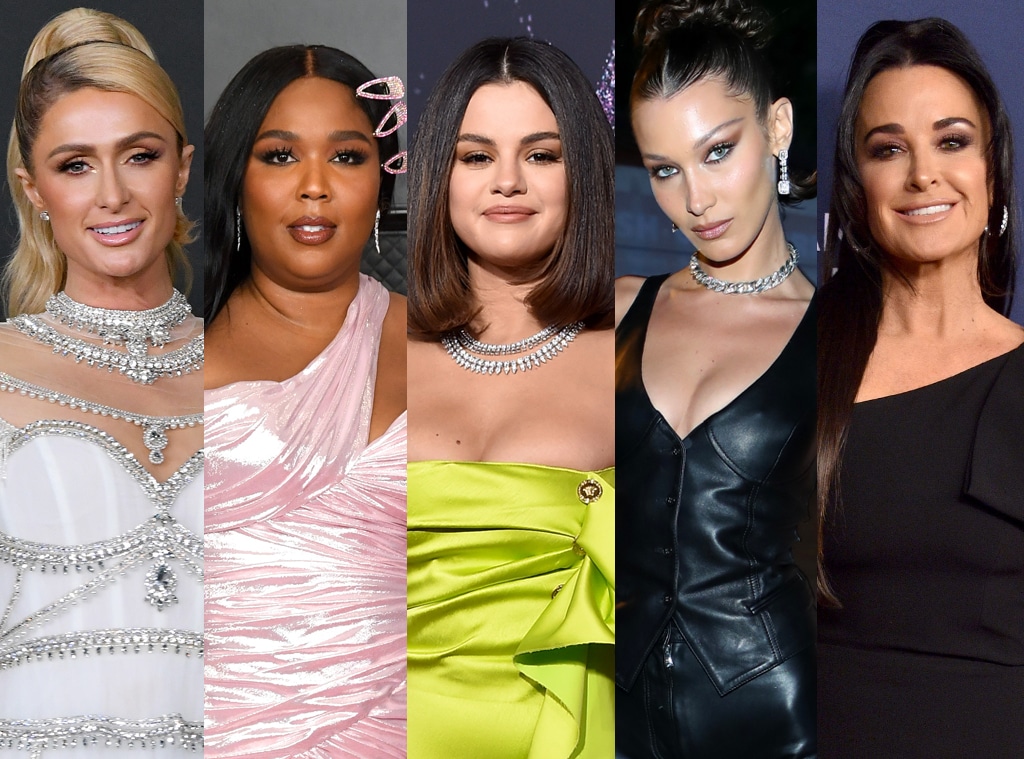 Getty Images
We independently selected these products because we love them, and we think you might like them at these prices. E! has affiliate relationships, so we may get a commission if you purchase something through our links. Items are sold by the retailer, not E!. Prices are accurate as of publish time.
If you've ever looked at red carpet photos, wondering what the glam team did to get the celebs looking so picture-perfect and radiant, it goes beyond the makeup and styling. Of course, all of that helps, but skincare preparation is so key before a big event like the People's Choice Awards. And, of course, we aren't all on the guest list for big award shows, but a lot of us want to look and feel our best for special occasions in our lives like weddings, birthdays, and holidays. If you want to get in on a celeb-trusted secret, check out FaceGym.
After going down a rabbit hole of watching video after video of the FaceGym workouts and reading all of the rave customer reviews, I tried it for myself and I have to admit that I immediately saw a difference and I'm totally hooked. Plus, I'm in good (perfectly sculpted) company since celebs including Paris Hilton, Bella Hadid, Selena Gomez, Lizzo, Kyle Richards, Diddy, Sofia Richie, Ellie Goulding, and Debra Messing, have turned to FaceGym to achieve their skincare goals.
So what's the hype all about? FaceGym is unique because it's not a "facial." Instead, it's a complete gym workout, but for your face. The technicians use powerful kneading movements, innovative tools, cutting-edge technology, and high-performance skincare products tone and tighten your face, which has 40+ muscles. That may sound complicated, but think about it, you work out to tone the muscles throughout your body. Why not do the same thing for your face? Plus, there are products you can use at home.
Currently, there are FaceGym studios in London, Manchester, New York City and Los Angeles, but you can also get that experience at home through their online workouts. You can even get the products from FaceGym and Sephora. Each comes with a QR code that you can scan to get expert insights, tips, and techniques on how to most effectively use each product. 
FaceGym Face Ball
Use this ball as the first step in your facial workout to relax your muscles, depuff skin, and improve muscle tone. Place the ball on dry skin after cleansing to boost circulation and skin brightness.
A Sephora shopper raved, "Very impressed with this ball so far! This ball is gentler than other facial tools I've used, but with the same level of effectiveness—especially in the reduction of facial tension. I frequently clench my teeth and jaw and have found that manipulating my face with the ball works very well in reducing my pain and facial tightness."
FaceGym Electro-Lite Energizing + Brightening Face Cleanser
Brighten your complexion, minimize the appearance of pores, and rebalance your skin with the FaceGym Electro-Lite Energizing + Brightening Face Cleanser. It's unique gel-to-foam formula dissolves impurities without being harsh on your skin. Your skin will feel hydrated and replenished. 
A FaceGym customer raved, "I have rosacea and aging skin, and finding a face cleanser that doesn't irritate or dry out my skin is frustratingly difficult. I tried the Electro-Lite Gel Cleanser after receiving a gift certificate from a friend, and I think I'm hooked. It cleans really well (I'm also prone to break outs) but my skin just feels soft, fresh, and clean, not dry oRead more about review stating Gentle and effectively stripped. My break outs have been nearly nonexistent since I started using this product, even though I've been wearing more makeup than usual. The cleanser has a pleasant, very subtle scent. So far, this seems like one of the best cleansers I've ever used and I'll be buying it again."
FaceGym Multi-Sculpt High-Performance Contouring Tool
This simple tool really does so much. It has six unique edges, each with a different speciality. The long edge de-puffs, contours, and aids lymphatic drainage. The grip sculpts, aids lymphatic drainage, and releases tension. The medium edge aids in lymphatic drainage in addition to sculpting the cheekbones. The teeth increase circulation, plumps fine lines, stimulates collagen, elastin production. The short edge is great to lift and de-puff the eye area, plus it reduces eyebrow tension. The tip of the tool reduces facial tension.
And if you really want to amp up the effectiveness of this tool, keep it in the fridge or the freezer. A FaceGym customer shared, "This tool has been a complete game changer for me! Totally transforms my face! I can tell its having a longer lasting effect as well. I keep mine in the fridge and its so nice in the morning for de puffing and waking up!"
FaceGym Face Coach- Lifting Q10 + Mastic Tree Enzymatically-Activated Face Oil
Face Coach is is a Lifting Q10 + Mastic Tree Enzymatically-Activated Face Oil. This oil boosts elasticity, protects from free radicals, boosts collagen production, and reduces the appearance of fine lines and wrinkles.
"I have really dry skin and this oil does wonders. I love it so much especially with the Facegym ball. I feel the difference," a FaceGym shopper reviewed. 
FaceGym Training Stick Minis Kit
If you love to multi-task, take care of your skin while you hit the gym with these training sticks. Just sweep your training sticks across your forehead, cheeks, nose, and jawline before you work out. Then, wash away after you're done. These sticks have ingredients that are activated through moisture and heat to deliver benefits to your skin while your exercise.
There are sticks to revitalize dull skin, boost elasticity, detoxify the complexion, and to hydrate, so you can pick the sticks based on your skincare needs.
FaceGym Hydro-Bound Daily Serum
This serum has hydrating hyaluronic acid + niacinamide serum to moisturize your skin. If you're looking for hydration, but you're afraid of trying another thick, goopy serum, this is the miracle you've been looking for. This serum is lightweight and absorbs very quickly, delivering bouncy, firm, glowing skin.
A FaceGym user said, "I love this serum! It's super light on the skin and you really start seeing a difference as soon as you start using it!" 
FaceGym Signature Skin Mini Kit
If you want to try the FaceGym regimen at home, but you're not ready to commit to full-size products, this mini kit is just what you need. This set has the Electro-Lite Gel Cleanser, Hydro-Bound Daily Serum, Youth Reformer Serum, and Supreme Restructure Firming Moisturizer, all in a bag that's perfect for travel.
FaceGym Sculpt + Glow To Go Kit
Life, sculpt, and brighten your skin with this kit from FaceGym. The set is a clear pouch filled with the Electro-Lite Gel Cleanser, Face Coach Face Oil, Supreme Restructure Moisturizer, and the Multi-Sculpt tool. This another great introduction to the products, and of course, it's great for anyone who travels a lot.
FaceGym Hyaluronic Acid Roller Dissolving Microneedling Tool
This microneedling tool encourages cell rejuvenation and it boosts hydration with 3,000 non-invasive dissolving microneedles. Each of those microneedles is filled with pro-grade hyaluronic acid and peptides that sink deep into the skin for deeper and stronger results. Your skin will look plump, youthful, and revitalized when you add this to your routine. 
A Sephora shopper shared, "I was surprisingly impressed with this tool. I was concerned that it would be a gimmick, but it's not. It is simple to use and effective. I definitely noticed a difference after one use. I really liked using it with the Youth Reformer serum to help it penetrate the skin. My skin felt tight and glowing after one use."
FaceGym Firming Vitamin C + Nootropic Oil-In-Serum
Reduce the signs of aging, improve moisture, boost collagen, and reduce redness with this serum. Just warm up 3-5 drops in your hand before you apply on clean, damp skin.
"I was a little hesitant due to the price, but I honestly can not live without this now. It makes my face feel hydrated and soft, but not oily. It settles into the skin so well. I love it! The scent is divine," a FaceGym review said. Another customer shared, "The best serum! Glides on smooth, penetrating skin for perfect hydration and glow. Even my husband is addicted to it."
FaceGym Supreme Restructure Firming Moisturiser
If you want supreme hydration, but you're tired of waiting around for your moisturizer to absorb, your problem has been solved. This firming moisturizer delivers intense hydration without feeling heavy or greasy on your skin. In addition to hydrating your skin, it helps the skin's repair process and reduces the appearance of fine lines and wrinkles.