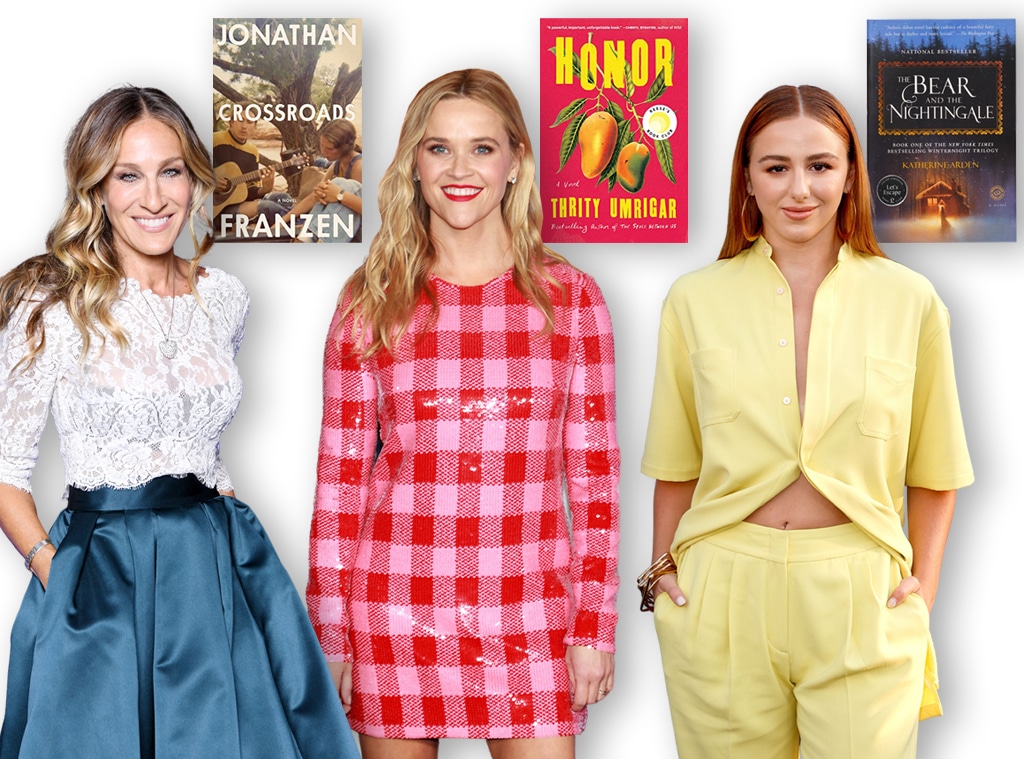 Getty Images
We independently selected these deals and products because we love them, and we think you might like them at these prices. E! has affiliate relationships, so we may get a commission if you purchase something through our links. Items are sold by the retailer, not E!. Prices are accurate as of publish time.
2022 is here, which means we are in a "new year, new books" state of mind. If you have a goal to read more this year, we are right there with you. And, if you're not sure where to start, you are not alone. You can take the guess work out of researching your next read and just take a recommendation from your favorite celebs instead.
This month, we are reading some great books that have been chosen by Reese Witherspoon, Sarah Jessica Parker, Katie Holmes, Becca Kufrin, Natalie Portman, Stephen Curry, Emma Roberts, Jenna Bush Hager, Chloé Lukasiak, and Emma Corrin.
Honor by Thrity Umrigar
Reese Witherspoon shared, "I read so many beautiful books over the holiday and am excited to share one that really stuck with me." She shared that the book is "about an Indian-American journalist named Smita who returns to India on assignment. The story she's covering is an emotionally riddled one that utilizes the lives of characters to portray the cultural realities of India, both new and old. Her experiences lift the veil on the complexities of journalism and leave Smita questioning her boundaries as a reporter. Complex and unfiltered, these are the type of characters that stick with you long after you turn the pages."
The Bear and the Nightingale by Katherine Arden
Chloé Lukasiak told Literati readers, "This book introduced me to the New Adult fantasy genre, which has opened up a whole new universe for me after reading only Young Adult for so long. I thought it was the perfect kick-start to our book club and I can't wait to read it with you."
This book has 3,400+ five-star Amazon reviews.
All About Love: New Visions by Bell Hooks
"We lost one of our heroes last month. Please join me in reading Bell Hooks, especially if you haven't yet read her. In All About Love, she explores the divisions that cause suffering, the ways in which we can heal a polarized society," Natalie Portman said.
This book has 4,600+ five-star Amazon reviews.
The Guest List by Lucy Foley
"Great book, impeccable snuggles," Becca Kufrin shared along with a photo of her latest read and her dog in an Instagram Story.
This book has 26,200+ five-star Amazon reviews.
Crossroads by Jonathan Franzen
Sarah Jessica Parker said, "So many have asked what I'm reading these days. Franzen's pages, his Crossroads is where you will find my head. Buried. Been carting it around forever but this wasn't a book I wanted to dip in and out of as time allowed. It deserves devotion and proper attention. I'm so glad I waited to find that kind of time. Oh so worth it. If you haven't already, find your way and the time. Mr. Franzen did it. Again."
The School for Good Mothers by Jessamine Chan
Jenna Bush Hager shared, "This beautiful debut novel tells the story of Frida, a loving mother who makes one critical mistake and has to pay for her actions by spending an entire year at a government reform program for bad mothers. This was THAT book that I couldn't stop thinking about for days after. Please please start your New Year off with us and read Chan's debut novel— you won't regret it!"
I Am Restored by Lecrae Moore
Stephen Curry told Literati members, "Christian rapper, producer, and entrepreneur Lecrae shows us this. I Am Restored is his story of coming up, including the hurt he endured as a child and the dark path that followed. But it is also a story that proves: You can reclaim your life. You can restore your faith and come back to your truth. He even shares his own techniques for achieving emotional, physical, and spiritual health. Lecrae has done so much in his life to help others, like his ministry dedicated to mentoring young men on fatherhood. He has set an example. Achieved success. He changed his own game for good and then helped change the game for others. And he does it genuinely, with a servant's heart. I can't wait to get into this book with all of you."
The Alchemist by Paulo Choelho
Katie Holmes shared that she's currently reading The Alchemist. This classic is about "Santiago, an Andalusian shepherd boy who yearns to travel in search of a worldly treasure. His quest will lead him to riches far different—and far more satisfying—than he ever imagined. Santiago's journey teaches us about the essential wisdom of listening to our hearts, of recognizing opportunity and learning to read the omens strewn along life's path, and, most importantly, to follow our dreams."
This book has 51,600+ five-star Amazon reviews.
 
Fiona and Jane by Jean Chen Ho
Emma Roberts and Karah Preiss' Belletrist book club selected Fiona and Jane for the January 2022 pick, teasing, "Who knows you better: you or your best friend? Close friends Fiona and Jane—or Jane and Fiona—are constant presences in each other's lives, sometimes from afar, sometimes in each other's faces. We can't wait for you to pick up your copy and read along with Belletrist."
Going There by Katie Couric
"Like most of us, Couric has a life and career that are messy, unpredictable, and full of mistakes. She shares stories that might shock you, but at the end of the day, she's being real. I'm excited that our first book together really lays it all out on the table. I think that when you idolize someone so much, you risk forgetting that they're only human, and you end up with unrealistic goals for yourself. This book reminds us that the standards we set for ourselves are just ridiculous, and that the only person who needs to like us is us. Let's be real," Tinx shared via Literati.
This shocking tell-all book has 2,000+ five-star Amazon reviews.
Are you looking for more great options? Here are 15 of our book recommendations to add your January reading list.