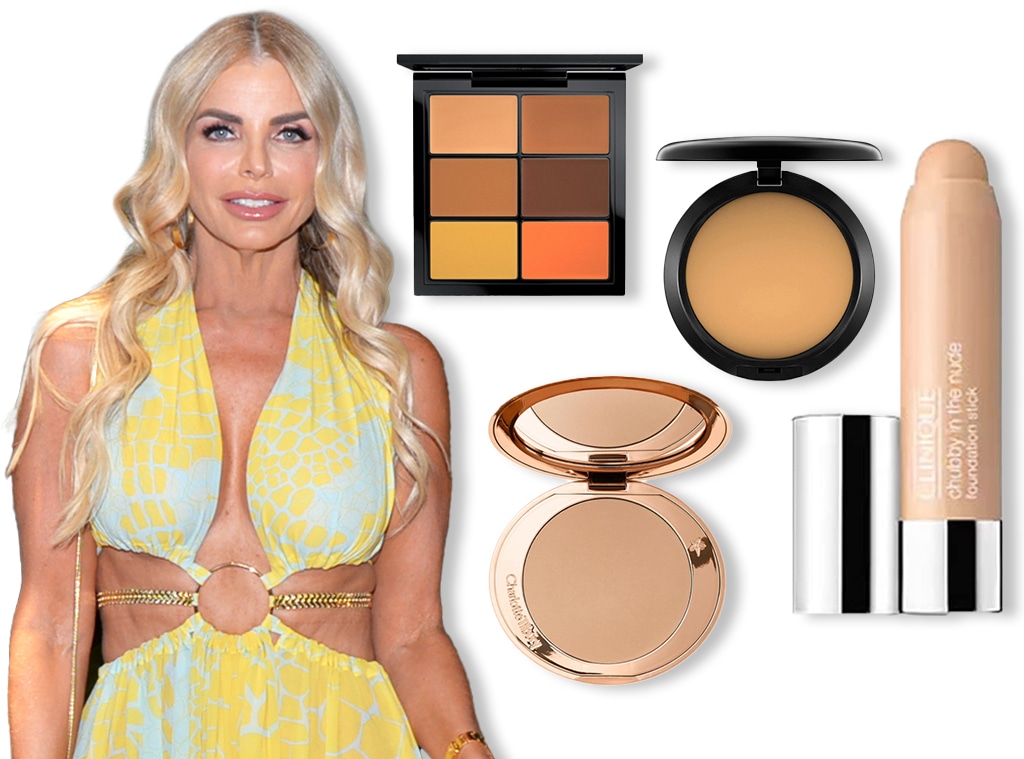 Manny Hernandez/Getty Images
We selected these products used by Alexia Echevarria because we think you'll like her picks at these prices. E! has affiliate relationships, so we may get a commission if you purchase something through our links. Items are sold by the retailer, not E!. Prices are accurate as of publish time.
If you are not watching The Real Housewives of Miami reboot on Peacock, you are missing out. Each episode delivers and a major part of that is thanks to Alexia Echevarria. She has more going on in one episode than some reality stars go through for multiple seasons. Alexia is the moment. She is incredibly compelling to watch because she's so candid about her family's struggles. Alexia is so entertaining because she just lets the Housewife drama roll right off her shoulder, immediately responding to the shade thrown her way with ease and confidence, never sweating the small stuff.
And, of course, there's the glamour. Alexia is living a highly enviable lifestyle with the most beautiful, home, car, and clothes. That's why it was a bit surprising, yet incredibly refreshing, to see the fan favorite doing her own makeup in a recent episode. If you're wondering how Alexia always looks so beautiful, we hit pause, took screenshots, and zoomed in while she got herself glammed up to find out which products she's using.
Alexia kept her hair out of her face with two hair clips, while she applied concealer and blended it in with an orange sponge. We also spotted the iconic Laneige Lip sleeping mask on the counter.
Real Techniques Miracle Complexion Sponge Makeup Blender
We are pretty sure that Alexia was using the Real Techniques Miracle Complexion Sponge Makeup Blender thanks to its signature orange color. Instead of spending $20+ on makeup sponges, you can get this set of 2 for just $8. This makeup application sponge has a devoted following with 13,800+ 5-star Amazon reviews, praising the product for its excellent quality and price.
It has 5,100+ 5-star Ulta reviews and you can even get a buy one, get one for 50% off deal when you shop at Ulta.
Use this to apply and blend foundation, concealer, and moisturizer. Dampen the sponge for dew finish or use a dry sponge for a more matte look. This sponge has a rounded edge that's great for blending, a flat edge for contouring, and a pointed tip for concealing.
MadHolly No Bend Hair Clips- Set of 8
Don't worry about getting foundation in your hair if you pull it back with these clips. Yes, you probably have other hair clips already, but these are no-crease hair clips. These don't leave any marks behind, so you won't have to touch up your style after you're done with your makeup. These are also great to use when you're washing your face.
If you like to clip your hair after curling it to set it for a little longer, use a couple of these to hold your hair in place. This set has 6,000+ 5-star Amazon reviews.
Clinique Chubby In The Nude Foundation Stick
This is the ideal foundation for the girl on the go. It's a creamy stick foundation that you can use to apply a full face of makeup and for touch-ups. You can even use this as a concealer or a contour, depending on the shade selected. It has buildable coverage, from sheer to moderate, with a beautiful, natural finish that really lasts.
Just draw several strokes of foundation across the forehead, cheeks, chin, and down the bridge of your nose. Then buff it into the skin using light, circular motions.
Laneige Lip Sleeping Mask
Sure, this isn't the most clear screenshot, but we can definitely read the labels to see the foundation, bronzer, concealer, and setting spray that Alexia used that day.
Urban Decay All Nighter Long-Lasting Makeup Setting Spray
No matter what the weather is like, sweat happens. And, unfortunately, that can mess up your makeup. That's why you need to finish your makeup application with a few spritzes of Urban Decay All Nighter Long-Lasting Makeup Setting Spray. It keeps your makeup in place for up 16 hours.
Its formula actually lowers your makeup's temperature to lock your look in place. If you want smudge-proof, transfer-proof makeup that looks amazing, you need to use this every single time you get ready. You won't regret it.... and all of your friends will borrow it when you get ready. We included this in our list of sweat-proof makeup products and have raved about this spray many times over.
This spray has 588.9K "loves" from Sephora shoppers, 16,100+ 5-star Ulta reviews, and 4,900+ 5-star Amazon reviews.
MAC Studio Fix Powder Plus Foundation
This pressed powder foundation gives a 12-hour, ultra-matte finish that controls excess oil and shine without causing acne. It immediately reduces the appearance of pores and it doesn't streak or cake with 12 hours of wear. That's not all though. The powder foundation is sweat-resistant, humidity-resistant, and photo-friendly, which makes it perfect for a Miami Housewife.
This can also be used for bronzer and contour, depending on the shade you select. 
Charlotte Tilbury Bronzing Powder
This bronzer is infused with hyaluronic acid to smooth skin and impart a pore-blurring, matte effect while hydrating the skin.
The Charlotte Tilbury Bronzing Powder has 73.7K "loves" from Sephora shoppers, with one customer sharing, "omg i LOVE this bronzer. so so pretty. it super blendable and easy to work with. it looks super natural and pretty on. it really diffuses well and looks really airbrushed. overall 10/10 i absolutely love it. definitely worth the money if u have the budget."
There are rave reviews from shoppers with many skin tones, with one sharing, "Love this. Finally a real bronzer dark enough for me to use. Finally upgraded from having to use eye shadows"
In contrast, another customer said, "Ok I'm fair and so a lot of bronzer just look orange or muddy on me even some made for lighter skin will look orange on my skin so when I saw this I was excited to try I don't like a crazy bronze moment to begin with so the light shade is absolute perfection it blends I will contour and then use this on top and it just softest everything makes it blend better and makes my skin look flawless it lasts a long time because u don't need much but u can build if need be it's just so pretty on I have used it everyday since I've bought it and it will stay in my holy grails forever I think."
MAC Conceal & Correct Palette
This palette has four concealers and two color-correctors. These shades can be used individually or combined to match most skin tones. These concealers have medium-to-full coverage to correct skin tone and conceal dark circles, blemishes, moles, and tattoos. This long-wearing palette has shades that are crease-proof.
Alexia isn't the only one who loves this product, with a shopper sharing, "I looooove this concealer palette. I don't wear foundation at all, I use this palette under my eyes and to spot conceal. I love that I have different colors and tones to mix whatever color I need for whichever part of my face I'm using it on, and the concealer sits perfectly on my skin and blends in so well. I attached magnets to the back and it now lives in my salt new york palette with the creme tints and they are a perfect combination for naturally beautiful looking skin. I hope this is never discontinued!"
Another shared, "I bought this product I seen some YouTube influencers on makeup tutorials using it. I love that their are black women and middle eastern women using this palette to cover their dark circles around the eyes. Second, they were ising this hide discoloration on their cheekbones. It is doing wonders for me and my facial discoloration. I use it with my makeup foundation, powder, and bb cream concealer. Thanks for making a great product Mac Cosmetics!!"
Charlotte Tilbury Airbrush Flawless Finish Setting Powder
Alexia is far from the only person who has this powder in her makeup routine. In fact, the Airbrush Flawless Finish Powder is sold once every minute with shades to accommodate a wide array of skin tones.
A shopper shared, "I bought this powder last year and I keep rebuying it. The powder is milled really finely and gives your skin a flawless look. It's great on the under eye and really brightens up the area, you only need a small amount when you use it. I recommend it to everyone I know!"
Another said, "Very pleased with this very high quality power. It doesn't sink into my under eye wrinkles and you only need a very small amount to set make up for the day.Also it is a perfect shade for me. It's a lovely ,luxurious looking compact. A must for a handbag."