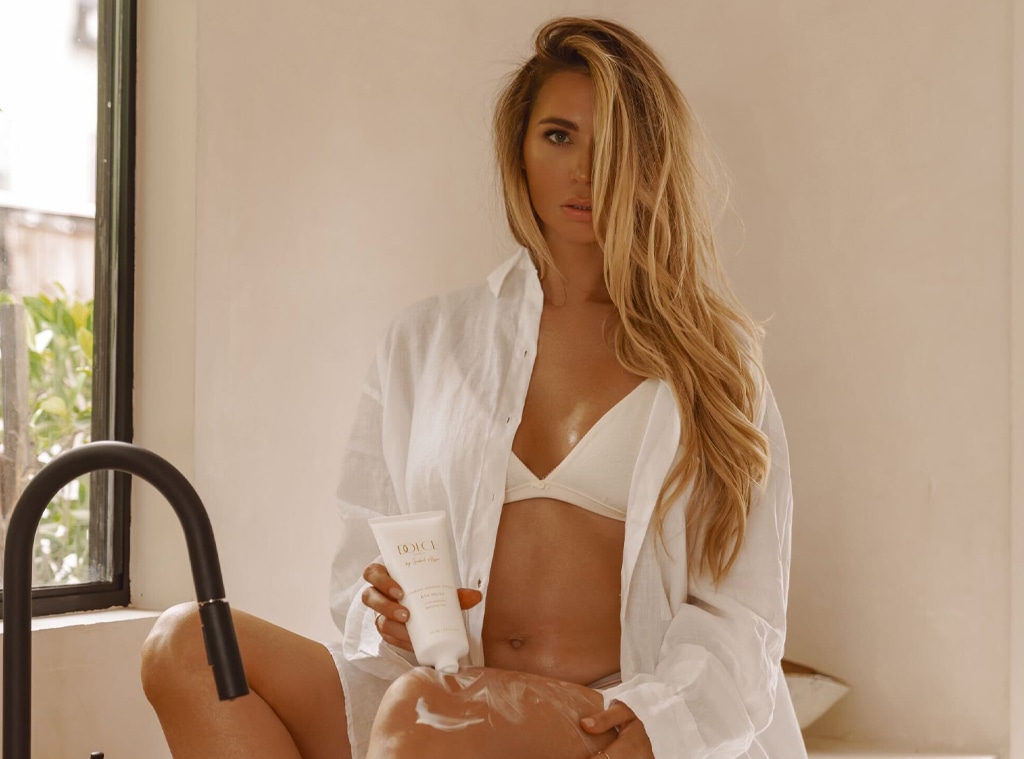 Kesler Tran
We interviewed Isabel Alysa because we think you'll like her picks at these prices. The products shown are from Isabel's own line. E! has affiliate relationships, so we may get a commission if you purchase something through our links. Items are sold by the retailer, not E!. Prices are accurate as of publish time.
If you've ever wondered how Kim Kardashian has a glowing tan all year long, she turns to Isabel Alysa, Hollywood's go-to spray tan artist to maintain her constant glow. Khloé Kardashian, Megan Fox, Kylie Jenner, Selena Gomez, Jennifer Lopez, Miley Cyrus, Chrissy Teigen, Becky G, Katy Perry, and Dorit Kemsley are among the many celebs who Isabel works with.
Los Angeles tanning enthusiasts are already familiar with Isabel's tanning studio, Dolce Glow. And for those of us who do not live in the LA area, we can get that signature glow from the comfort of our own homes through the Dolce Glow By Isabel Alysa tanning products.
She has channeled her years of expertise to create tanning mousse, gradual tanning lotion, applicator mitts, and more innovative products to help you get your ideal tan and minimize those classic tanning mistakes. Isabel recently chatted with E! News to share her tips for pre-tan preparation, post-tan care, tan application, and more insights to ensure that you will always have a streak-free, natural-looking bronze.
E!: In addition to spray tanning your clients in person, you also sell at-home tanning products. What changes in tanning trends have you noticed in those two facets of your business?
IA: I've definitely seen an increase in direct-to-consumer sales. So many more people are doing self-tanning at home. Personally, for Dolce Glow, last year was one of the best for my business. It was interesting because while a lot of companies and businesses really struggled, we definitely saw a huge increase in our sales. People want to look and feel good, even if they are just staying at home. 
And, then with the spray tanning side of things, especially for celebrities, I feel super blessed to be in the glam squad because the entertainment industry is still going, with safety precautions in place. You're getting COVID tested before you go in. You have to show a negative PCR test and proof of vaccination. I definitely feel super blessed to work. I'm still being requested so much because a lot of the people I work with are still filming and doing other projects.
E!: You have a mousse, a mist, and a lotion? Experienced self-tanners have developed their own preferences, but for people who are unsure what makes sense for them personally, what are some insights they should know for picking the best product for them?
IA: I feel like if you're new to self-tanning, you definitely want to start with something that's formulated like something you are used to using already in your routine. If you are used to apply a spray on a regular basis, like a facial mist, using a self-tanning spray might be smarter and easier for you. We're all used to applying lotion, right? Using a self-tanning lotion would be a great start to using tanner.
For someone that's new to self-tanning, who may be scared to try something new, my go-to wouldn't be a mousse. It would actually be a gradual tanning lotion because you just apply a lotion. You can use it with your hands as long as you wash your hands right after. Or you can apply it and just even circular motion, just how you would put lotion on yourself.
I would always go with like a less is more approach, so you want to start with like a light to medium, gradual tanner. The most amazing thing with the gradual lotions is that they're not really heavy in comparison to dark bronzers that can be intimidating to first-time tanners. As I've progressed and I have so many variations in our line, gradual tanner lotion is the easiest to apply for me. They don't transfer and they are super hydrating. You can also mix them in with your favorite moisturizer that you already use.
A gradual tanning lotion is also great to pack on a trip if you want to maintain your tan or even if you want to combat the fade that comes with being the sun or swimming.
Dolce Glow By Isabel Alysa Self-Tanning Mist
This is an easy-to-use sunless tanning mist. Unlike most sprays, you don't have to hold this upright to use it. This one has innovative, 360º coverage, which means you can hold the spray upside down to use it, which is just such a game changer. 
Spray this eight inches from the skin and blend it in circular motions or you can apply it directly onto your tanning mitt to apply in circular motions.
A Nordstrom shopper raved, "The best self tanner in the industry! I've tried everything and this did it. Dries instantly , perfect dark bronzed color, not orange and doesn't smell!"
Another gushed, "This product makes me feel so flawless. I love how it gives me the right amount of coverage. It's so easy to use and just a great product, actually the best product out there and I've used many. So do yourself a favor and make yourself this purchase you won't regret it!"
Dolce Glow By Isabel Alysa Lusso Self-Tanning Mousse
This is a buildable, fast-drying, streak-free tanning mousse that gives you a radiant, deep, natural-looking tan.
A shopper said, "The fastest drying self tanning mousse I have ever used! Doesn't have that normal strong self tanner smell either. Definitely recommend!"
Dolce Glow By Isabel Alysa D'Oro Gradual Tanning Lotion
Moisturize your skin while you tan with this lotion. It provides a glowing medium to dark tan that looks natural. Just use your mitt to apply in circular, even motions to get your glow on.
A fan of the product shared, "It's the ingredients for me !! So I've been self tanning for many years & I have yet to find a product that doesn't make my skin dry or patchy. I can honestly say I am impressed . My skin feels so hydrated & soft. I love that this company has products that lean towards clean beauty. Their tanning lotions did not disappoint . I'm very excited to try their Lusso self tanning mousse next!"
E!: For people who want to apply self-tanner instead of a gradual lotion, what are some things to keep in mind to minimize mistakes and uneven color?
IA: When you tan your hands and your feet, don't put tanner on directly or even glob it on a tanning mitt. Instead, you want to just use what's leftover on the mitt to get a realistic saturation of color.
At the end, you can even apply tanner with a makeup brush, just blending it out with a really nice kabuki makeup brush. Form a bear claw gesture with your hand and use that brush to get in between the webs of your fingers. Using a makeup brush to tan your hands and feet is a a really, really good method.
E!: When I would use that kabuki brush when I'm tanning?
IA: It's good for those smaller areas, like in between your fingers. It's great around your ankles and to blend out your tan in that small area between your hand and your palm. That's an area that can easily get a little choppy. The brush would help smooth out that glow.
You can use a makeup brush to contour, adding a little definition on your arm. So, if you flex, wherever that muscle line is, contour that area with some tanner and the makeup brush. It's also great for contouring the face. Just use that little bit of excess product you have left over, make a fishy face, and put it on your cheekbones, around your forehead, and you can bring it down to your neck under your chin. 
You can also create some abs, adding some definition to your pelvic area. 
Dolce Glow By Isabel Alysa Apply & Exfoliate Set
This bundle has the exfoliator mitt, tanning mitt, and a kabuki brush. Use the exfoliating mitt to prep your skin before your next tan and to remove your last tan. Use this in the shower without any soap to exfoliate that dead skin off. Use the tanning mitt to apply your tanner and keep your tan from getting on your hands. The kabuki brush is great to get those hard-to-tan areas.
E!: What are some of the biggest mistakes people make preparing to self-tan or spray tan?
IA: I think one of the biggest mistake people make is that they exfoliate right before their appointments or they'll take a shower with lots of soaps. You should be exfoliating and preparing your skin 24 to 48 hours in advance and that also includes shaving. The number one cause for streaks in any spray tan or self-tanning application is the razor residue that was leftover from shaving right beforehand. You shouldn't shave right before tanning.
You need to do all your skin preparation the day before because if you do not, your pores are wide open. Sometimes, if you shower and exfoliate right before your spray tanning or self-tanning appointment, the chances are the self-tan or spray tan will not achieve its dark color because your pores are wide open.
E!: Is part of that because showering changes your pH levels? 
IA: Yes because it takes several hours for your pH levels to get back to its normal range after a shower. The amino acids and your pH are softening the skin when you shower in warm water. Applying tanner or spray tanning right after a shower is really going to reduce the darkness that could be achieved compared to if you showered the night before instead.
E!: What about that first shower post-tan? What are some things to keep in mind so we don't mess up our tans?
IA: It needs to be warm water and you should really take your time in there, especially if you are using a tanner that has a cosmetic bronzer, which is usually the brown stuff that you see come off in the shower. You aren't taking off the tanner, you are taking off that bronzer when you shower. You really want to take your time and lather yourself with your hands (no soap) and just make sure there are no watermarks.
A lot of people say "my tan is so streaky" and that's often because they didn't take the time to fully wash that bronzer off in the shower. Rinse until that water trickling down is clear and free of bronzer. That's how you know you've fully rinsed. 
Your tan will continue to develop for 24 hours, which is why we encourage people to not use soap for that first shower.
E!:  If you want to be tan all the time, what are some good habits to add to our beauty routine to prevent product buildup and an uneven tan application?
IA: Three days after your tan, you can start to dry brush any excess dry skin off of your skin. Dry brushing removes all that dead skin. Dry brushing in between tans really helps, especially at day five, day six, day seven, you're ready to exfoliate.
E!: Is the Mia Shimmer Topper Lotion a good thing to use when you're in between tanning to just keep a glow and cover a fading tan?
IA: It's the great to use as your tan starts to fade and you're in between showers. It's a lotion that looks like a body makeup. It has that nice beautiful sheen and it dries instantly, so you're not gonna transfer onto your clothes and it washes off that night. Putting that on right before you leave is really just a quick, amazing go-to that you can put all over your body.
Dolce Glow By Isabel Alysa Mia Shimmer Topper Lotion
This luxuriously hydrating shimmer lotion acts as lightwright, wash-off body makeup. It's just what you need to get that extra glow and bring some highlight to all the right places.
A shopper praised this as the "best product for going out at night or to an event." Another person raved, "It's like a body lotion with a glow! Covers up varicose veins, nice bronzed color and washes off day of. Can use with a tan under or no tan. The perfect body glow. Oh and it doesn't transfer!!!"