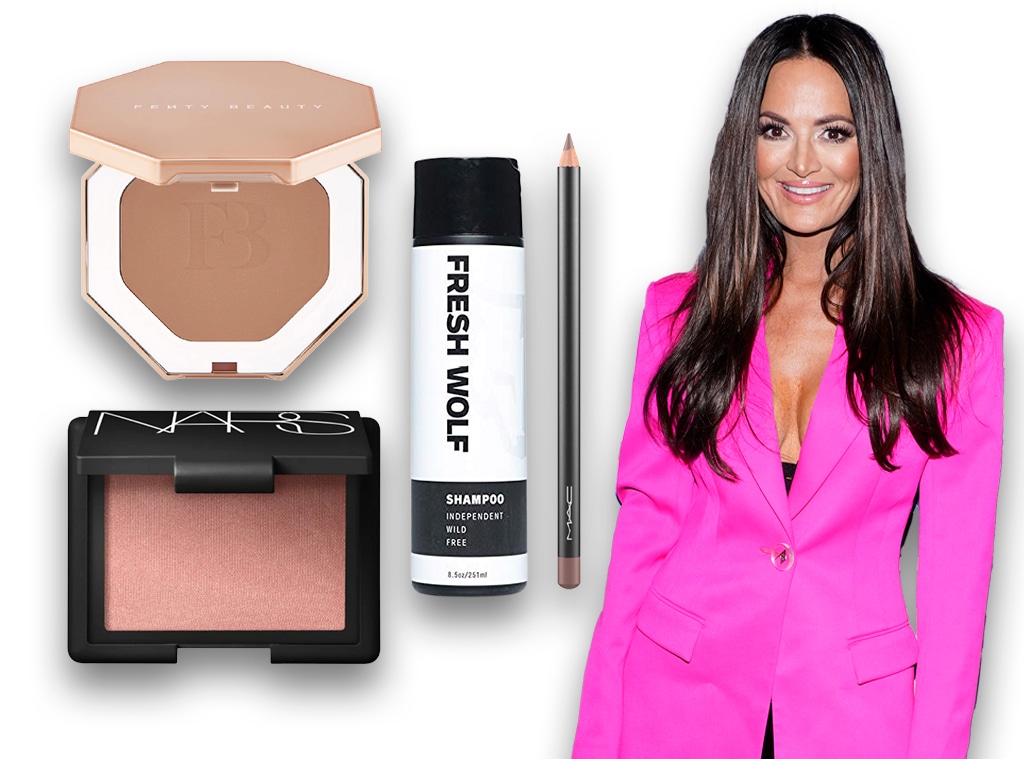 Charles Sykes/Bravo
We selected these products used by Lisa Barlow  because we think you'll like her picks at these prices. E! has affiliate relationships, so we may get a commission if you purchase something through our links. Items are sold by the retailer, not E!. Prices are accurate as of publish time.
If you want to feel "Baby Gorgeous," sip on a Diet Coke and use the same beauty products that Lisa Barlow does. The Real Housewives of Salt Lake City star recently shared her go-to beauty products with Bravo Insider. And, just like everything else she does, Lisa has major enthusiasm for her the hair, skincare, and makeup products that make her say "I love that."
Lisa uses bronzer from Fenty Beauty by Rihanna, the legendary Nars Orgasm blush, and the forever-iconic MAC lip liner to get that signature "bronzed glow" look. Oh, and of course, she has some hair care products from her sons Jack and Henry's brand Fresh Wolf. 
Channel your inner Lisa, check out these products, get glammed up, and soon enough you'll be saying "I love that" over and over again in between fast food orders.
MAC Lip Pencil in Whirl
"The lip I love is this one by MAC. It's called Whirl," Lisa shared.
A Nordstrom shopper said, "After using so many lip pencils, when I tried this one I was so happy. The color goes on nice and smooth and goes great with a nude lip color. I absolutely loved this lip pencil. The pencil was sharp and lined my lips perfectly. I am only using MAC. So frustrating using other lip pencils, they just don't compare to MAC."
Tom Ford Gloss Luxe Lip Gloss
After applying her MAC lip liner, Lisa said she puts "a little bit of a Tom Ford Gloss on top."
This is a high shine, lightweight, moisturizing lip gloss. It has 35.6K "loves" from Sephora shoppers, with many praising this as a "holy grail" product. One of them said, "These glosses are one of my absolute favorite glosses and well worth the splurge. I have several shades and like every single one of them. They're gorgeous, comfortable, super moisturizing, and smell great."
Fenty Beauty by Rihanna Sun Stalk'r Instant Warmth Bronzer
The entrepreneur shared, "As far as bronzers go, I love love this Fenty. I absolutely love love this Fenty one. This one is called I$land Ting. It's so good and what I like to do is just hit the perimeter of my face just to give me that nice, little bronzed glow and a little bit on my neck [too]."
Lisa's fellow Bravolebrity Kathy Hilton included this bronzer in her holiday gift guide, remarking, "You can bronze or contour and you know it won't rub off when you're kissing your sweetie under the mistletoe." The Housewives aren't the only fans of this bronzer. It has 200.5K+ "loves" from Sephora shoppers.
Nars Blush in Orgasm
"I get asked this all the time 'What blush are you wearing?' As far as blushes go, I love this one. It's called Orgasm by Nars. Look how beautiful that color is. It's just so good. I just like to hit the apples of my cheeks."
This iconic blush has 755.6K "loves" from Sephora shoppers.
Chanel Coco Mademoiselle Eau de Parfum Spray
"I have been wearing Coco Mademoiselle since 2003. I just love it. It smells so good. It's clean, powdery, and super fresh."
This iconic perfume has 203.4K "loves" from Sephora shoppers.
Fresh Wolf Sulfate Free Shampoo & Healing Conditioner
"Another product that I love is from my boys, Fresh Wolf. It's my kids' brand. I absolutely love it. Both the shampoo and conditioner are so good. It smells amazing. It reminds me of Dior Sauvage. It's so good. It's delicious."
Both products are suitable for all hair types. The shampoo thickens, strengthens, and repairs hair. The conditioner is ultra-hydrating and thickening.
Alastin Skincare Regenerating Skin Nectar
"Right now, I'm just so obsessed with this Alastin product. It is so beautiful. I use it on under my eyes and on top of my eyelids. It's super hydrating, super clean. I actually think it's a little curative too, kind of like my tequila."
This product enhances cosmetic treatment results and reduces recovery time after laser treatments, microneedling, and IPL. It also strengthens the skin ahead of cosmetic treatments to improve the appearance of smoother, brighter, youthful skin. It won the Shape 2021 award for "Best Healing Skin Treatment."
Hello Vegan Fluoride Free Toothpaste
This is a super fresh, spearmint, naturally whitening toothpaste made that helps remove plaque. It's made with hemp seed oil and coconut oil, which have moisturizing properties.
This product has 1,500+ 5-star Amazon reviews.
Patrick Ta Major Glow Body Oil
This is a luxuriously scented pearlescent body oil that delivers moisture and an illuminating glow to your skin. It's a great solution for dryness and redness. it also defends the skin from free radical damage. The best part of this oil is that you get hydration with that greasy feeling you may expect with other oils.
This is an Allure 2021 Best of Beauty winner and it has 42.8K Sephora "loves," with a customer sharing, "The perfect glow for a night out! Absolutely love the scent of this and how moisturized and illuminated it leaves me after applying. It's a really easy application and texture!"
Nicole + Brizee Volumizing Spray
Take your hair to new heights with this fast-drying, non-sticky volumizing spray that works for all hair types and textures. This spray is from Brie and Nikki Bella's brand Nicole + Brizee and it is a true multi-tasker. It keeps hair in place, fights frizz, and provides heat protection.
"At 1st I thought oh no mistake—after 1st use my hair has a healthy thicker look. I'm sure I will buy again," a happy customer shared.
Suave 24 Hour Protection Anti-Perspirant Deodorant Invisible Solid Powder- 2 Pack
This is a deodorant/antiperspirant that you can always rely on. It provides 24-hour protection against sweat and body odor. 
—Originally published Jan. 16, 2020 at 7 AM PT.