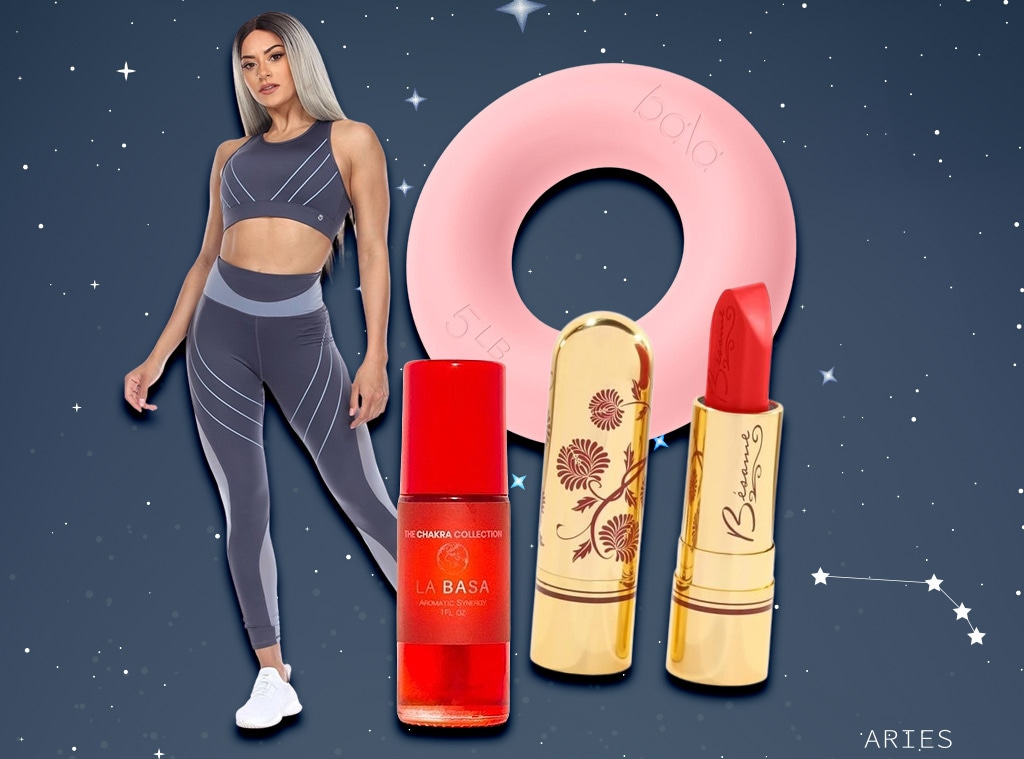 E! Illustration
E! makes a commission on purchases. The brands featured are partners of NBCUniversal Checkout. We created this content and selected these products because we love them and hope you do too. Prices are accurate as of publish time.
It's officially Aries season, which means, it's the start of a brand new astrological year. It's a time to hit the refresh button and celebrate all the brand new positive energy coming in. Speaking of celebrations, if you know someone whose birthday falls between March 21 and April 19, we've put together a guide to help you find a gift they're sure to love. 
Aries, the first sign in the zodiac, are natural leaders. They're bold, outgoing, competitive and highly ambitious. If a ram wants something, they'll stop at nothing to get it. That also includes people they may have their eye on. In addition to this, Aries are action-oriented signs who tend to do things without thinking. While this may get them into trouble sometimes, they live their lives looking forward and have zero time to regret choices they've already made. Above all, Aries are a lot of fun to be around. There's never a dull moment with them. 
When it comes to finding the perfect gift for Aries, look for things that are fun or work with their active lifestyle. Chic workout sets or innovative fitness products make great gifts. Anything in a bold vibrant red is also perfect for the zodiac's ram.
If you're looking for some good Aries gift ideas, we've rounded up products Aries are sure to love. Check those out below. 
White Mark Cut Out Back Mesh Sports Bra & Leggings Set
White Mark
Aries signs are very active, so they'd love to receive a matching workout set as a gift. This set from White Mark features a cool cutout back mesh sports bra and high-waist leggings to match. We recommend getting this in Aries' lucky color red.
White Mark Plus Size Racer Back Sports Bra & Mesh Leggings Set
White Mark
Here's another cute workout set that Aries zodiac signs are sure to appreciate. This set features a cute racerback sports bra and high-waisted mesh leggings. It comes in four colors: black, gray, blue and a stunning red. 
Jill & Ally Take A Deep Breath Clear Quartz Crystal Manifestation Candle
Jill & Ally
Aries are cardinal signs, which means they're the initiators of the zodiac. Because of this, rams tend to jump headfirst into new projects all the time. While they like starting new things, they have a harder time finishing them. A manifestation candle, like the Take a Deep Breath candle from Jill & Ally, will give them good energy and clarity to see all their projects through. This candle is also good for them to light whenever they need some sense of peace after a busy day. 
Moon & Jai Harmony Ritual Kit with White Sage
Moon & Jai
In addition to the manifestation candle above, rams can also benefit from this Harmony Ritual Kit from Moon and Jai. This ritual kit was made for finding inner peace, balance and joy. It comes with a keepsake harmony meditation card, a cotton pouch with original artwork, Moon and Jai matches, selenite to help bring a harmonious flow and blue quartz for harmonious communication, hope and peace.
Butter By Keba La Basa Body Oil Aromatic Synergy
Butter By Keba
The La Basa body oil from Butter By Keba is part of their Chakra Collection, which can be used during meditations. La Basa represents stability, vitality, loyalty and prosperity, and Aries can repeat the affirmation, "I am stable, strong and healthy" while they apply this to their skin and hair. It's made with a blend of nourishing oils and the scent is said to be warm, sweet, velvety and woody, like a "cozy evening by a cabin fire." 
Bésame Cosmetics Red Hot Red Lipstick - 1959
Bésame Cosmetics
Red is the color of Aries, so naturally, a gorgeous red lipstick would make a great gift idea for them. The Red Hot Red Lipstick 1959 by Bésame Cosmetics is made with squalane, aloe, and vitamin E, and was inspired by Marilyn Monroe's iconic bold red lip. 
Married To the Mob Left Him On Read Tee
Married To the Mob
Sold By
Married To the Mob
Rams are way too busy living their lives to deal with anyone who isn't worth their time. This sassy graphic tee from Married to the Mob would make a fun addition to your Aries' wardrobe. 
Bala The Power Ring
Bala
Aries love a good workout and enjoy finding new ways to make their routines more fun and effective. According to Bala, their Power Ring is what you get when a kettlebell and a dumbbell have a baby. Aries can use this to "add an extra oomph" to their full body workouts, and it comes in several cute colors including pink. 
Adore Me Anouchka Bodysuit
Adore Me
Aries is ruled by Mars, which is the planet of action, energy, aggression, sex and desire. This sexy red bodysuit with floral eyelash-lace details, a g-string and an open back is a must-have for the zodiac's passionate ram.