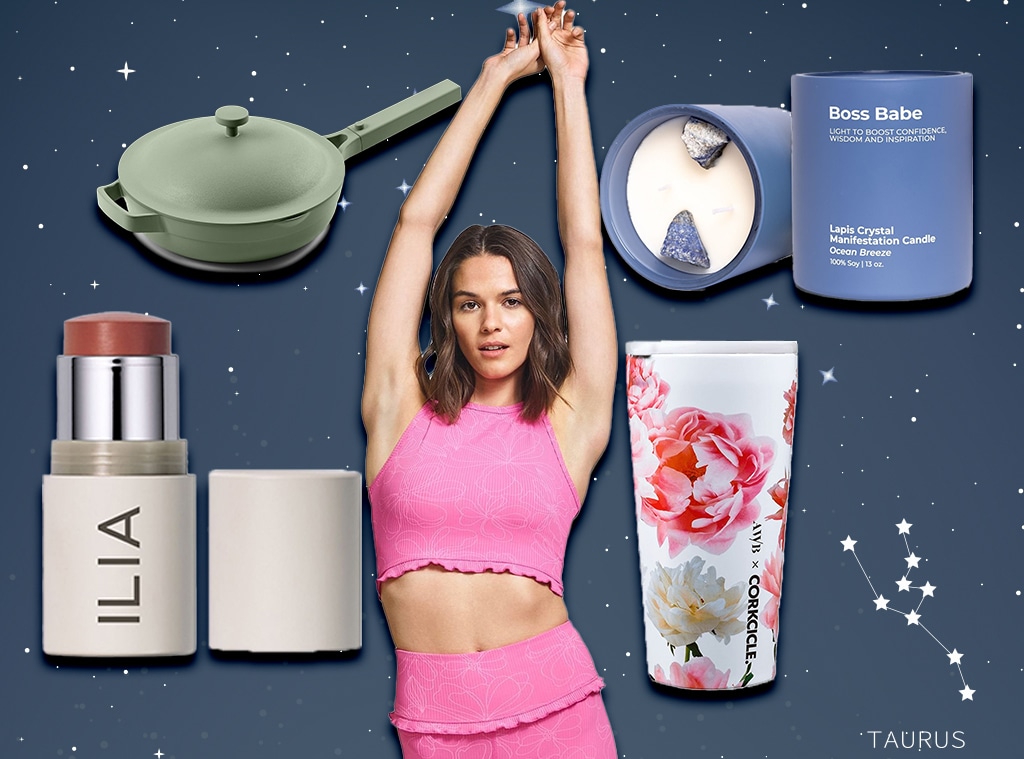 E! makes a commission on purchases. The brands featured are partners of NBCUniversal Checkout. We created this content and selected these products because we love them and hope you do too. Prices are accurate as of publish time.
April 20 marks the official start of Taurus season, so bulls, it's time to celebrate you! As a special birthday treat, we talked to astrologist Kyle Thomas to see what you can expect between now and your next birthday. We won't spoil anything just yet, but if your birthday wish involves positive change of any kind, let's just say your wish may come true.
"Prepare for one of the most important years in your lifetime," Kyle told E! News. "As the planets dance and the stars shift, you are set to experience tremendous transformation. Uranus, the planet of change and freedom, continues to dance in your zodiac sign, urging you to leave patterns behind that no longer serve you. It's time to embrace your most authentic self in every aspect of your life and stand courageously as the beautiful new version of you. Mighty eclipses will also be highlighting your personal power—and your relationships—bringing destiny for you to face."
Over the next 12 months, you may begin a "whole new era" in your professional life, which is the result of all the hard work you've put towards your career goals through the years. 
When it comes to love, "significant turning points" around relationships are likely to happen as well, Kyle said. Singles may suddenly meet someone with serious long-term potential and the relationship just takes off, while those in established relationships will be taking major next steps towards the future.
"Embrace the whirlwind of a magical year ahead!" Kyle said. 
Since it's your birthday season, we've rounded up a few products Taurus signs are sure to love. Check those out below. 
Our Place Always Pan
Our Place
There's nothing that excites Taurus more than a good meal. Because of this, the cult-fave Always Pan is a must-have for your kitchen. It was designed to be the perfect size and shape to replace eight traditional pieces of cookware, which should appeal to your practical side. Plus, it comes in this earthy green color which is perfect for you. 
Boss Babe Lapis Crystal Manifestation Candle
Jill & Ally
Taurus is known for being one of the hardest working signs in the zodiac. You tend to believe that there's nothing you can't do if you put forth the effort. With this Boss Babe Manifestation Candle from Jill & Ally, you can manifest that extra bit of confidence and wisdom you need to achieve all your goals. 
The Weightless Waffle Robe
Happy Place Brand
Sold By
Happy Place Brand
As a Taurus, you feel most comfortable and relaxed when you're at home. You can say it's your happy place. This unbelievably comfortable robe from happy place is lightweight and perfect for lounging around at home no matter the season. 
Gold Profection22 Mask
Ambari Beauty
As a Venus-ruled sign, you're all about beauty and luxury. The award-winning Gold Profection22 Mask from Ambari is luxury in a bottle. It's made with adaptogenic Reishi and naturally derived AHAs that work to deeply exfoliate and help to improve the appearance of fine lines, texture and brightness. The brand even claims that you can have a glowing complexion after the very first use. It's a splurge-worthy beauty product practically made for Taurus. 
When Stars Align' Constellation Necklace
Sterling Forever
Rep your sign proudly with this sophisticated constellation necklace from Sterling Forever. It's so versatile, you can wear it casually with a plain tee and jeans or on a night out. 
Ashley Woodson Bailey x Corkcicle Tumbler
Corkcicle
Your morning commute will be so much better with this lovely floral printed tumbler from the Ashley Woodson Bailey x Corkcicle collection. This can keep your cold drinks cold for up to nine hours and hot drinks hot for up to three. 
Reign PJ Lingerie
Adore Me
Not only is your ruler Venus the planet of love, romance and beauty, you're also known for being one of the most sensual signs in the zodiac. If anyone's going to have a not-so-secret drawer full of beautiful lingerie, it's going to be you. This top and short set from Adore Me is that perfect blend of classy and sexy. 
Cozy Earth Women's Short Sleeve Stretch-Knit Pajama Set
Cozy Earth
You know you're a Taurus when the words "supreme softness" get you excited. This luxurious pajama set features flattering stretch knit made for every body type. It's silky smooth, breathable and "crazy comfy" according to one reviewer. Treat yourself to a birthday gift you're sure to love with this pajama set. 
Bésame Cosmetics Forever Red Lipstick 1925
Bésame Cosmetics
Bésame Cosmetics makes these highly pigmented, long wearing lipsticks that come in a gorgeous golden tube. Not only that, the lipsticks are formulated with squalane, aloe, and vitamin e, so they not only look good, they're super hydrating as well. The timeless 1925 Forever Red is the perfect shade for a classic Taurus beauty. 
Ilia Multi-Stick
Ilia
Ilia's best-selling multi-stick is perfect for days when you want to look good but don't want to exert too much effort. You can use this on your eyes, lips and cheeks, and the "soft, buttery texture" is said to seamlessly blend into the skin and melt upon contact. 
Eleven by Venus Williams Divine Yoga Tank Top In Disco Pink In Florals
Eleven by Venus Williams
Sold By
Eleven by Venus Williams
This super cute ribbed racerback tank from Eleven by Venus Williams can be worn at the gym, a music festival or a casual day out. It features a flirty ruffled hem and a build-in shelf bra for support. Plus, it's pink. 
Divine Ruffle Bra In Disco Pink In Florals
Eleven by Venus Williams
Sold By
Eleven by Venus Williams
Whoever said you can't look cute at the gym obviously wasn't a Taurus. If you love the pink floral pattern of the tank above, you're going to love the sports bra. It features medium support and a ton of stretch. It's cute, comfy and perfect for Taurus signs.