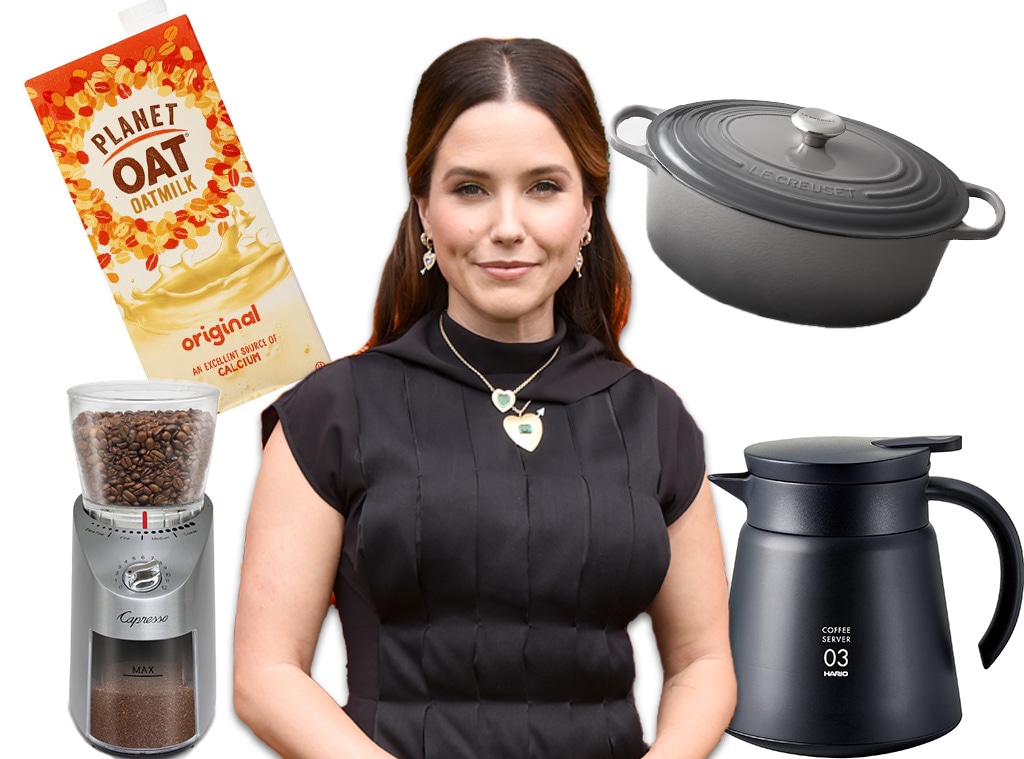 Getty Images / Amazon
We interviewed Sophia Bush because we think you'll like her picks at these prices. Some of the products shown are from Sophia's own product line or a brand Sophia is paid to promote. E! has affiliate relationships, so we may get a commission if you purchase something through our links. Items are sold by the retailer, not E!. Prices are accurate as of publish time.
Everyone has that special place in their home where all their friends and family like to gather and hang out. For some, that's the living room in front of the TV, and for others that might be out on the patio. For Sophia Bush, that place is the kitchen. 
"It doesn't matter that I have a beautiful living room — no one ever sits in it," Sophia told E! News. "Everybody comes in, comes downstairs and gathers around the table. We cook in here, we have wine tastings in here, and we sit up late and have great talks in here. There is just something about it that really feels like the heart of the home." 
Since the kitchen is the big gathering spot in her house, we just had to know what she keeps in her kitchen. From Planet Oat Oatmilk to the "best coffee grinder in the world," Sophia shares her nine kitchen must-haves below. 
Jeff Lewis/AP for Planet Oat
Planet Oat Original Oatmilk
"I love Planet Oat Oatmilk, especially in my latte because it's delicious and froths so well. I also try to choose brands that are using their corporate powers for good and Planet Oat does that by partnering with organizations like One Tree Planted to promote reforestation efforts all across the country."
In celebration of Earth Month, Sophia even partnered with the Planet Oat Project to plant trees in Pasadena, CA (as shown in the photo above).
Boos Block
"I do a lot of cooking at home and I like having the really large prep space that this Boos Block gives. I keep my block between my cooktop and my sink so it's really easy for transferring things into the sink and onto the cooktop."
Caraway Pans
"Recently I got a set of Caraway pans and they're amazing. It's the best nonstick I ever used and the heat convection is really good. They're phenomenal and I'm a big fan - they have become my newest go-to thing in the kitchen."
Le Creuset Signature Enameled Cast Iron Oval Dutch Oven, 8-Qt.
"Another go-to item in the kitchen is my Le Creuset Dutch Oven. I love to use it for everything, and in the fall and winter I make bread and tons of stews with it."
Le Creuset Salt and Pepper Mills
"Something I recently learned is that they are finding microplastics in the human body. Most grinders in the store are plastic and when you grind the salt and pepper, it also grinds up plastic into your food. I recommend metal salt and pepper grinders. They are a big must for me."
Bamboo Drawer Organizers
"These drawer dividers are major for me. I have the extendable bamboo dividers for all my kitchen utensils and the cork blocks in my drawers. The organization of them is a big source of pride and joy for me when cooking."
Capresso Infinity Plus Conical Burr Grinder
"This coffee grinder is the best coffee grinder in the world. We use it daily and the settings go from extra fine, fine, medium and coarse grind depending on what you're making." 
Hario Coffee Server
"If you live in a household like I do where one person is up far before the other, this is great because it keeps coffee hot for hours. We will brew coffee in the morning then put it straight into the warmer and it will stay hot for hours."
Canyon Coffee
"Canyon Coffee is a local LA company that I love. The coffee flavors are beautiful and not at all bitter, and I think it's a nice way to support our local small businesses. When we buy locally we can help lower our carbon footprint as well."
Sophia even shared that she likes adding cinnamon from the farmer's market into her coffee.