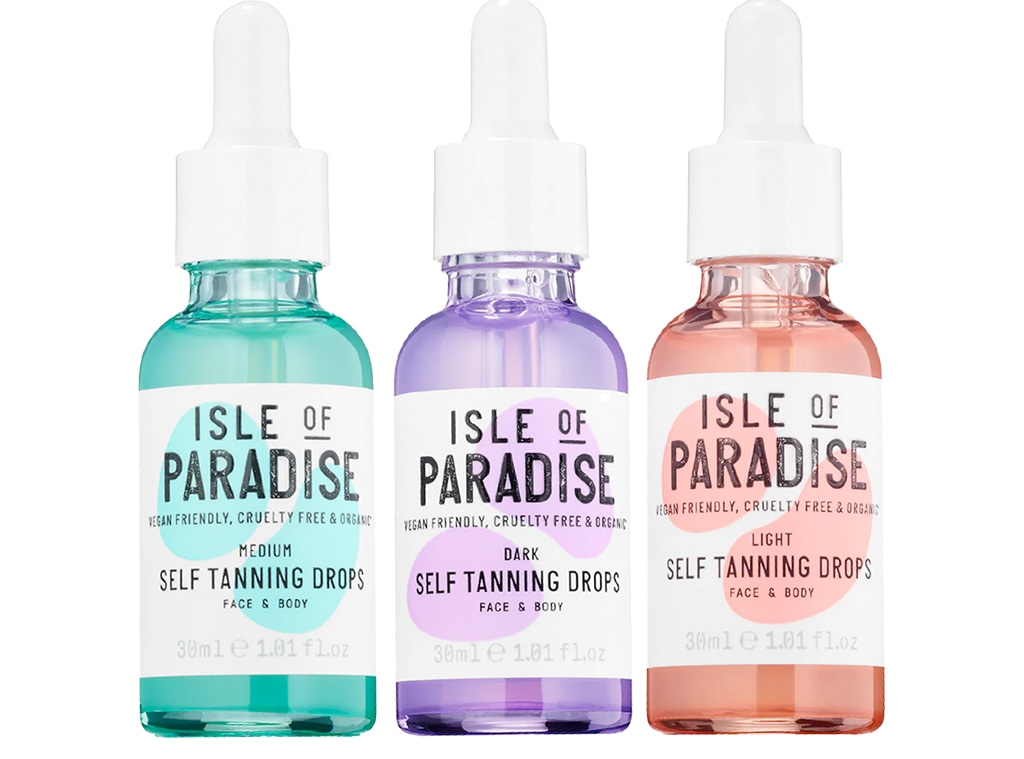 We independently selected these products because we love them, and we think you might like them at these prices. E! has affiliate relationships, so we may get a commission if you purchase something through our links. Items are sold by the retailer, not E!. Prices are accurate as of publish time.
Achieving a summer glow and protecting your skin while in the sun is a delicate balance. We know we need to wear SPF everyday, especially on our faces, but we still want to look like we've spent all day in the sun. Lucky for us, Isle of Paradise has the perfect self-tanning drops to achieve a natural-looking tan at home without damaging your skin, especially the delicate skin on your face. 
You won't even need to go get a spray tan before your big summer vacation with these affordable tanning drops that are made for many different skin tones. For less than the price of a spray tan, you'll get multiple tans in a bottle. These vegan, cruelty-free and "Clean at Sephora" certified drops come in light for a sun-kissed glow, medium for a golden glow, and dark for a bronzed glow. Mix a few drops with your favorite moisturizer or serum for the perfect even tan at home.
While the sun damages skin, these drops were developed to help your skin. According to Isle of Paradise, ingredients like glycerin, avocado oil which is high in Vitamins A and C, and chia seeds will hydrate and support your skin's functions while you tan. The brand claims these drops will visibly brighten, reduce redness, and even your skin's unique skin tone. 
Scroll below for that "I just got back from vacation" glow. 
Isle of Paradise Self Tanning Glow Drops
Isle of Paradise's Self Tanning Glow Drops come in light, medium, or dark so you can achieve your perfect glow. They're even more customizable because you can control how many drops you add to your lotion or serum. Not only will you find your perfect tan, these drops were also developed to work with your unique skin tone to visibly brighten, reduce redness, and even tone. Ingredients include glycerin to hydrate your skin, avocado oil which is high in vitamins A and C, and chia seeds which are rich in omega 3 fatty acids to support skin barrier function.
For less than the price of a spray tan, reviewers say these drops will last you a long time. In addition to getting multiple tans, these drops were made to support and hydrate your skin. 
You don't have to take our word for it. Checkout what recent reviewers have said about these tanning drops. 
"The isle of paradise tanning drops gifted by Isle of Paradise are my new holy grail! I can't live without this product so I'm glad to have discovered it. It tans my skin very evenly and I don't need too much product. It blends in effortlessly. It's my new favorite self tanning product."
"I have been using these drops for years now. They are the best on the market. I've tired so many different brands because you always need the best of a product! These are the best tanning drops I've come to find! This bottle will also last you a life time no joke. Gifted by isle of paradise this time! But purchased by me MANYYYY times!"
"I received this as a birthday gift from a friend and I absolutely loveeeeee it! perfect sunkissed look and doesn't look fake! also smells amazing!"
"I've been using the medium color for a few months and just bought the dark for my legs. I love this so much! It gives such a natural tan and is SO easy to use!"
"This product was gifted by Isle of Paradise.These self tanning drops are amazing! It looks like I went on a vacation. I have never used any tanning products before on my face or body. I was very skeptical and worried about the result. However, these drops are life changing. It gives the most natural bronze glow to my face and body. It is very easy to use because all you have to do is mix it with your moisturizer or lotion. Also, it does not transfer! You need to buy these right now!"
"This has easily become a staple in my self-tanning routine. It's THAT good!! You don't have to worry about that horrible self-tanning odor most products tend to have. Mixing this with moisturizer adds the perfect glow to your skin. The color payoff is phenomenal. I never have to be pale again!!"
"So so good. works well on face when mixed with a moisturizer as well as on body when you mix a few drops in with your body oil."
"This has become my favorite tanning product. It's very simple to use. The scent is not bad at all. I've never been big on tanner because it was scary to me but I quite love using it. It doesn't make me look crazy unnatural. Gifted by Isle of Paradise."
"This was such an instant-results type of product that was so easy to use! I've never used self tanner before, but these drops were super easy to mix into my moisturizer and apply to my face giving it a nice glow! I also didn't notice any staining of my hands. Gifted by isle of paradise."
"I'm very fair, and these drops gave me a natural, golden tan and didn't smell bad! I started out with 4-6 drops, at night, mixed with my moisturizer, and the color was fully developed when I got up in the morning."
"I have been using these drops for over a year and I love them and the results they give!! They give the best, most natural looking glow bro my skin! They last a long time too and leave no streaking left behind! Layers nicely as well! This was gifted to me by Isle of Paradise"
"Hands down the best tanning product for olive skin. Worth the price. Random people keep completing my tan then I tell them it's fake and they get shocked."
"I'm obsessed with these!! I came across them on TikTok and have been absolutely obsessed with them!"