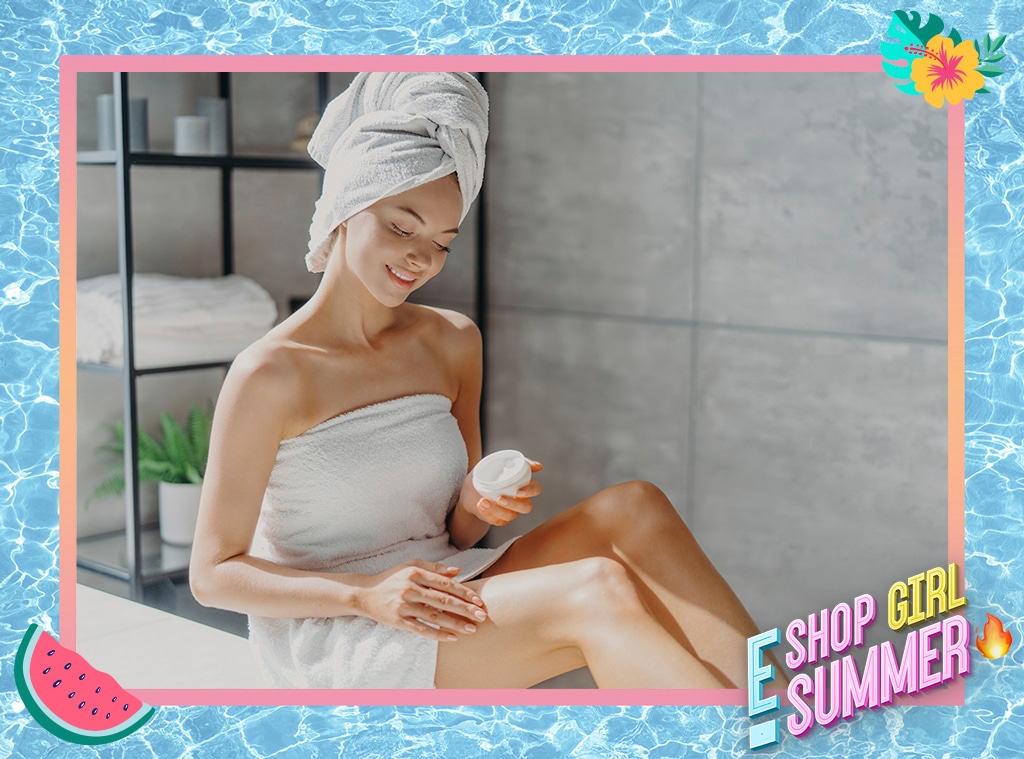 E! Illustration; Getty Images
We independently selected these products because we love them, and we think you might like them at these prices. E! has affiliate relationships, so we may get a commission if you purchase something through our links. Items are sold by the retailer, not E!. Prices are accurate as of publish time.
If you don't have enough fake tan left to look presentable, but there's too much left to redo your bronze, you need to shop for some beauty products that help you remove the color. It's Shop Girl Summer, which means a lot of us want to get our bronze on. Please learn from my trial and error. Let me walk you through the self-tanner removal process.
After you apply self-tanner or get a spray tan, you do whatever you can not to mess up your bronze. Once that tan sets, you do your best to extend the life of that tan in the subsequent days. And, then, when you're ready for your next tan, you need to go against all of that. You have to slough off the color and start anew with a fresh canvas that's ready for a fresh application. And, before you try it, do not make it a habit of self-tanning over your fake tan. The build-up of color and dead skin cells is not the move, trust me on that. You always want to spray tan clean, dry skin.
How do you go from that little bit of leftover tan to the fresh canvas you need to get a new, bronzed glow? Here are the must-have products that I rely on every other week and answers to some questions that may have been on your mind.
Products to Remove Self-Tanner and Spray Tans
An Exfoliating Mitt
This is the easiest, shortest, least-annoying way to take off your tan—depending on how far out you are from the self-tanner application, of course.
Seraphic Skincare Korean Exfoliating Mitt
If you're 3+ days out from your tan, you might not have to do much work to remove your tan. When you get in the shower, enjoy the warm water for about five minutes. Do not put any soap on your body yet. You want to create friction, which is tough with smooth, oily body washes and soaps. After about five minutes use that exfoliating mitt all over your body. You will see a lot of dead, bronzed skin coming off. It's a gross yet, satisfying feeling. If you love the sensation of pulling off a pore strip, you'll enjoy using this exfoliating mitt, for sure.
This exfoliating mitt has 10,900+ 5-star Amazon reviews.
Personal Tip: This is great to use 24-48 hours before you tan too. It's great to get that dead skin off. I would say to use it a day or two before you tan because you want to give your pores time to close before tanning. 
Dry Brushing
Dry brushing is a great element to add to your self-care routine. Aside from increased circulation, the exfoliation is great to soften skin and to get the self-tanner removal started.
CSM Dry Body Brush For Beautiful Skin- Brush To Exfoliate & Soften Skin, Improve Circulation, Stop Ingrown Hairs, Reduce Acne and Cellulite
Brush up from your feet to your stomach. When you get to your your stomach and back, go in circular motions. Brush down on your shoulders and your arms. Avoid the face, neck, and chest because that skin is so delicate. Thankfully, the tanner usually disappears from your face and neck pretty quickly compared to the other areas of your body.
You can go in the shower and use the exfoliating mitt after this. Or you can use a tan eraser. before you shower. It's your call depending on the amount of time you have and how much bronze is left behind.
Self-Tan Eraser
Stock up on a good self-tanner eraser. You don't want to run out of this when you're in a pinch.
Bondi Sands Self Tan Eraser
If you're three days out from your self-tanner application, you can use this tan eraser to get the tan out. I recommend using this after a quick dry brush session. Protect your bathroom floor and rugs and sit on an old towel you don't love (I use a black one specifically for this purpose), apply the self-tan eraser and leave it on for at least five minutes. I leave it on for 20 minutes. I have played around with using this for different lengths of time, and through many self-administered experiments, this has been the most successful for me.
You can apply it with your hands, which is fine since you want to get the tanner off your hands anyway. Or you can use a mitt or another applicator.
Self-Tanning Mitts and Back Applicators
You might have these to apply self-tanner, but they are just as useful to remove the products too.
Gaiyah Self Tanner Mitt Applicator
You should already have a self-tanner mitt to apply the product, but it's also a great idea to have one to remove it too. It's bigger than your hand and you can get some hard-to-reach spots much quicker. 
This mitt has 20,300+ 5-star Amazon reviews and it also comes in black and fuchsia. 
Gaiyah Self Tanner Back Applicator
If you're thinking "Why get the mitt if I want the tanner off my hand anyway?" that's a great point and I feel you on that. However, you are going to need a back applicator if you want to really get that tanner off your whole body. If you live alone or if you're just on this journey by yourself, naked on the bathroom floor, this back band is going to be your most trusted tool. It was made to help you apply self-tanner, but you can also use it to remove it. Just put some tan eraser on here and use this to get those tough-to-reach areas. 
This back mitt has 20,300+ 5-star Amazon reviews.
Personal Tip: Get two of these: one for tanning application and one for self-tanner removal.
Gaiyah Self Tanning Mitt Applicator Kit, With Back Lotion Applicators for Your Back, Exfoliator Glove and Finger Face Mitt
If you want to get a tanning mitt, a back applicator, and an exfoliating mitt, this value set is a great buy because it has all of those essentials along with a tiny mitt you can use with your fingers to apply self tanner on your face. 
This set has 20,300+ 5-star Amazon reviews.
Baby Oil
Yes, it's not just for infants. Hear me out on this one. 
Johnson's Baby Oil
If you really want to get that tan removal going, put on some baby oil. I would put it on my skin after a shower when the pores are open, rub it into the skin, and then put on some black sweatpants that I don't care about and lay up with a black blanket for a couple of hours to watch TV before rinsing off. I would say an hour with the baby oil does work well, but the longer you can keep it on the better. 
If that sounds messy to you, then run a bath with some baby oil and relax. Soaking in the bath water-baby oil combination will help you get rid of that tan.
Is this the most efficient tan removal? No, because you need to spend the time luxuriating with oil on. However, if you have a stubborn tan and you don't have enough days to wait for a skin cell turnover, this is a highly effective method, plus you're moisturizing the skin. This classic product has 3,800+ 5-star Amazon reviews.
Personal Tip: Do not do this if you are spray tanning or putting on self-tanner 24-48 hours later. Oils repel tanner. You want to do this two days before your next tan, not much closer than that. Otherwise, you're sabotaging your next tan.
Body Polish
Self-tan eraser is a game-changing product, but time really moves by slowly when you're naked sitting on your bathroom floor trying not to touch anything. Anything you can do before getting to that point is a much more luxurious experience.
Herbivore Botanicals Coco Rose Exfoliating Body Scrub– Moisturizing and Exfoliating Body Polish
When can I remove self-tanner after application?
If you're happy with your glow, you'll probably want to extend the life of that tan as long as possible. If your tan is streaky or if you're just ready for a new one, waiting until the three-day mark post-tanning application is a great time. 
When can I remove self-tanner before my next spray tan?
If you already have a spray tan on your calendar, you want to be done with tan removal, exfoliation, and hair removal 24 hours before. You want to have time for your pores to close, so the tanner applies smoothly. If you are shaving or exfoliating too close to your upcoming tan, the tan might dye your hair follicles, especially on your legs. That's never a cute look. 
You want to stop using body oils two days before your next tan because that may repel the tan.
Does shaving remove self-tanner?
Yes, you can actually shave your legs with a fake tan. Do I recommend it? No, not if you don't have to. Get a thorough shave in 24 hours before your tan. If you missed a few spots or if you hair grows quickly (I feel you), wait until 24 hours after your tan to shave. It does exfoliate your skin a little bit, but you can just apply a gradual tanning lotion after to make up for any slight color loss during the peak of your tan.
On the flip side, shaving your legs does help if your goal is to remove the tan.