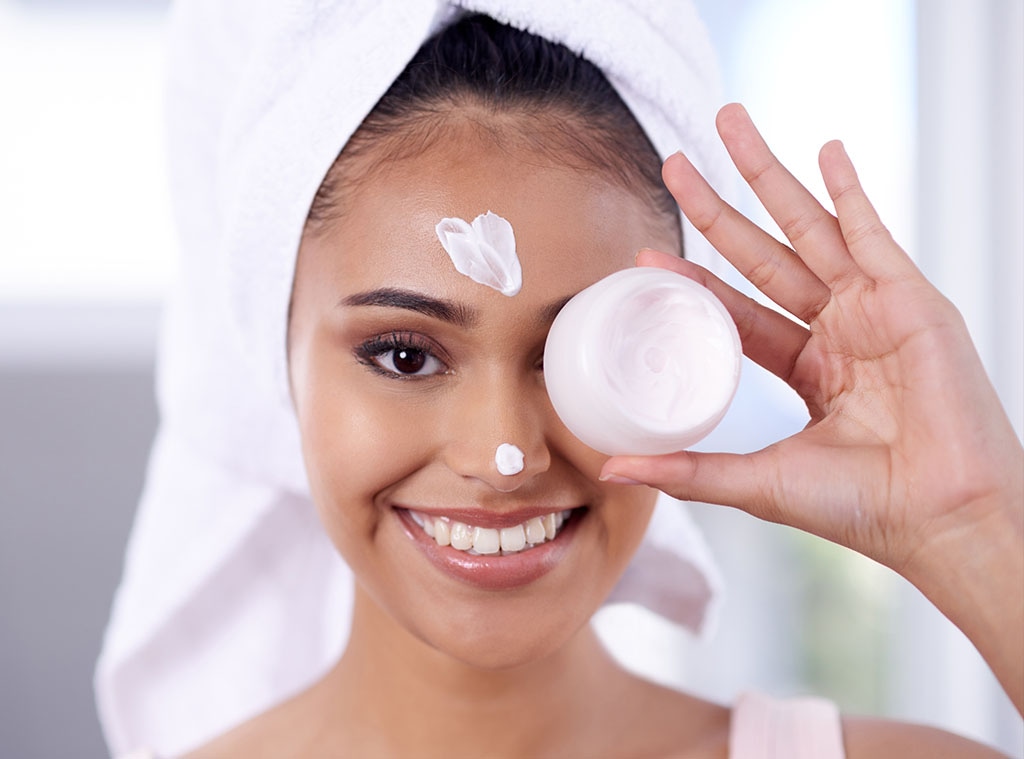 Getty Images
We independently selected these products because we love them, and we think you might like them at these prices. E! has affiliate relationships, so we may get a commission if you purchase something through our links. Items are sold by the retailer, not E!. Prices are accurate as of publish time.
Could you use some self-care? Doing an at-home beauty treatment and putting on a face mask might not actually take away your stress, but the relaxation and some cleared out pores is definitely a good morale booster, right? If you want to try out some new beauty products, it's a great time to shop at Peter Thomas Roth with some discounts up to 82% off.
Peter Thomas Roth's Memorial Day deals started early with some major deals on some of the best Peter Thomas Roth products. Just click here to check out the list of discounted products. Add your favorites to your cart and make sure you use the promo code MEMORIALDAY at checkout to get those price slashes.
There are so many great items to choose from. Let's check out some of the standout products.
Peter Thomas Roth Peter's Picks For The Girl 4-Piece Kit
Peter Thomas Roth always the best value sets. I always get them for my mom (and myself) as gifts. This 4-piece set has a $108 value, but you can get it for just $19. That's an 82% discount. It has the Anti-Aging Cleansing Gel, Firmx Peeling Gel, Irish Moor Mud Purifying Black Mask, and the Water Drench Hyaluronic Cloud Cream Hydrating Moisturizer. This is basically a whole skincare routine in one box.
The cleansing gel is great to take off the day's makeup and exfoliate the skin. The peeling gel promises to deliver a smooth, fresh complexion in addition to unclogging your pores. The mud mask is one of my absolute favorites, for years. Add this into your weekly routine to detoxy and decongest your pores. Everything from the Water Drench collection is just so incredibly hydrating. Peter Thomas Roth claims that the Water Drench Hyaluronic Cloud Cream Hydrating Moisturizer provides 72 hours of hydration to your skin.
Mega-Size Irish Moor Mud Mask
This mud mask has been one of my favorites since high school. I have been buying it for years and I have gifted it to my dad as well. 
This is great mask for congested skin to draw out dirt and grime without drying out your face. Every time I use it, my skin looks more clear and it feels soft. It doesn't have a scent. It's not irritating. It really is a great go-to mask to keep in your bathroom cabinet.
Another shopper shared, "I have re-purchased this item multiple times, and I just keep coming back for more! It leaves my skin looking brightened, my pores feeling cleansed, and it feels amazing on my face. I suffer from black heads, enlarged pores, and acne scars, but since I started using PTR Irish Moor Mud face mask 2-3x per week, I have seen dramatic improvements in all of these areas. I highly recommend this mask and have gotten several of my friends hooked on it as well!"
Peter Thomas Roth 24K Gold Mask Pure Luxury Lift & Firm
This gold mask is another personal favorite. I bought this years ago just because I loved the idea of using something gold on my skin (which I know isn't the best reason to buy something). Nevertheless, I continued to buy it because it calms my skin when it's irritated and gives me a luminous glow. Whether I'm stressing, it shows up in my skin. This mask is always an effective pick-me-up. Every time I use it, my skin is glowing and it feels super soft.
Another shopper said, "I bought his 24k gold mask and I love the results!!! The mask leaves my face silky and smooth. This is the best mask I have ever purchased. I highly recommended this mask it is worth your money."
A different customer declared, "My FAVORITE mask!!! Great for dry and sensitive skin. If you're looking for hydration and glowing skin ...this is the one for you!!"
Peter Thomas Roth Un-Wrinkle Peel Pads- 60 Count
These pads are said to exfoliate the skin to reveal a clear, youthful glow. The brand recommends that people with dry skin start out using them 1-2 times a week, eventually building up to 4-5 times, depending on your skin's tolerance. If your skin is on the oily side, start with daily use and see how your skin responds.
"I definitely love what it does for my skin. I have tried several different types of acids from other brands and this is by far the best. It leaves my skin feeling soft as butter and it doesn't irritate the skin on my neck which can be sensitive to skincare products. Make sure to follow instructions. Even a quick 60 second treatment is effective for me," a PTR shopper wrote.
Another claimed, "Plastic Surgeon couldn't believe my age!!" That same shopper revealed, "I am constantly getting compliments on my skin! When people find out how old I am they don't believe me!! I am 45, and people think early to mid-thirties at best... I'll take it for sure!!! Especially, considering the hyper pigmentation was so bad on my face at one point, I was embarrassed to go anywhere."
Peter Thomas Roth Max Complexion Correction Pads - Super Size
Clear acne blemishes and prevent future breakouts when you incorporate Peter Thomas Roth Max Complexion Correction Pads into your skincare routine. The pads chemically exfoliate to improve the appearance of fine lines, uneven skin tone, and texture, according to the brand.
A shopper said, "Never going to let myself run out. Omg seriously THE BEST for breakouts. I will never allow myself to run out of these. My skin hates me if I don't use these at least once a day."
Peter Thomas Roth Un-Wrinkle Turbo Face Serum
You can use this serum to diminish six of the most common signs of aging: forehead wrinkles, the "11" lines, nose "scrunch" creases, parentheses, pout lines and marionette lines.
A shopper shared, "I am 51 with light wrinkles on my forehead and around the eyes. I use this day & night but only on my lines and noticed an improvement within 1 day. I absolutely love this product & layer it under my day & night creams."
Peter Thomas Roth Blue Marine Algae Intense Hydrating Mask
Peter Thomas Roth claims that this mask fights the signs of aging, protects the skin from environmental stressors, and delivers a major dose of hydration. If you're looking for a dewy radiant glow, add this to your routine. 
A fan of the mask gushed, "Love this stuff. Please do not stop making it. This is my favorite Product!!!! I pack it on my skin 3 times a week and do not wash it off! In the am, I'm soft and exfoliated! Love it!!!"
Peter Thomas Roth Pumpkin Enzyme Mask- Super Size
This is great to exfoliate your skin once a week. Start your week/end your weekend with this on a Sunday night. Your skin will feel super smooth after this exfoliation.
A longtime fan of the product shared, "One of my very favorite for exfoliating. I've purchased this for years in all sizes including travel. Great value! I use it once a week during the winter months and twice during the Summer. I feel it working within 1 min and while my skin is combination it is also sensitive.
3 mins is enough time for a great enzymatic exfoliator . Radiance without a shine. Perfect for both men and women."
Peter Thomas Roth Un-Wrinkle Night Cream- Super Size
Peter Thomas Roth claims that this cream improves your skin's appearance while you sleep, smoothing out lines and hydrating the skin. In a study conducted by the brand, 92% of participants said their skin appeared firmer, more even toned, and moisturized with less visible pores.
A shopper gushed, "I love this product so much, that I have used it for years. But Recently, I received an email from the Peter Thomas Roth Co. about a 'super-size' sale, and this cream was finally being offered. There has never been another cream that has so thoroughly moisturized my skin, which has always been extremely dry, such as this product. But the best part is after just a few days I can literally see an improvement in my skin's texture and appearance of fine lines! This moisturizer not only lives up to its name, but it saves me money by not having to apply expensive creams twice a day. PLEASE don't ever stop making it!!! I'm a very satisfied lifetime customer!"
Peter Thomas Roth Water Drench Hyaluronic Liquid Gel Cloud Serum- Super Size
This serum plumps the appearance of skin and hydrates while reducing the appearance of fine lines, according to the brand. In a 4-week study conducted by Peter Thomas Roth, 96% of participants said their skin felt more hydrated, looked youthful, and smoothed out fine lines.
"I have been using his serum for two years. It is the best Hyaluronic gel on the market. I have found the results to be amazing. Can't live without it," a Peter Thomas Roth shopper said.