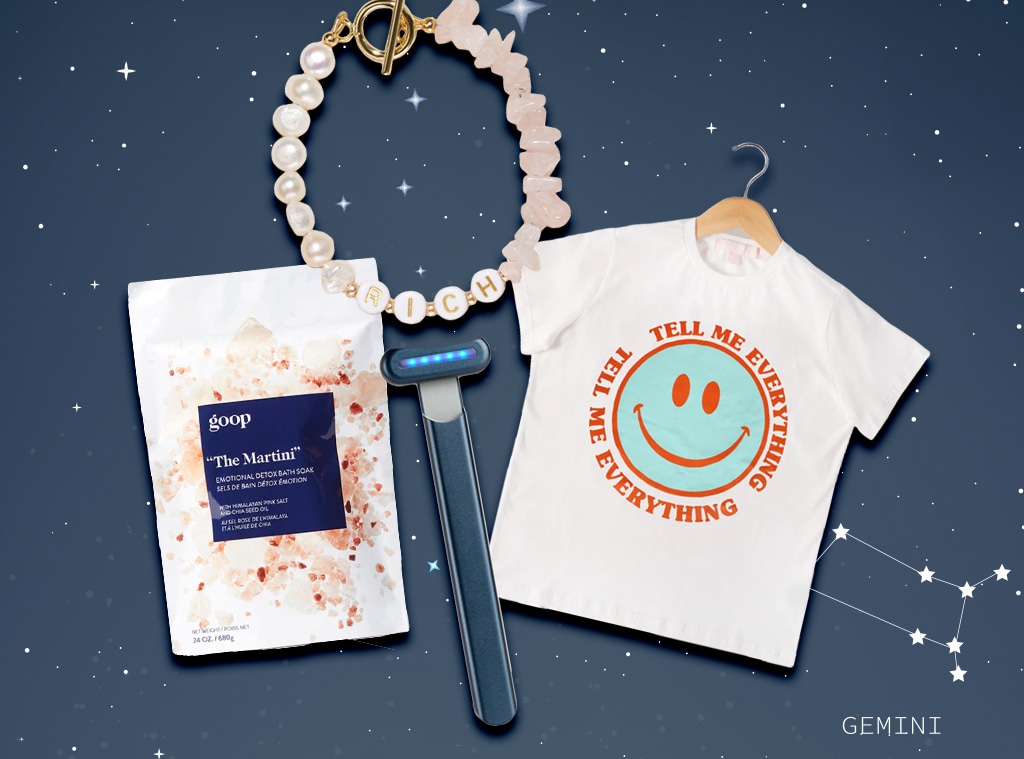 E! makes a commission on purchases. The brands featured are partners of NBCUniversal Checkout. We created this content and independently selected these products because we love them and hope you do too. Prices are accurate as of publish time.
Happy Birthday, Gemini! There's a lot to love about you from your ability to adapt to everyone you meet, to your intelligence, wit and charm. You're easygoing, you're always up for trying new things and you're so full of surprises, there's never a dull moment with you around. And sure, you may love a little drama every now and then, but you just can't help it. It's written in your birth chart. Despite that, you value your friendships, you're an excellent listener, and you know how to brighten someone's day when they're feeling down. Life wouldn't be the same without you, and you deserve all the best this season and beyond.
Since it's your birthday, we talked to professional astrologer Clarisse Monahan, to get all the details on what you can expect for the year ahead. Let's just say, this summer will be extra lucky in more ways than one.
Gemini Birthday Horoscope
We begin the first half of your birthday month with your ruling planet, Mercury, in retrograde. Because of this, it's essential to pay extra attention to any important deals or talks that need to be had during this period. Fortunately, Mercury goes direct on June 3, so things will start to clear and speed up. During that time, you'll have generous Jupiter in fiery Aries activating your Friendship Zone, which will make you even more outgoing and social than usual. If you're thinking of throwing yourself a huge birthday bash, the universe is all for it. 
"This year you can get a lot of luck and rewards from your friends and networks," Monahan said. "It's also a great time to get more involved in your community. On the 23rd of June—though Gemini Season will have just ended—you'll get a little razzle dazzle transit from Venus who moves into your sign. This sparks a three-week transit of potent love vibes. Whether single or coupled up, this will be an auspicious time for love." 
The second half of the year is more Mars-oriented, which is a more aggressive energy. "Beginning on August 20, the planet of war camps out in your Ego sector until Jan. 8, 2023, so you could be doing battle with yourself during this time," Monahan said.
On the plus side, you'll also have a ton of energy to put towards communication and writing. According to Monahan, you should use the end of the year to get a novel, essay, or Nobel Prize acceptance speech finished. Just watch the words you're using as the energy all around might make you a little more snarky than usual. The last thing you want to do is accidentally offend someone. 
Now that you know what to expect in the upcoming months, here are some things you'll want to have in your life ASAP.
Manifesting it! Bracelet
Joey Baby
Manifest the life you want with this gorgeous bracelet that's half freshwater pearl, half rose quartz. It's like this bracelet was just made Gemini!
Sting Like a Bitch Tee White
Married To the Mob
Sold By
Married To the Mob
This t-shirt from Married to the Mob captures the duality of your personality perfectly. In case you didn't know, the brand creates tees in gender neutral sizes so everyone can wear each style and "no one feels left out." 
SolaWave Skincare Wand with Blue Light Therapy
SolaWave
Curious Gemini is always up for trying new things, especially if cool new tech is involved. SolaWave's blue light therapy wand is a next-level skincare tool that was made to help fight against breakouts, boost the effects of serums and improve skin's radiance. In addition to the skincare benefits, it also provides therapeutic warmth and a vibrating face massage. This is the kind of birthday gift you can definitely treat yourself to. 
Tell Me Everything T-Shirt
Jill & Ally
This cute Jill & Ally tee just screams Gemini energy. As a Mercury-ruled air sign, you're known for being the chattiest among the bunch. You love indulging in gossip and your curious nature makes you want to know everything about everyone. You just can't help it — you're a Gemini. 
Iridescent Gold Rimmed Stemless Champagne Flutes - Set of 2
Jill & Ally
These gorgeous stemless champagne flutes are a must for your next get together with the girls. 
Genius Wine Set
Cork Genius
Speaking of get togethers, you may want to snag this Genius Wine Set from Cork Genius as well. With this set, you can effortlessly open a bottle of wine without having to deal with corkscrews, broken corks or endless twisting and pulling. 
Sterling Forever When Stars Align' Constellation Necklace
Sterling Forever
Rep your sign proudly with this beautiful Sterling Forever necklace featuring the Gemini constellation. It's highly versatile and can be worn dressed up or down. Plus, the stones that make up the constellation make it extra glam. It's a must for any Gemini. 
Ribbon Bra
Alala
Geminis are full of surprises. Just when people think they get you, you do something totally unexpected. That's what you get with this gorgeous bra from Alala. It's a seemingly typical sports bra in the front, but turn it around and you'll be pleasantly surprised at what you'll find. 
Balance Ritual Kit with Blue Calcite
Moon and Jai
As adaptable as you are, it's still important for you to take some time to ground yourself in order stay balanced. This Balance Ritual Kit with Blue Calcite from Moon & Jai will help you achieve that. According to the brand, blue calcite is a "balancing stone" that can help "facilitate calm, clear communication, intuition and a sense of centeredness." It can also help with cleansing away negativity so you can have a clear and focused mind.
Goop The Martini Bath Soak
Goop
Everyone could benefit from an emotional detox, even a go-with-the-flow air sign like you. Goop's "The Martini" bath soak features himalayan pink salt and chia seed oil, which can help to center the body and spirit, as well as relax the neck and shoulder area.
Wine Bottle Basket Bag
Poolside
A social butterfly like you always has some kind of a get together to attend. With this cute wine bottle basket bag from Poolside, "BYOB has never been easier."