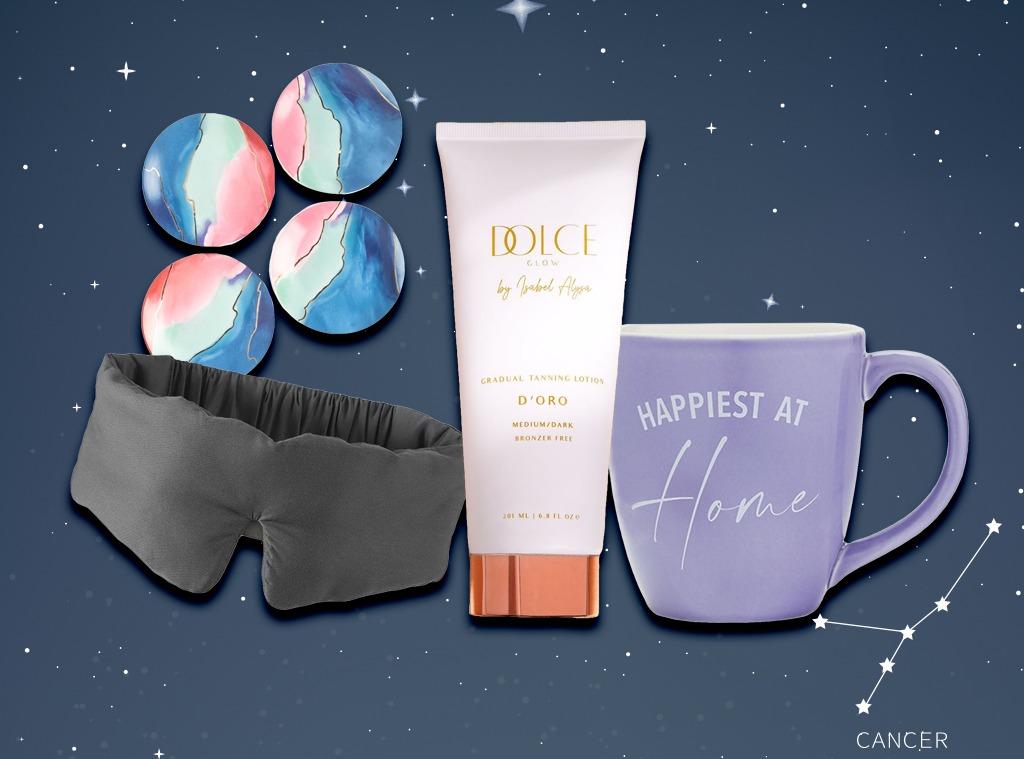 E! makes a commission on purchases. The brands featured are partners of NBCUniversal Checkout. We created this content and selected these products because we love them and hope you do too. Prices are accurate as of publish time.
Summer is officially here, which means it's also the beginning of Cancer season. If you were born between June 21 and July 22, we got professional astrologer Clarisse Monahan to share some insights into what you can expect for your year ahead. Let's just say, the universe is on your side this year.
If you've got a huge goal or dream you've been struggling to get anywhere with, your birthday horoscope says you may finally see some movement in the right direction over the next year. 
In astrology, each zodiac sign has a ruling planet, which influences a sign's personality and behavior. For Cancer, your ruling planet is the Moon. Whenever the Moon is in a good placement in the sky, you'll notice things in your life seem to flow more smoothly. Fortunately, the New Moon on June 28 will be in its home planet of Cancer. According to Monahan, this will be a very lucky day for you. When a planet is at "home" in the sign it rules, its powers get "supercharged" and you'll get some extra support at manifesting your dreams.
"New Moons are a perfect time to set intentions or to plant seeds of desire to be harvested later," Monahan said. "The New Moon in Cancer will be especially fertile for thinking about what or where you want to be in six months. So on June 28, sit at your desk, look at the Cancer New Moon and write down three or four goals. With some hard work, they will grow, like wheat or other bumper crops." 
Since it's your birthday season, we've rounded up a few products we thought you would love. Check those out below. 
Birthday Gifts for Cancer Zodiac Signs
Crystal Powered Sleep Mask
Sunday Citizen
As a Cancer, you love your sleep, and this soft and silky bamboo eye mask will help you get a good night's rest by creating total darkness and noise reduction. The sleep mask is also filled with tiny amethyst, clear quartz and rose quartz crystals to bring in all the good vibes. It's just the thing you need to completely rest and recharge.
Sterling Silver CZ Half Moon Necklace
Sterling Forever
Your ruling planet is the Moon, which Monahan says contributes to your ever-changing moods and sensitivity. You can bring the power of your ruling planet with you wherever you go with this gorgeous Sterling Silver CZ Half Moon Necklace.
Happiest At Home Ceramic Mug
Jill & Ally
There's no place like home for Cancer, and this lovely mug from Jill & Ally can be your go-to when you're comfortably snuggled up on the couch on a Friday night. 
Multicolor Ceramic Entertaining Plates - Set of 4
Jill & Ally
These beautifully designed entertaining plates are sure to wow your guests at your next get together. They're perfectly sized for appetizers and desserts, and even come in a cute giftable box.
When Stars Align' Constellation Necklace
Sterling Forever
Rep your zodiac sign with with Sterling Forever's classic When Stars Align Constellation Necklace. It's super cute and highly versatile, you can wear it with any outfit of your choosing to give it an extra touch of glam.
High Vibe Home Kit with Selenite
Moon and Jai
When you're a Cancer, your space is everything, and Moon and Jai's High Vibe Home Kit with Selenite is just the thing you need to make your space a total sanctuary. The kit comes with selenite for neutralizing negative energy, palo santo for cleansing, rose quartz for restoring harmony, and tiger's eye for bringing in luck and prosperity. It's a must-have for any zodiac sign, but especially Cancer.
D'Oro Self-Tanning Lotion
Dolce Glow
Since your birthday falls right at the beginning of summer, treat yourself to the Dolce Glow D'Oro Self-Tanning Lotion by celebrity spray tan artist Isabel Alysa. This moisturizing gradual tanning lotion will give you a beautiful glow that's luminous and natural looking. 
Slam Dunk Hydrating Moisturizer
Bubble Skincare
Bubble's Slam Dunk Moisturizer will keep your skin calm, cool, and hydrated all summer long. It's made with aloe leaf juice to soothe, vitamin E to protect against environmental stressors, avocado oil to nourish and reduce redness, and so much more. Reviewers say it leaves their skin feeling soft, silky smooth and completely hydrated. Plus, the packaging is super cute!
The Self Care Bucket List
Flowjo
As a Cancer, you love taking care of others to the point you sometimes forget to take care of yourself. Because of that, The Self Care Bucket List from Flowjo could help you find more time for yourself. It features 100 cards filled with self-care activities based on the kind of mood you're in. For instance, need a good laugh? You could pull out a card that suggests taking a five minute break to do something silly like dancing in the middle of your kitchen for no reason. It's a must-have for any Cancer sign.
Tosca Magnetic Kitchen Organization Rack
Yamazaki Home
This kitchen organization rack is super easy to set up, all you have to do is attach magnets to the back of the shelves and stick it on the fridge door. It's perfect for holding some of your go-to spices and kitchen tools. It's cute, practical and perfect for any Cancer's kitchen.