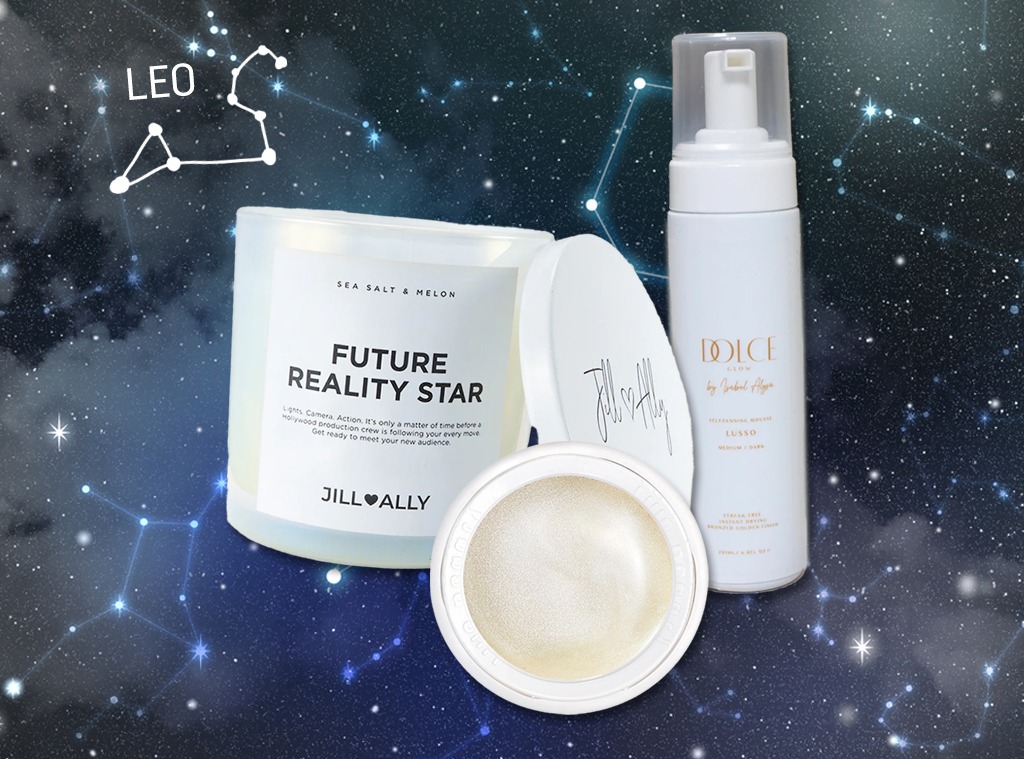 E! makes a commission on purchases. The brands featured are partners of NBCUniversal Checkout. We created this content and selected these products because we love them and hope you do too. Prices are accurate as of publish time.
Happy Leo season, everyone! 
The zodiac's showstopping lion is bold, confident, creative and strong. They're also playful and fun-loving, which is perfect since their season occurs right in the middle of summer. Like the Sun that rules over their sign, Leos are warm, bright and extremely generous. Now that we're in Leo season, you can expect the energy in the air to be just as light and optimistic as the zodiac sign itself. 
Each new zodiac season brings fresh starts and new opportunities to make changes in your life. If you want to know what you can expect from July 22 to August 22, we talked to astrologer and two-time best-selling author Lisa Stardust, to get all the info on everything you need to know. 
What All Zodiac Signs Can Expect During Leo Season 2022
Tired of the same old boring routine? Well, you're in luck. According to Stardust, the theme of this Leo season is change. However, it may be a bit of a bumpy ride.
"We can expect a lot of shifts to take place," Stardust said. "On July 31, the North Node of Destiny and Uranus will connect in the zodiac sign Taurus. The following day, Mars, Uranus, and the North Node of Destiny also unite in Taurus. This means there are going to be a lot of unforeseen changes when it comes to our personal security and all that we hold dear."
On one hand, these changes can be challenging to deal with since they are unexpected. However, the energy does soften as the month progresses and we'll be able to come out of it feeling transformed and better than ever. From there, you'll be able to fully experience all the joy Leo season has to offer.
Leo's Birthday Horoscope 2022
If you're a Leo, this birthday year will be a time for you to step out of your comfort zone, which may be hard since you're a fixed sign and dislike change. However, pushing yourself a little bit can lead to some really positive results.
"The moment the lion allows themselves to see a fresh perspective and embrace new beliefs, they'll feel as though they have been reborn," Stardust said. "As long as they can lean into the new energy that's coming their way, roll with the punches, and go with the flow, it will be an exhilarating and exciting time."
Since it's your birthday season, we've rounded up some gifts we know you'd love. Check those out below.
Unsun Cosmetics Mineral Tinted Face Sunscreen
Unsun Cosmetics
Unsun Cosmetics' best-selling Mineral Tinted Face Sunscreen is not only a sunscreen, it's a primer and color corrector as well. Even better, it was formulated to work on a range of skin tons without leaving any annoying white residue. Since Leo season starts at the peak of summer and Leos love being out and about, this sunscreen is a must-have. 
P.S. One of our shopping editors is absolutely obsessed with it!
RMS Beauty Living Luminizer
RMS Beauty
The Living Luminizer from clean beauty brand RMS Beauty is a cream luminizer that melts right into the skin. Unlike similar products, the Living Luminizer was made to give you a "subtle gleam" that's neither frosty or shimmery. It's just the kind of thing Leos need to achieve a beautiful, natural looking glow that's camera-ready.
Snif Show Pony
Snif
Snif's Show Pony fragrance is warm and sophisticated with just a touch of spicy, just like Leos themselves. Numerous reviewers shared they get complimented on the scent all the time. One even wrote, "Thank god I don't have an issue with physical touch because people have been non-stop hugging me and complimenting how great I smell, especially men." It has notes of black tea, saffron, vetiver (smoky and earthy), sandalwood, bergamot, black pepper, and golden plum.
EleVen by Venus Williams Moon Desert Dress In Fuchsia Snake
EleVen by Venus Williams
Sold By
EleVen by Venus Williams
Leos are all about standing out, and they're guaranteed to turn heads in this stunning fuchsia tennis dress from EleVen by Venus Williams. It features a shelf bra for support, and fabric that's breathable and moisture-wicking to keep you cool and dry. Plus, the color is super trendy right now!
Jill & Ally Boss Babe Lapis Crystal Manifestation Candle
Jill & Ally
This candle from Jill & Ally will help Leo's "manifest that boss babe energy." It's made with two large lapis crystals which represent wisdom, truth, honesty, self-awareness and harmony. Leos can light this whenever they need a boost in confidence and creativity.
Jill & Ally Future Reality Star Candle
Jill & Ally
Out of all the signs in the zodiac, Leo would most definitely win the award for Most Likely to be a Future Reality Star. They were just born to be in the spotlight. So this candle by Jill & Ally was just made for them. It features notes of mandarin, amber, cedar, jasmine, sandalwood and musk.
Bésame Cosmetics Red Hot Red Lipstick - 1959
Bésame Cosmetics
This lipstick by Bésame Cosmetics is just as red hot as the zodiac's fiery lion. The moisturizing lipstick is enriched with squalane, aloe, and vitamin e, and has a semi-matte finish.
Dolce Glow Lusso Self-Tanning Mousse
Dolce Glow
Dolce Glow's Lusso Self-Tanning Mousse will help give Leo a radiant, natural glow this summer. It's buildable, fast drying and streak-free. If you'll be going on a last-minute vacay this summer, this self-tanning mousse is a must-pack.