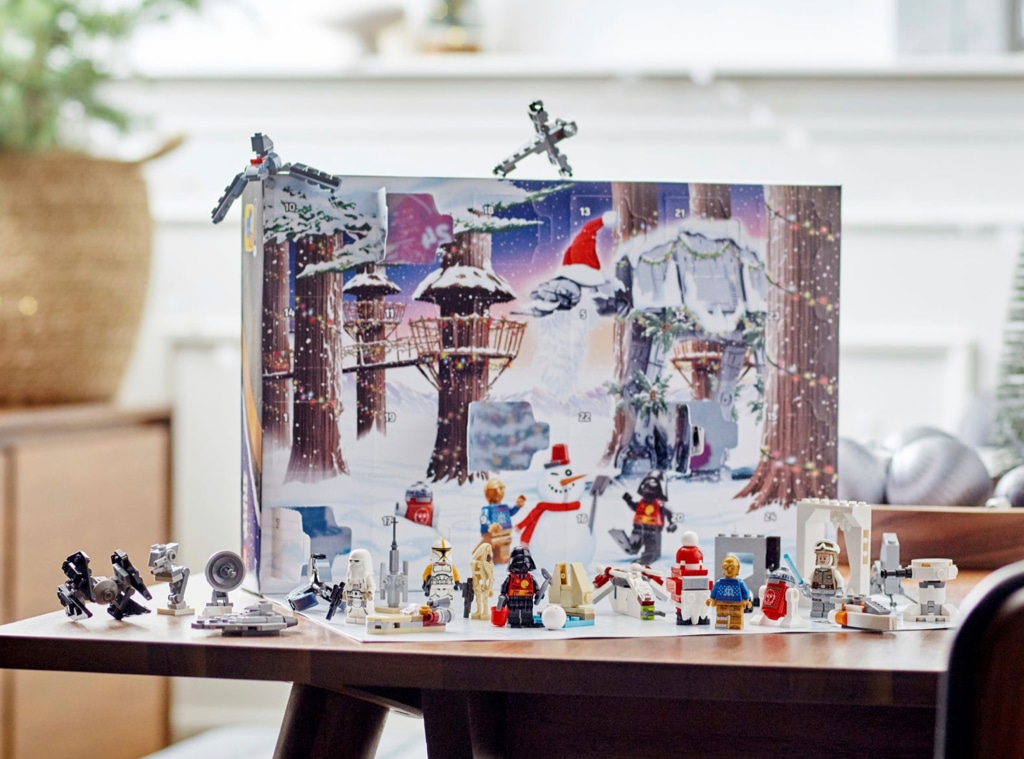 LEGO
We independently selected these products because we love them, and we hope you do too at these prices. Shop with E! has affiliate relationships, so we may get a commission if you purchase something through our links. Prices are accurate as of publish time. Items are sold by the retailer, not E!. 
Advent calendars are a holiday staple that many look forward to each year. After all, who doesn't enjoy opening up a little surprise each day? If you ask us, it's the only way to countdown to Christmas. While we still have Halloween and the official start of fall right around the corner, it's never too early to start planning for the holiday season. That's especially true if you're looking forward to having an advent calendar this year. 
Luckily, there are new 2022 advent calendars already out there for you to shop. If you're a big fan of Star Wars, Marvel, Harry Potter or Disney, you're going to love what this year has to offer. For instance, LEGO released advent calendars for this year which includes a fun festive set featuring the Guardians of the Galaxy's holiday special that's set to release later on this year. Funko also revealed their brand new advent calendars for 2022 and the adorable holiday-themed Disney set is definitely one we're eyeing. 
Keep in mind, advent calendars are pretty popular and tend to sell out. So if you can, we highly recommend getting one as soon as possible. 
We've rounded up some pop culture advent calendars you can shop right now. Check those out below. 
LEGO Star Wars Advent Calendar
The fun and festive LEGO Star Wars Advent Calendar this year includes five fan-fave character minifigures, three droid figures and 16 mini builds including the Bad Batch Shuttle and the Hoth AT-ST. The set is meant for ages six and up, and there are 329 pieces. 
LEGO Harry Potter Advent Calendar
The LEGO Harry Potter Advent Calendar is one both wizards and muggles will enjoy. It features seven minifigures including Harry Potter, Sirius Black and Moaning Myrtle. While we won't spoil everything, the first three days have pieces that will recreate classic movie scenes. There's even a bonus game that can be played once all the pieces are open.
LEGO Guardians of the Galaxy Advent Calendar
The LEGO Guardians of the Galaxy Advent Calendar is definitely one to have in 2022 especially with the Disney+ holiday special releasing later this year. It features character minifigures of Star-Lord, Rocket, Groot, Mantis, Nebula and Drax. It also has mini build models of a drone and the Guardians' ship.
Funko Marvel 2022 Advent Calendar
The Marvel Advent Calendar is extra special this year because it features 24 Funko Pocket Pops! of your favorite Marvel characters with a holiday twist. It's super festive and fun. It's such a great calendar to have if you're a fan of Marvel.
Funko Star Wars 2022 Advent Calendar
That candy cane holding Darth Vader figure alone is enough to make us want this festive advent calendar. Each day, you'll have a lot fun discovering which of your favorite Star Wars character you're going to get.
Funko Harry Potter 2022 Advent Calendar
The Harry Potter Funko Advent Calendar this year is pure magic. It comes with 24 pocket-sized Funko Pops! of Harry, Ron, Hermione and more. Once you've opened up all the characters, you can create a scene in front of the Diagon Alley artwork on the box.
Funko Disney 2022 Advent Calendar
Oh boy! There's no better way to celebrate the holidays than with all your favorite Disney characters dressed in festive attire.