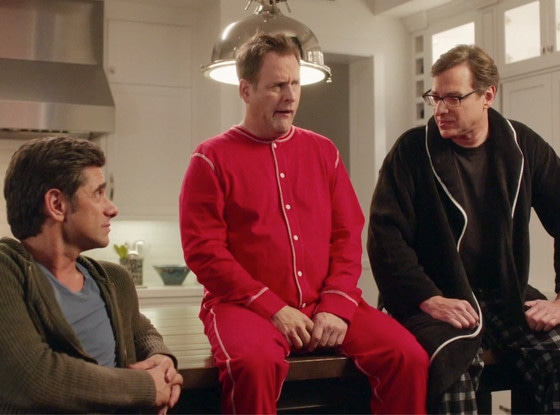 Youtube
Does anybody else kind of love that the men of Full House aren't exactly as wholesome IRL as their characters? Dave Coulier, AKA the loveable Uncle Joey, did a Reddit AMA where he dished on all the naughty pranks he pulled on set and off with his Full(er) House cast mates. In addition, he dropped info on his current projects, the origin of "cut-it-out," and why he won't be visiting the Mary-Kate and Ashley Olsen museum. It's all very hilarious and juicy, and we've got the best bits of the AMA rounded up for your reading pleasure. Let's get started shall we? 
Aside from Fuller House, Dave has been busy creating and promoting his new animated book, The Adventures of Jimmy Bugar. It's a musical book (say what?) that features his Fuller House co-stars, John Stamos, Jodie Sweetin and Lori Loughlin. Not only did he write the whole thing, he even created the songs that play along with the story.
Things weren't always fine and dandy as they are now, however. Did you know Dave was supposed to be on SNL before he landed Full House? The actors said, "I did a screen test at NBC, my manager Brad Grey called and said that he had talked with Lorne Michaels, and Lorne said, 'It's going to be great to have Dave with us in New York this season.' And then I told everyone in my life that I was going to New York to be on SNL, and then Brandon Tartikoff decided that Dana Carvey and I were too similar. Then I had to call everyone back and tell them 'Nevermind.' Six months later, I read a pilot titled Full House. I would have never been on Full House had I gone to New York to be on SNL." A blessing in disguise!
After landing Full House, Uncle Joey became the character we all know and love. How did he manage to make us all laugh? "The writers came to watch me do stand-up and incorporated a lot of my act, but when we got to later seasons of the show, they gave me free reign."
What was his favorite impression he did on Full House? One Redditor had to know. "Joe Pesci as a potato," Dave replied. Um, what? Speaking of Uncle Joey, we all want to know what happened to Mr. Woodchuck. "I kept the original Mr. Woodchuck. And then my dog Ranger ate his face." Childhood ruined. The good news is, the new Mr. Woodchuck seen on
Speaking of Uncle Joey's comical skills, we all want to know what happened to Mr. Woodchuck. "I kept the original Mr. Woodchuck. And then my dog Ranger ate his face." Childhood ruined. The good news is, there's a new Mr. Woodchuck seen on Fuller House, which was given to him by Jimmy Fallon.
One Redditor asked the golden question, where the heck did Joey's famous phrase, "cut-it-out" come from? "I stole it from my good friend Mark Cendrowski. We've known each other since we were nine years old. And he now directs the Big Bang Theory TV series," Coulier answered. The hand gestures were his pals idea as well. Similarly, when asked how often fans approach him with that line, Coulier explained, "All the time. And they always act like they are the first one to surprise me with it. 'I bet no one's ever done that!' Yup, you're right. Customer's always right." Take note, people. 
Alright, let's get down to the good stuff. Warning: The next piece of info is slightly NSFW. One Redditor asked about the pranks he played on his co-stars. Let us just say, Uncle Joey was funny on camera and off. "It was for Bob [Saget's] 50th birthday. And we kidnapped him and took him to Vegas. When we picked up Bob, I got naked and sat in the limo and waited for him. And when he got in, laughs - this is horrible, I put my wiener through a hole in John Stamos' 8"x10" picture, and it made everyone laugh. Bob took a picture of it. We went to Vegas and met Stamos at the hotel, gave the picture to John. He stuck his tongue through the exact same hole and then Bob showed him the picture he took!" We can't.
The final highlights: While he thinks it's awesome, Coulier won't be able to make a stop at the Olsen Twin museum in NYC simply because he doesn't have the time. Maybe unauthorized Full House related tributes aren't his thing? When asked about that ridiculous TV movie, The Unauthorized Full House Story, Coulier said it made him laugh hysterically. I was on the Surreal Life with Flava Flav, and The Unauthorized Biography was more surreal than the Surreal Life. Um, amen to that. 
There you have it! All the Dave Coulier revelations you needed to know but never know how to ask.