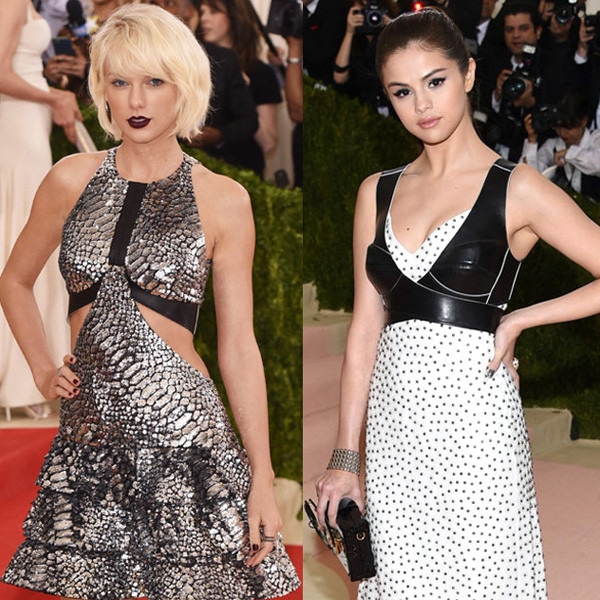 David Fisher/REX/Shutterstock; Evan Agostini/Invision/AP
No matter how much attention Taylor Swift's love life has received over the years, there has been one relationship that has truly held our interest throughout, one coupling whose strength and durability we've endlessly rooted for because it's been the big constant in the young artist's life.
We're talking about her friendship with Selena Gomez, of course.
Long predating the invention of squads and the goals they inspired, Taylor and Selena naturally hit it off. Though a few years apart in age, the two singers have traversed similar experiences in life, both knowing what it's like to break out of their respective Disney and country-music boxes as they came of age in the spotlight.
And not only have they been there for each other through thick and thin, boyfriends and breakups, cookie baking and "Bad Blood," they've been honest about the difficulties of maintaining a BFFship over time, distance and the rigors of being teenagers and, later, 22.
Hence all the concern over why they seemingly spent no time together at the 2016 Met Gala on Monday, despite word from Selena that they'd be each others' dates!
There is, of course, the possibility that they're just that cool and in sync. To the naked eye it didn't look as if they were together, but maybe there was a tacit agreement between them to be together in spirit as they went off and did their own things. They were both wearing Louis Vuitton after all, so they started off the evening as label mates. And Taylor, as a Met Gala co-chair this year, had to arrive on the early side and was one of the first major stars to walk the carpet before heading inside to help welcome the guests.
And there were hundreds of guests.
But Taylor went on to noticeably dance the night away at Apple's after-party at The Standard's Boom Boom Room and then had a pizza party with the Haim sisters, while Selena skipped the post-Gala celebrations and enjoyed a low-key after-party for four elsewhere. And beforehand, Taylor seemed to be conspicuously missing from the Louis Vuitton crew pic, Selena instead cozying up to fellow LV-wearer Miranda Kerr. Nor did Taylor and Selena have their own Olsen twins moment in Vogue's futuristic photo booth. Or take selfies...
Hmm.
We're guessing that a BFF-themed Instagram pic is going to put all concerns to rest soon enough, but until then, let us remember that Taylor and Selena have gone their separate ways before and have always found their way back to each other in the past.
They've been friends since Selena was 13 and Taylor was 16, after all. Do you remember what middle school and high school was like in the clique and clash departments? The tween years can indeed provide a foundation for developing solid, life-long friendships—but you don't know what that actually means then.
Only in hindsight does it become more clear.
"I mean I've known her for 10 years, she's been one of my best friends through thick and thin, walked by my side," Selena, appearing on ITV's Lorraine in the U.K. just this past March, reflected about her lasting friendship with Taylor. "Her whole family has been so supportive of me and yeah, she's been there during crucial points in my life and in my career."
The "Come and Get It" singer added: "[Taylor's] known for embracing her personal story and creating a beautiful thing out of it, and I was a little hesitant with that—and she was always the person to encourage me to tell my story and be proud of who I am."
So that small age gap, which will continue to figuratively close as time goes by, has allowed for a bit of a mentor-mentee dynamic as well—which makes sense. Taylor's been scribbling down autobiographical songs for more than a decade, so she obviously had some experience by the time Selena was ready to focus more on her music career.
"Taylor's amazing," Selena gushed to Glamour in 2012. "She's so smart and sweet and humble—and she's way more successful than I am! So when I see her after everything she's been through and she just wants to go home and bake cookies with me, that to me is awesome."
That could almost sound too good to be true, but in the going-on-four years since that interview, the lack of any sort of apparent rivalry or frenemy-ship (minus Selena's memorable villainous turn in Tay's "Bad Blood" video) has been most refreshing.
Don't think we haven't noticed, you two, how not catty you are... (Well, minus T.Swift's love for actual cats...)
Taylor too has acknowledged how rare it is for two people to really connect in that way and stay friends for so long—especially during a time when life is changing at such a rapid clip.
"Both of us have kind of stuck it out and hung in there through all the different changes we've gone through," the 1989 artist told E! News in May 2014, so almost exactly two years ago.
As for their friendship, "It's been the longest one I think either of us have had, really," Taylor added. "Longevity is something you really can find very precious and rare in friendships."
Damn straight. And yet later that year, the pair also weathered rumors of a feud, the flames of which were allegedly fanned by Selena's tendency to break-up-and-make-up with Justin Bieber.
"People think they have my relationships all mapped out. There were all these blogs, like, 'Are they feuding? Are they fighting?'" Taylor told Rolling Stone in September 2014. "Meanwhile Selena and I would be on the phone that night, laughing about it. We let them have that one."
And what are friends for if not for tirelessly supporting each other no matter what stage of the "never, ever, ever getting back together" phase they're at with the guy the other doesn't care for? It's not as though Taylor wasn't dating during the past 10 years. Surely the support system ran both ways.
A bigger threat to their friendship, meanwhile—bigger than any dumb, or delightful, boy—would have been the addition of more girlfriends to the pool. Selena's got her non-Taylor pals, but it's Taylor who made friends with everybody, ever, over the past year.
And while the more girl power the merrier, it can get a little crowded with so many personalities in the frame. Less time for small-group bonding, you know?
Not to mention, it takes work to keep in touch with so many pals!
"My friends and I text every day," Taylor told Vanity Fair last summer, noting that she engages in a combination of one-on-one and group messaging. "Being a huge group of girls who love each other, we know where everyone is." She indicated that there's actually safety in numbers, insisting the big group—which also includes Karlie Kloss, Hailee Steinfeld, Gigi Hadid and Lorde, among others—isn't one for squabbles.
When she took a break from dating, Taylor recalled to the mag, "What ended up happening was I became happier than I had ever been before. I swore I would never ever get in another relationship if it meant changing who I was, or taking me out of that mode where my friends are everything to me."
Jordan Strauss/Invision/AP
Fast-forward to 2016, when both Taylor and Selena could be forgiven for having a waning friendship that in no way resembles the love for each other that they waxed so rhapsodic about back in 2012. Or 2014. Or even last year.
But they were together at the Grammys, and then again for Camila Cabellos' birthday, and just a few weeks ago again at the iHeart Radio Music Awards.
So while there is definitely an explanation as to why they didn't take any photos together during the Met Gala, there's no need to assume it's a negative one.
Or even if it were, history points to it being just a bump in the road for a friendship that has so far outlasted all the guys and all the grief. But they had best get back to declaring their devotion to each other on Instagram soon, lest people start using the F-word again.
Yet while everyone else is talking Feud, here's to Taylor and Selena just laughing it off, as always.