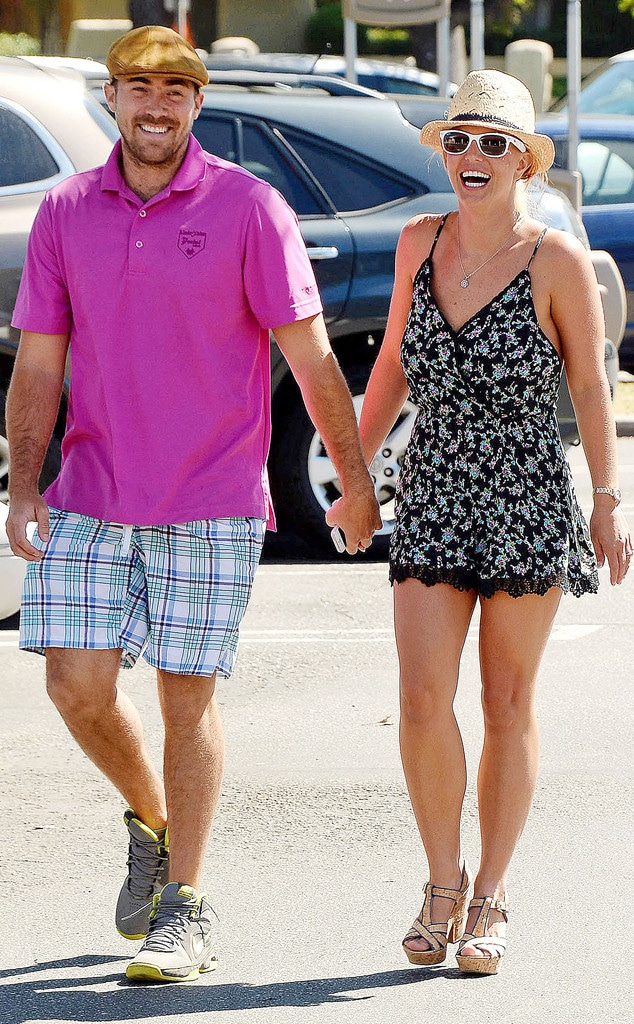 Milton Ventura/Broadimage
From upholding a $35 million deal with her extended Las Vegas residency to managing her many business ventures (which helped her become fifth highest-earning female musician, according to Forbes) to simply buying a drink at Starbucks, everything Britney Spears does is still being controlled by her conservators.
To the public, she appears to have come quite a distance from her breakdown in 2008—when the conservatorship was first put in place as "necessary and appropriate"—and yet her father, Jamie Spears, and a lawyer, Andrew M. Wallet, still have full control over her finances, physical well-being and her estate.
Thus, after she testified in court on Monday in a case filed against her by a former self-described manager, Sam Lutfi, the New York Times decided to investigate whether she still truly needs the guardianship, interviewing those around her—including her ex-boyfriend, David Lucado.
4CRNS/FAMEFLYNET PICTURES
In case you forgot, David and Britney began dating in 2013 and called in quits a year and a half later, in August 2015, after rumors of his alleged infidelity (which he adamantly denies).
Despite their rocky history, however, David is a firm believer that she no longer needs people controlling her assets.
"If anyone knew the real Britney, they would know that she would rather be remembered for being the great mother she is rather than the artist she is," he said. "And if anyone could see her interactions with her kids, they would know that there is no need for a conservatorship over Britney's personal life."
And he's not alone.
Adam Streisand, one of two lawyers whom she spoke to at the time of the arrangement, said she wasn't in favor of the conservatorship from the start. However, a custody battle against her ex-husband Kevin Federline for their two sons, Jayden and Sean, swayed her ability to fight against it.
"It was clear to me that she seemed a bit agitated," Mr. Streisand told the NY Times. "But my sense was that she did have the capacity to pick a lawyer and that she could make a rational decision. Britney wanted to oppose the conservatorship. But she was also extremely worried about her kids and seemed to understand that the best thing to do to see her kids was to accept it."
In fact, this is a point Britney reiterated during an interview with MTV in 2008—one of the only times she's ever talked about the arrangement.
"I think it's too in control," she said. "If I wasn't under the restraints I'm under, I'd feel so liberated." She continued, "There's no excitement, there's no passion...Even when you go to jail, you know there's the time when you're going to get out. But in this situation, it's never-ending."
Britney is still remains under the conservatorship, and despite appearing completely capable in front of a court on Monday, she will continue to be controlled by it, unless she battles the restrictions herself.
"As long as she is bringing in so much money and as long as the lawyers and conservators are getting paid, there is little incentive to end it," Elaine Renoire, president of the National Association to Stop Guardian Abuse (an advocacy group) told the NY Times. "Usually, the conservatorship just keeps going unless the conservatee makes a fuss or the family does."