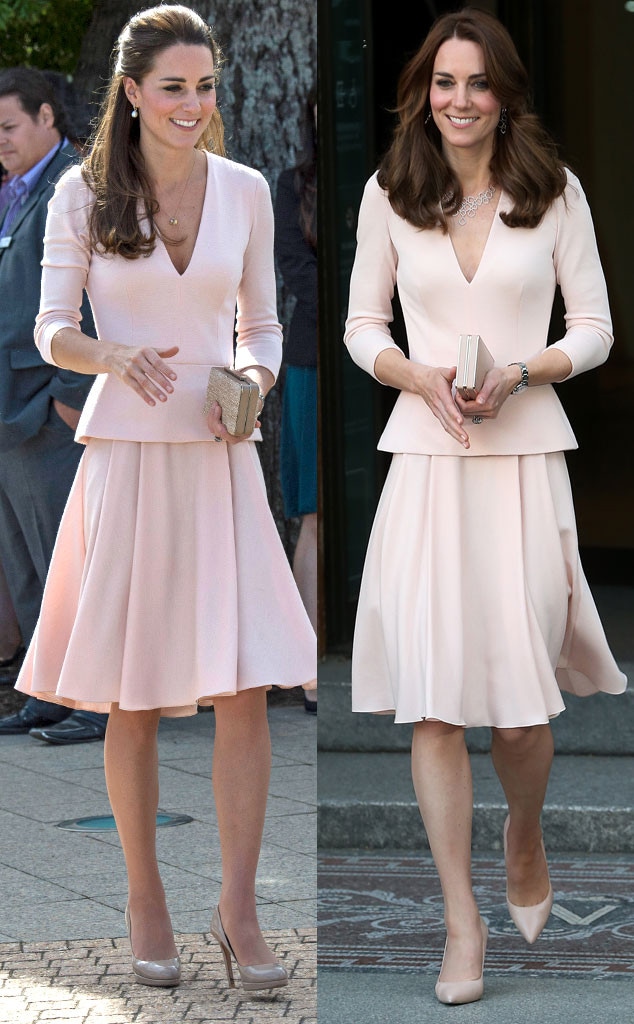 Arthur Edwards - Pool/Getty Images; Danny Martindale/WireImage
When it comes to the art of repeating outfits, Duchess of Cambridge Kate Middleton is an undeniable expert. 
In her five years as a royal public figure, she's debuted one standout ensemble after another. However, often, with so many public appearances, Middleton has repeated the same pieces.
However, to keep her threads from looking stale, she livens up her outfits with accessories and hairstyles to keep the classic ensembles looking consistently fresh. 
Take for instance the powder pink peplum dress by Alexander McQueen that she wore during her visit to the Vogue 100: A Century Of Style exhibition at the National Portrait Gallery in London on Wednesday.
Ian Gavan - WPA Pool/Getty Images
Among the portraits featured were Middleton's very own, shot by British Vogue photographer Josh Olins for the centenary June 2016 issue.
However, we had definitely spotted this look before—two years ago to be exact. The duchess also sported the dress in 2014 on a royal tour of Australia and New Zealand.
However, that time she pinned her hair half up and wore rounded earring posts and a matching necklace instead of the geometric-patterned jewelry set she wore today. 
Samir Hussein/WireImage, AP Photo/Tim Ireland
The thrifty royal managed to squeeze in a repeat ensemble earlier in the day as well while attending the opening of a Magic Garden children's playground after six years of construction.
For the outdoor occasion, Middleton sported a Michael Kors tweed coat with a flared skirt—the same one she wore in 2014 while attending an Anzac Day remembrance service. 
This time, she swapped out the navy pumps, matching hat and floral pendant previously worn for nude pumps and very few other accessories. 
For a $2,995 coat, it's certainly good for a few wears.