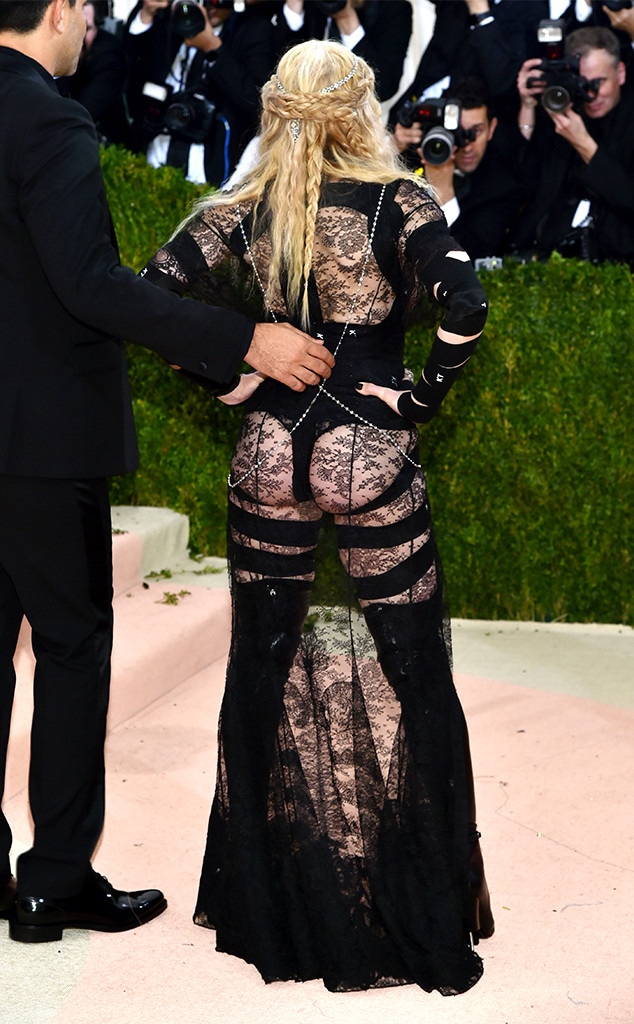 Andrew H. Walker/REX/Shutterstock
Sarah Jessica Parker isn't the only star on the defense when it comes to her Met Gala style.
Madonna, who is no stranger to delivering some shock value, turned heads on Monday night when she stepped onto the high-fashion event red carpet wearing a revealing black lace ensemble by Riccardo Tisci which exposed her breasts and booty.
And now, the singer has taken to social media to explain that her outfit choice wasn't just for the heck of it. It was to make a statement.
"We have fought and continue to fight for civil rights and gay rights around the world. When it comes to Women's rights we are still in the dark ages. My dress at the Met Ball was a political statement as well as a fashion statement," Madonna wrote alongside a photo of herself on Instagram.
"The fact that people actually believe a woman is not allowed to express her sexuality and be adventurous past a certain age is proof that we still live in an age-ist and sexist society. I have never thought in a limited way and I'm not going to start," she continued.
"We cannot effect change unless we are willing to take risks By being fearless and By taking the road leas traveled by. Thats how we change history.
"If you have a problem with the way I dress it is simply a reflection of your prejudice. I'm not afraid to pave the way for all the girls behind me As Nina Simone once said, the definition of freedom is being fearless. I remain Unapologetic and a Rebel in this life and all the others. Join my fight for Gender. Equality!"
Madonna and SJP were both targeted by a fashion blogger on Instagram earlier this week, who claimed the celebs, along with designer Diane von Furstenberg, missed the memo on this year's Met Gala theme.
The Sex and the City star refuted her statement by commenting on the photo with, "
"Got the memo. Always welcome thoughts but I'm a stickler for the theme and pay close attention to what it means. Every year with great consideration, research and conviction. The understanding of man and machine, how they intersect, when and why is what we considered.
"Perhaps you weren't aware of the technology used in the details and embellishments of the design. Or perhaps you simply didn't like what I wore which is completely fine but you can't accuse me of not paying close attention and adhering to the theme. With respect and warmest regards, sj."
And that's all she wrote wore.