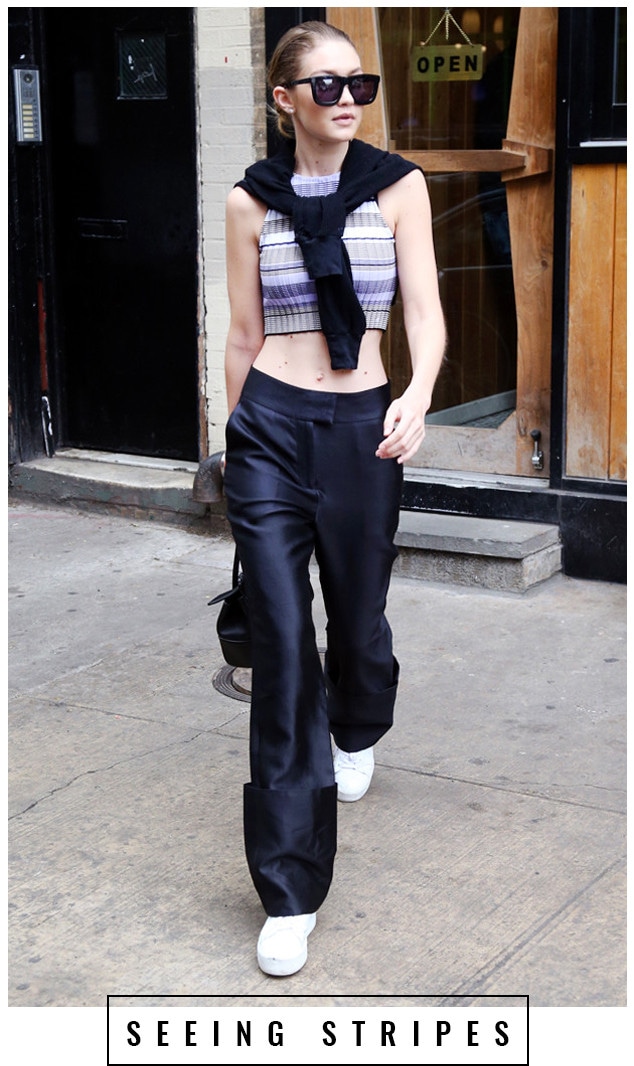 GG/FAMEFLYNET PICTURES
Five crop tops. In nine days.
Gigi Hadid has hundreds of wardrobe choices at her disposal, daily, yet she's made it very clear even models have some sort of uniform. And it's not just any predictable, plain uniform, the woman has a thing for a cropped apparel.
She's paired a crop top with wide-leg satin pants (see the full outfit above—aren't the striped Elizabeth and James tank and BreeLayne trousers amazing?), trousers, skinny jeans, joggers and leggings—all of which look amazing. There also isn't one particular style of top Gigi prefers over others. She's proved everything from a cropped cashmere sweater to a regular jersey tank to an Adidas hoodie can be worked into an outfit. 
Start scrolling for even more inspo.
Said Elatab / Splash News
When you're dealing with baggy, high-waisted trousers like these, it's important to keep whatever's on top tight. An unexpected yet perfectly suitable choice for completing a tailored look like this was Gigi's cropped cashmere sweater. 
Jackson Lee / Splash News
Celebrities, they're just like us (except that they look like this when they grocery shop). Anybody can rock a cotton crop top, but what you should takeaway from Gigi's expert pairing is how you can disguise something so casual to be a part of something more sophisticated. Just toss a duster coat over your outfit, slip on some pointed-toe black booties and you're set.
Ignat/Bauer-Griffin/GC Images
Did she just walk straight off the set of an iPod commercial? Totally possible. The model's cropped hoodie and joggers hit home for so many reasons. How comfortable does this look without feeling schleppy? Put an outfit like this together for an effortless I-just-rolled-out-of-bed look that won't turn heads for negative reasons.
You almost forget she's wearing leggings (specifically made for yoga, thanks to Alo Yoga) because this look is so cool. Athleisure absolutely has a place in your closet just keep the supermodel's style tips in your mind before stepping out in yours. Partner your workout gear with a leather jacket and sunglasses!
Watch:
How to Work Out Like Beyonce