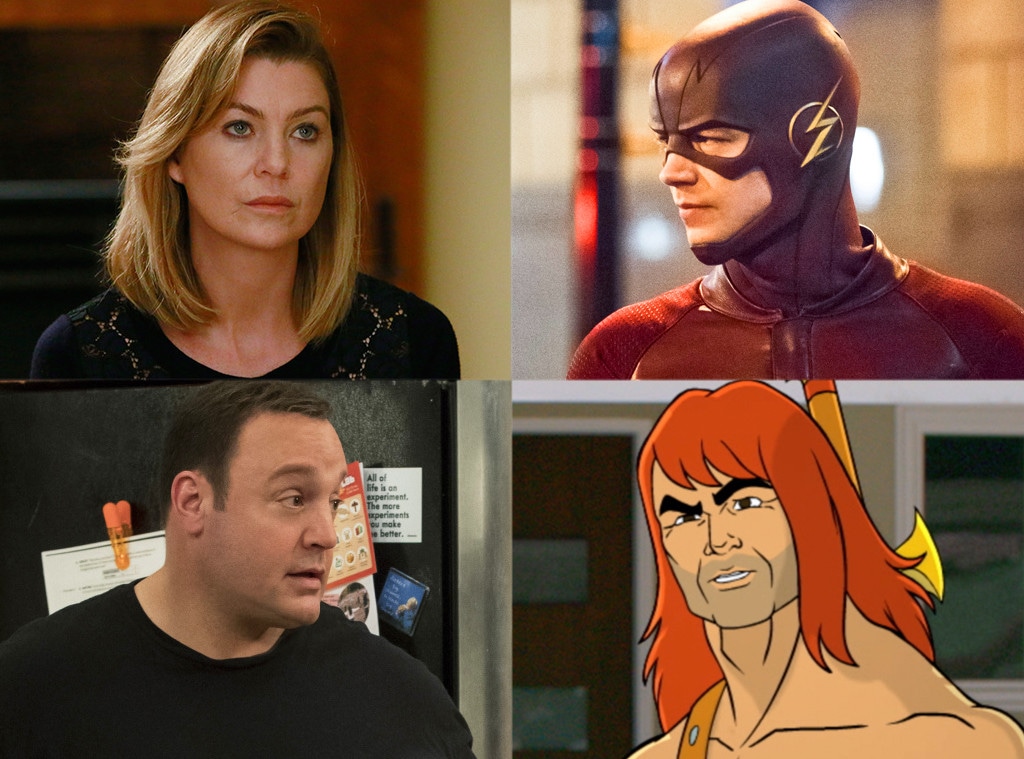 ABC; CW; CBS; FOX
UPDATE: Shortly after publishing, Fox made a change to its fall line-up, which has been noted below.
------
When one TV season ends, another begins, bringing with it a new schedule to obsess over.
The networks have spent the past week unveiling their line-ups for the 2016 fall TV season, which included some buzzy new series that we can hardly wait for (looking at you, Designated Survivor) as well as some major changes for returning shows. Some shows are moving to new nights (see you on Fridays, Crazy Ex-Girlfriend), while some are moving to entirely new networks. (OK, so this really only applies Supergirl's move from CBS to the CW.) And some shows are notably missing from the fall altogether. The struggle while we wait until midseason for Scandal will be real.
Break out your calendar and prepare to plan your life away. Here's the complete fall 2016 network TV schedule:
(Note: Bolded shows represent new series.)
MONDAY
8 p.m.
Dancing With the Stars (ABC) (two hours--performance and results show)
The Big Bang Theory (CBS) (note: moves back to Thursdays at 8 p.m. in October; Kevin Can Wait will take over timeslot)
Supergirl (CW)
Gotham (Fox)
The Voice (NBC) (two hours)
8:30 p.m.
Kevin Can Wait (CBS) (note: Man With a Plan takes over timeslot in October)
9 p.m.
2 Broke Girls (CBS)
Jane the Virgin (CW)
Lucifer (Fox)
9:30 p.m.
The Odd Couple (CBS)
10 p.m.
Conviction (ABC)
Scorpion (CBS)
Timeless (NBC)
TUESDAY
8 p.m.
The Middle (ABC)
NCIS (CBS)
The Flash (CW)
Brooklyn Nine-Nine (Fox)
The Voice (NBC)
8:30 p.m.
American Housewife (ABC)
New Girl (Fox)
9 p.m.
Fresh Off the Boat (ABC)
Bull (CBS)
No Tomorrow (CW)
Scream Queens (Fox)
This Is Us (NBC)
9:30 p.m.
The Real O'Neals (ABC)
10 p.m.
Agents of S.H.I.E.L.D. (ABC)
NCIS: New Orleans (CBS)
Chicago Fire (NBC)
WEDNESDAY
8 p.m.
The Goldbergs (ABC)
Survivor (CBS)
Arrow (CW)
Lethal Weapon (Fox)
Blindspot (NBC)
8:30 p.m.
Speechless (ABC)
9 p.m.
Modern Family (ABC)
Criminal Minds (CBS)
Frequency (CW)
Empire (Fox)
Law & Order: SVU (NBC)
9:30 p.m.
Black-ish (ABC)
10 p.m.
Designated Survivor (ABC)
Code Black (CBS)
Chicago P.D. (NBC)
THURSDAY
8 p.m.
Grey's Anatomy (ABC)
Thursday Night Football (CBS) (all night) (note: The Big Bang Theory, The Great Indoors, Mom, Life in Pieces, and Pure Genius will all join CBS' schedule on Oct. 27, once Thursday Night Football is over)
DC's Legends of Tomorrow (CW)
Rosewood (Fox)
Superstore (NBC)
8:30 p.m.
The Good Place (NBC)
9 p.m.
Notorious (ABC)
Supernatural (CW)
Pitch (Fox) (note: Originally, Bones was set to begin its final season here in the fall. Instead, Fox moved up the buzzy new baseball drama Pitch to fall, pushing Bones into winter and event series Prison Break into spring.)
Chicago Med (NBC)
10 p.m.
How to Get Away With Murder (ABC)
The Blacklist (NBC)
FRIDAY
8 p.m.
Last Man Standing (ABC)
MacGyver (CBS)
The Vampire Diaries (CW)
Hell's Kitchen (Fox)
Caught on Camera with Nick Cannon (NBC)
8:30 p.m.
Dr. Ken (ABC)
9 p.m.
Shark Tank (ABC)
Hawaii Five-0 (CBS)
Crazy Ex-Girlfriend (CW)
The Exorcist (Fox)
Grimm (NBC)
10 p.m.
20/20 (ABC)
Blue Bloods (CBS)
Dateline (NBC)
SUNDAY
8 p.m.
Once Upon a Time (ABC)
NCIS: LA (CBS)
The Simpsons (Fox)
Sunday Night Football (NBC) (all night)
8:30 p.m.
Son of Zorn (Fox)
9 p.m.
Secrets and Lies (ABC)
Madam Secretary (CBS)
Family Guy (Fox)
9:30 p.m.
The Last Man on Earth (Fox)
10 p.m.
Quantico (ABC)
Elementary (CBS)