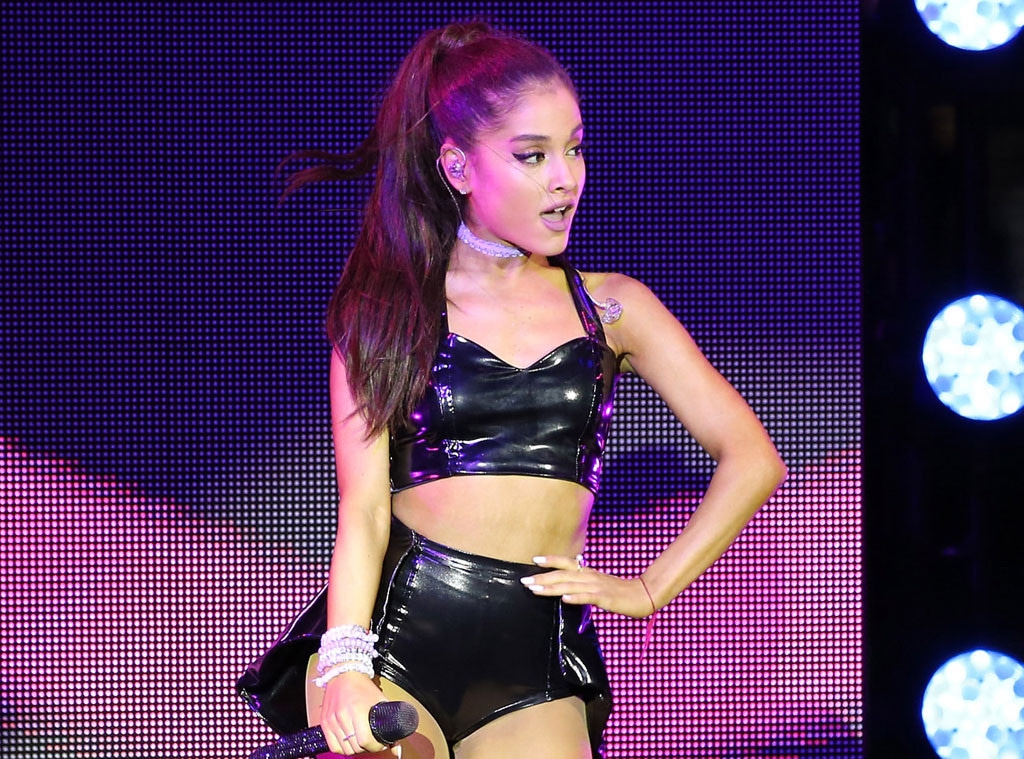 Neilson Barnard/Getty Images
Ariana Grande has acquired quite a few titles throughout her rise to fame: talented actress, exceptional singer, amazing impersonator, dog-lover, ponytail perfectionist and so on and so forth.
But there's one title we'd like to add to that list: Feminist hero. 
The 22-year-old has made it a point to be a voice for empowering women, encouraging gender equality and standing up for what she believes in. Just earlier this week, Billboard released a profile about her in which she made sure to take a moment to express some of the sexism we see in the industry, pointing out why it's an issue and why she refuses to accept it.
And she's done this time and time again. Here are just a few of the ways in which she's earned the title of a feminist hero:
She Demands to Be Recognized For Her Values: During an interview, Ariana was asked about her love life, and she made sure to stand up for herself and remind the world who she is.
"I'm tired of needing to be linked to a guy," she explained. "I'm not Big Sean's ex, I'm not Niall [Horan]'s new possible girl. I'm Ariana Grande."
She further explained her stance, taking to Twitter to write, "What I meant when I said what I said about not being Sean's ex is that I am tired of living in world where women are mostly referred to as a man's past, present or future PROPERTY / POSSESSION," she wrote on Twitter. "I have clearly not been having the boy questions in my interviews lately because I have come to the realization that I have SO. MUCH. MORE. to talk about. I can't wait to live in a world where people are not valued by who they're dating / married to / attached to, having sex with (or not) / seen with...but by their values as an individual…I come from a long bloodline of female activists."
She Refuses to Be Judged by Her Appearance: When a troll criticized Ariana's booty in the video above, she reminded everyone that commenting on someone's appearance is simply not acceptable.
"Ppl are so ignorant sometimes," she wrote. "Stop trying to make people feel badly about their bodies. It's okay to be different ... to be curvy or to be thin. When did it become socially acceptable to comment on what you think is 'wrong' with other people's bodies? We were having fun! Dancing on stage. 'What's she shaking tho???' I'm shaking my pretty, cute, petite ass next to Nicki's pretty big booty. Both are f---ing awesome. How about we respect people's body boundaries and encourage each other to feel like a babe no matter how they are? That [would] be nice. So tired of watching everyone try to tear each other down."
When another Twitter user said he would take Ariel Winter over Ariana Grande because she's a "stick" and he prefers "curvy" women, she reciprocated her opinion yet again: "We live in a day and age where people make it IMPOSSIBLE for women, men, anyone to embrace themselves exactly how they are. Diversity is sexy! Loving yourself is sexy! You know what is NOT sexy? Misogyny, objectifying, labeling, comparing and body shaming!!! Talking about people's body's as if they're on display ASKING for your approval / opinion. THEY ARE NOT!!!! CELEBRATE YOURSELF. CELEBRATE OTHERS. The things that make us different from one another make us BEAUTIFUL. BODY BOUNDARIES. LOVE LOVE LOVE ONLY."
Alfredo Flores/V Magazine
She Encourages Women to Embrace Their Sexuality: In discussing the public's skewed perception of a woman and a man's ability to express their sexuality, she took to Facebook to write, "When will people stop being offended by women showing skin / expressing sexuality? men take their shirts off / express their sexuality on stage, in videos, on instagram, anywhere they want to… all. the. Time. The double standard is so boring and exhausting. with all due respect, i think it's time you get your head out of your ass. women can love their bodies too!!"
Chatting with Billboard, she also said, "If you're going to rave about how sexy a male artist looks with his shirt off, and a woman decides to get in her panties or show her boobies for a photo shoot, she needs to be treated with the same awe and admiration. I will say it until I'm an old-ass lady with my tits out at Whole Foods. I'll be in the produce aisle, naked at 95, with a sensible ponytail, one strand of hair left on my head and a Chanel bow. Mark my words. See you there with my 95 dogs."
She Does Not Have Time for Ignorant Assumptions: During a radio interview, Ariana was asked to choose between her cell phone or makeup, and you can visibly watch her astonishment over such an ignorant question.
"Is this what you think girls have trouble choosing between? Is this men assuming that that's what girls would have to choose between? You need a little brushing up on equality over here," she retorted. "I have a long list of things I'd like to change…I think, judgment in general. Intolerance, meanness, double standards, misogyny, racism, sexism. You know, all that s--t. There's lots we've got to get started on. That's what we need to focus on. We've got work to do."
She'll Never Be Afraid to Stand Up for Women's Rights: While chatting with Carson Daly on Amp Radio, she was asked her opinion on Kesha and Dr. Luke, and she did not back down in her support of the singer.
"The incredible double standard that we [women] face on a daily basis, in the industry and just in the world, it's shocking. I would be so amused, and pardon me if this comes across as sexist, but I don't think a male artist would be in this position right now," she admitted. "Sorry. If i'm speaking about something that I'm passionate about, I'm willing to take the brunt for fighting in what I believe in and my fellow women are definitely something that I will always be one of the first to speak up about."
She's Also Not Afraid to Call Out Other Women for Encouraging Sexism: Bette Midler criticized Ariana for a racy photoshoot with The Guardian, saying, "You don't have to make a whore out of yourself to get ahead."
Ariana responded like a genius, "Bette was always a feminist who stood for women being able to do whatever the F they wanted without judgement! Not sure where that Bette went but I want that sexy mermaid back!!! Always a fan no matter what my love."
She Knows How to Handle the Topic With Grace...And Some Humor: What makes Ariana a great feminist is that she knows the seriousness of the subject, but she also knows how add some lightness when appropriate (because nobody can take themselves too seriously). During her recent appearance on Saturday Night Live!, she joined up with a few comediennes for "This Is Not a Feminist Song," giving us quite the giggle while still managing to promote the feminist movement.