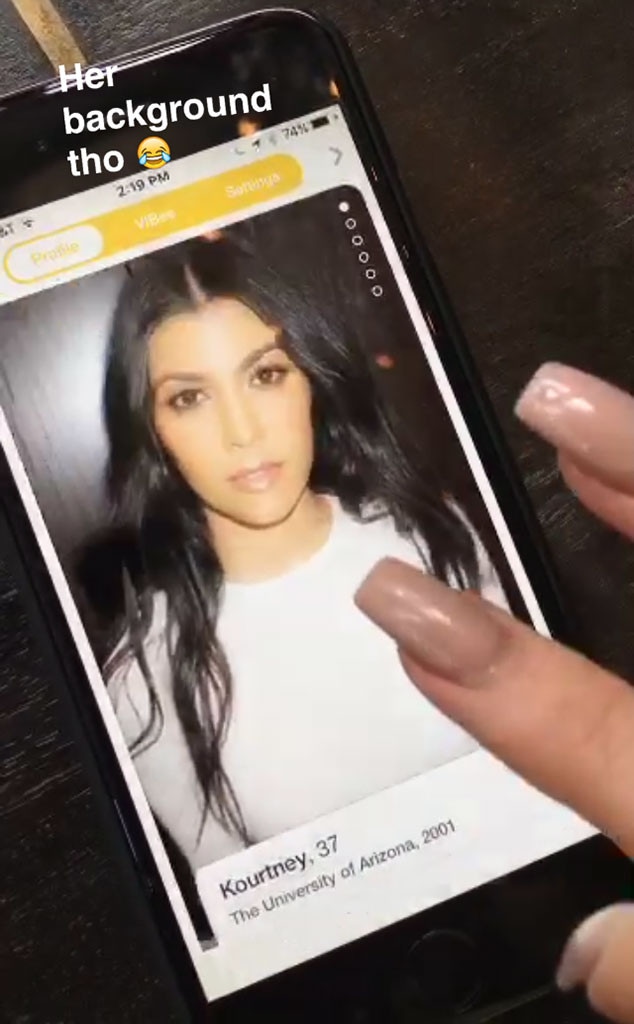 Kylie Jenner / Snapchat
While it's unclear if Kourtney Kardashian is ready to date again, almost a year after she and longtime partner Scott Disick called it quits, sister Kylie Jenner has taken the matter into her own hands.
She has created a profile for her 37-year-old sister and Keeping Up With the Kardashians co-star on Bumble, a dating app and network that works like Tinder, in the sense that people swipe right on whoever strikes their fancy. However, on Bumble, only women can initiate conversations with their matches.
Kourtney tells E! News exclusively, "That's what sisters do but it's cool that the women are in charge. It's a great idea."
Kylie, 18, who recently split from beau Tyga, posted videos of her handiwork on her Snapchat Friday.
"I have Kourtney's phone, I know her password," Kylie said. "Should I go through her text messages and read them to you guys?"
"So, I think she's gonna kill me if I read her text messages, so I think I think I'm gonna set her up for Bumble," she later added. "I think she needs to be on Bumble."
Kylie first turned on Kourtney's iPhone, which contained a photo of The Addams Family's Wednesday Adams as her wallpaper, and showed her sister's new dating profile. It reads, "Kourtney Kardashian, 37," her alma mater, the University of Arizona, and the year she graduated, 2001.
"Hey Kourtney," Kylie told her sister.
"Did you take my phone?" Kourtney asked.
"I set you up for a dating profile," Kylie said.
"What?" Kourtney replied, adding, "Wait, what is this? What's happeneing...these are the photos you picked?"
Kylie had includes close-up pics of her sister as well as a mirror selfie shot showing her sporting a lace cream crop top and matching pants and an image of her sitting on a furry armchair in a strapless black mini dress and matching thigh-high boots—a photo she had posted on her own Instagram page in April. 
"I just gotta take care of my big sister," Kylie said.
"You guys, Kylie is crazy," Kourtney said on her own Snapchat.
Kourtney and Scott, 32, broke up last July. They had begun their relationship in 2006 and are parents to sons Mason Disick, 6, and Reign Disick, 1, and daughter Penelope Disick, 3.
Scott himself has also moved on since he and Kourtney broke up. Several months ago, he dated Swedish model Lina Sandberg. A source close to him later told E! News the reality star is not pursing a relationship with her and is "focused on the kids and getting himself together."
Scott later began hanging out with another model, Christine Burke, 20. The two spent time together in both Las Vegas and Mexico.
"Scott likes hanging out with Christine because she's different than other girls he's been with in the past," a source told E! News. "He thinks she's innocent and down to earth." 
Months after her and Scott's split, Kourtney stepped out with family friend Justin Bieber, sparking romance rumors. She said on The Ellen DeGeneres Show the two are friends.
On an episode of Keeping Up With the Kardashians star that aired last December, Kourtney's mother Kris Jenner asked her if she is ready to start dating again.
"I'm not a dating person," Kourtney replied. "I did the dating thing before Scott for like a minute and it was so not for me."
Her sister Khloe Kardashian, 31, told E! News in January Kourtney is "not thinking about" dating "yet."
"She's so all about her kids, so all about, you know, 'Let's get also Scott healthy and in a good spot,'" Khloe said.
Scott, who has battled substance abuse over the years and has been to rehab before, began a new treatment program last summer. 
Kourtney and Scott have reunited several times, mainly with their kids, since their split and he has remained friendly with the Kardashian and Jenner family.
Scott has been partying at the Cannes Film Festival over the past week with his friends. He has also hung out with Kris, 60, Tyga, 26, as well as with sister Kendall Jenner, 20.
"Scott and Tyga are friends and even though Kylie and Tyga aren't together right now that's not going to impact their friendship," a source had told E! News.
Watch Keeping Up With the Kardashians on Sundays at 9 p.m. on E!