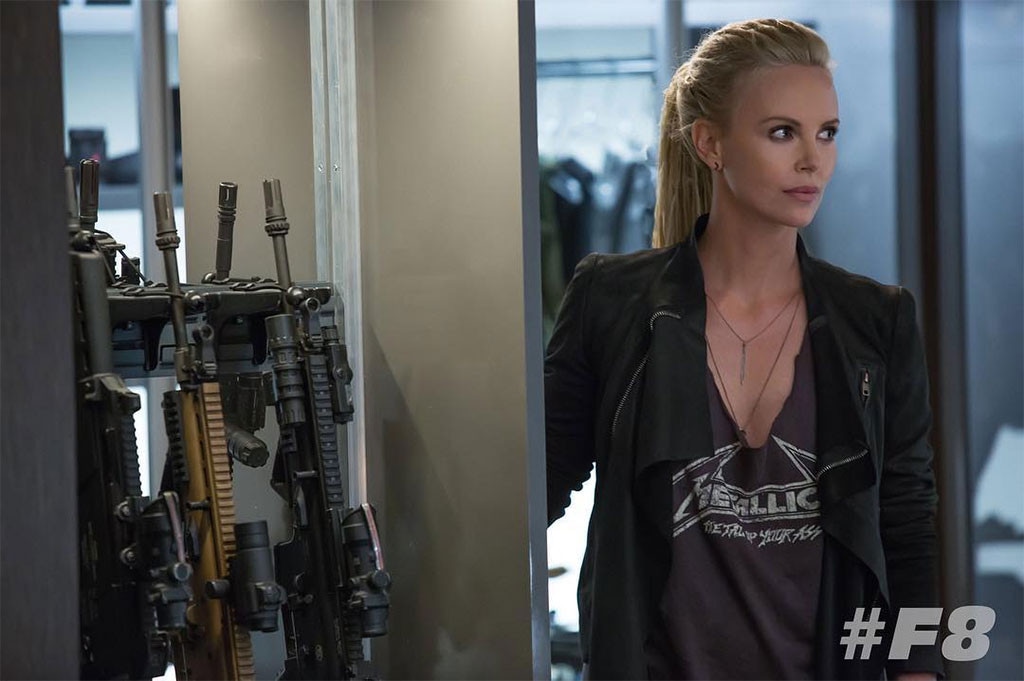 Universal Pictures
In Fast 8, the newest Fast & Furious sequel, Charlize Theron gets ready to...rock?
On Friday, Universal Pictures released on social media the first photo of the 40-year-old actress in character. Theron, who is making her debut in the hit action movie franchise, appears beside a display of machine guns sporting some badass hair extensions tied up in a ponytail, a black leather jacket over a black Metallica T-shirt that reads, "Metal Up Your Ass." (You can purchase the same shirt on the heavy metal band's website for $22.99.)
In Fast 8, Theron plays a character named Cipher.
"Our crew has faced former military, mercenaries and more," reads the photo caption. "But they've never come across anyone like Cipher."
Theron had told E! News' Zuri Hall that unlike the veteran cast, her character does not do much driving in the film.
"I feel like that gang's got the driving, like, down," she said. "Like, they have, like, a really good thing going. I don't know if I need to step in in that department. I might have to step in in a different department." 
Watch:
Charlize Theron Spills on Joining "Fast 8" Movie
Fast 8 began production last month in Cuba. The movie stars returning cast members Vin Diesel, Michelle Rodriguez, Tyrese Gibson, Ludacris and Dwayne Johnson as well as franchise newcomer Scott Eastwood. No details about the plot have been released.
Fast 8 marks the first Fast & Furious film filmed in its entirety after veteran star Paul Walker's 2013 death.
"Paul used to say that 8 was guaranteed and, in some ways, when your brother guarantees something, you have to make sure it comes to pass," Diesel said backstage at the MTV Movie Awards. "So, if fate has it — fate, F8 — then you'll get it. Furious 7 was for Paul; 8 is from Paul."
Fast 8 is set for release on April 14, 2017.