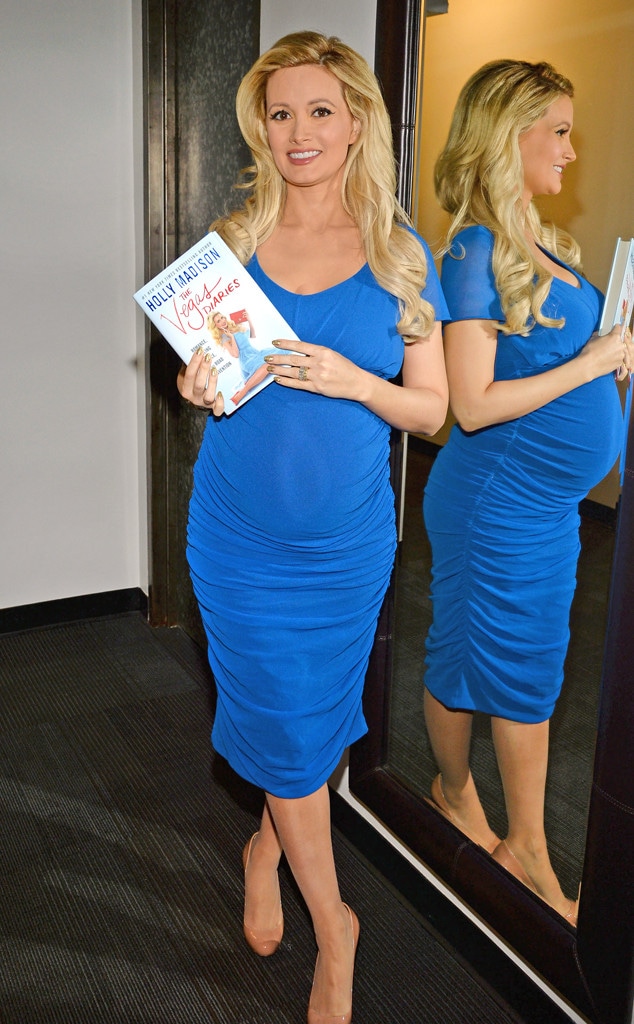 Michael Simon/startraksphoto.com
Regrets, Holly Madison's had a few.
In a recent Reddit AMA session, the 36-year-old reality TV star and former Playboy model was asked about two major topics she is most associated with, despite attempts to reinvent herself: Her ex Hugh Hefner, 90, and the Playboy Mansion.
In her 2015 book Down the Rabbit Hole: Curious Adventures and Cautionary Tales of a Former Playboy Bunny, Madison wrote about being one of Hef's live-in girlfriends, an experience she portrayed as mostly negative. She also talked about her adventures in Las Vegas, where she performed as the headliner of the show Peepshow. Madison writes more about her time with Hef and her Vegas experiences in her new new book The Vegas Diaries.
Check out seven things we learned about Madison in her Reddit AMA. 
1. Don't Ask Her About Kendra Wilkinson-Baskett: During her time at the Playboy Mansion, she also lived with fellow Playboy models and Hef's other girlfriends Kendra Wilkinson-Baskett, 30, and Bridget Marquardt, 42.
Madison and Wilkinson-Baskett have been embroiled in a feud for about a year, namely over things Madison wrote in her first book, which portrays the latter mostly negatively. Madison recently indicated she has no interest in forging a friendship with Wilkinson-Baskett, then went on a vulgar Twitter rant against her. She also said she is "protecting Hef," herself and "the things that actually made us famous."
During her AMA, Madison was asked, "What's up with you and Kendra?!" She did not respond.
She did, however, reply to another question the user asked about her time on reality TV. She, Wilkinson-Baskett and Marquardt starred on The Girls Next Door and she later received her own spinoff, Holly's Word.
"Oh, I definitely enjoyed the opportunity at the time!" Madison wrote. "It was an amazing opportunity for me and I had a lot of fun. And for many different reasons go into it—a lot is in Down the Rabbit Hole, but it's not really something I'd want to do now. I think reality TV was more a fun thing for my twenties."
Elayne Lodge/Playboy Enterprises
2. She's Not Fond of Talking About Hugh Hefner Either: Madison, who also criticizes Hef in her new book, was asked about news of the Playboy Mansion being put on the market. If sold, Hef would still remain there for the rest of his life.
"Uh—I'm not really surprised by it," Madison said. "Um, I don't know, I'm kind of ambivalent toward it."
She also confirmed to the user she and Hef had only met a few times before she moved into the Mansion, which was not unusual with regard to his live-in girlfriends. Madison details this in her first book as well.
3. She recalls no favorite room at the Playboy Mansion: "Ummm—you know, I didn't really have one," Madison wrote in her AMA. "I was more of an outdoor girl!"
In Down the Rabbit Hole, Madison criticizes some of the Playboy Mansion's decor, saying Hefner "always insisted" on having white carpets in his girlfriends' bedrooms, "despite all the dogs constantly relieving themselves everywhere," and adding that they also contained "mismatched, beat-up furniture." 
Elayne Lodge/Playboy Enterprises
4. She would not repeat her Playboy experience: When asked if she would choose to be a Playboy Bunny again, if she could go back in time, Madison said, "That's a complicated question because I like where I ended up in life, and I think the mistakes you make, you learn lessons for a reason. But if I had to actually go through it all again, I think I would actually just go work for Disney or something, because I'm exhausted! I wouldn't want to do it all again."
In Down the Rabbit Hole, Madison had talked about how she felt controlled by Hefner at times when they were together. In her AMA, she was asked what she would tell her younger self.
"I'd tell myself not to be scared to stand up for myself, and don't be too much of a people pleaser," she wrote. "I think that was one of my fatal flaws—I was always afraid to step out of line, or of 'getting in trouble,' so—I wasn't as fearless as a I should have been."
5. What ever happened to her dogs? When Madison lived in the Playboy Mansion, she had four of them.
"Well, when I left, I was living between a hotel and between a condo that I wasn't at very often, so my parents were kind enough to take them," she said in her AMA. "Because I really didn't have the proper yard or the things to make them happy. And especially being in such close quarters in the condo, I was really worried because two my dogs were really, really loud and they were the kind of dogs that wouldn't stop barking when you left the house. At my parents' house, they had a HUGE backyard and everything they could have wanted."
Mike Windle/Getty Images for The Hollywood Christmas Parade
6. She Wants to Have More Kids: Madison is currently pregnant with her and husband Pasquale Rotella's second child, a boy. They are parents to daughter Rainbow Aurora Rotella, 3.
When asked if she wants to have more children, Madison said in her AMA, "Yea! I think so—definitely. I'm just taking it slow, and I want to see how this baby is heh and make sure I don't take on more than I can handle, but my husband and I probably want more kids, most likely."
7. The Force Is Strong With Her: Madison has over the years met a slew of celebs, including during her time at the Playboy Mansion. She writes in her first book that at her first party there, famous guests included Leonardo DiCaprio, Cameron Diaz and Jim Carrey.
When asked who is the most famous person she was surprised/excited to get to meet over the years, Madison said, "Oh, that's a really good question! Probably George Lucas!"