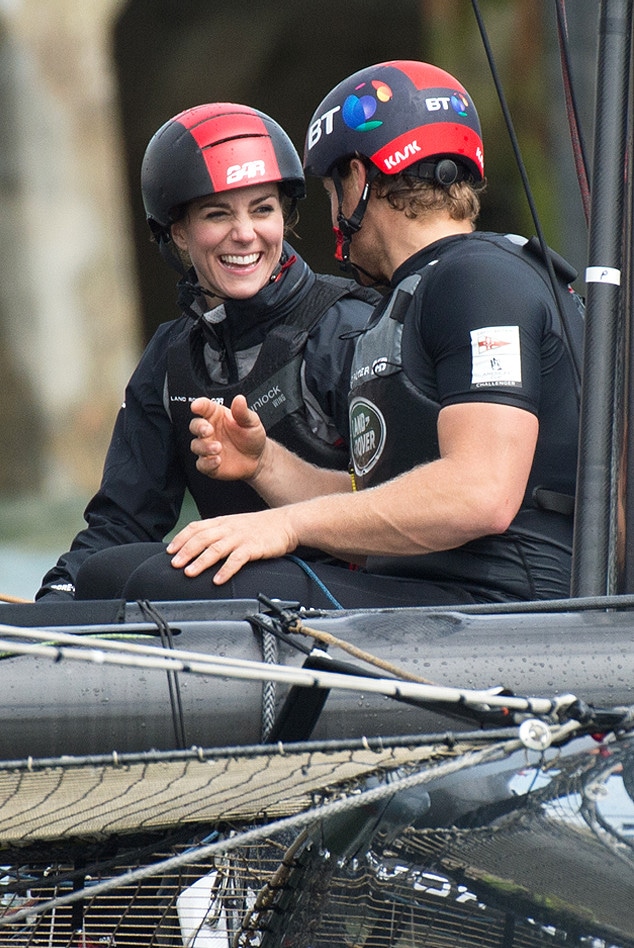 Zak Hussein - Corbis/Corbis via Getty Images
Kate Middleton has no qualms about getting active!
The Duchess of Cambridge slipped off her heels and midi-skirt on Friday and hopped into a helmet, vest and windbreaker as she took on yet another royal adventure. She joined the Land Rover BAR team on board their boat and took part in a training circuit on the Solent Strait during a visit to Ben Ainslie Racing in Portsmouth, England.
As is typical for Kate, she managed to make the task look easy, smiling and laughing all the way and stunning us with her breezy beauty. 
Earlier in the day, Kate enjoyed Sir Ben Ainslie's sailing charity, the 1851 Trust, and helped launch a project that encourages more young kids to try the sea sport. A patron of the trust, Kate met with different children and then opened the new Tech Desk Education Centre, which will showcase sailing's innovation, technology and sustainability.
The daylong event got us thinking about all the other sporty moments Kate has experienced, making us realize she just might be the most active royal yet.
For example, she most recently showed off her archery skills while visiting Bhutan and proved why she'd make the perfect heroine in any Hollywood film (move aside Jennifer Lawrence). Before that, she's proven to be quite talented at field hockey (in heels, nonetheless!), cricket and even boxing—yes, throwing punches and all! 
Check out all of her sportiest moments in the gallery below!