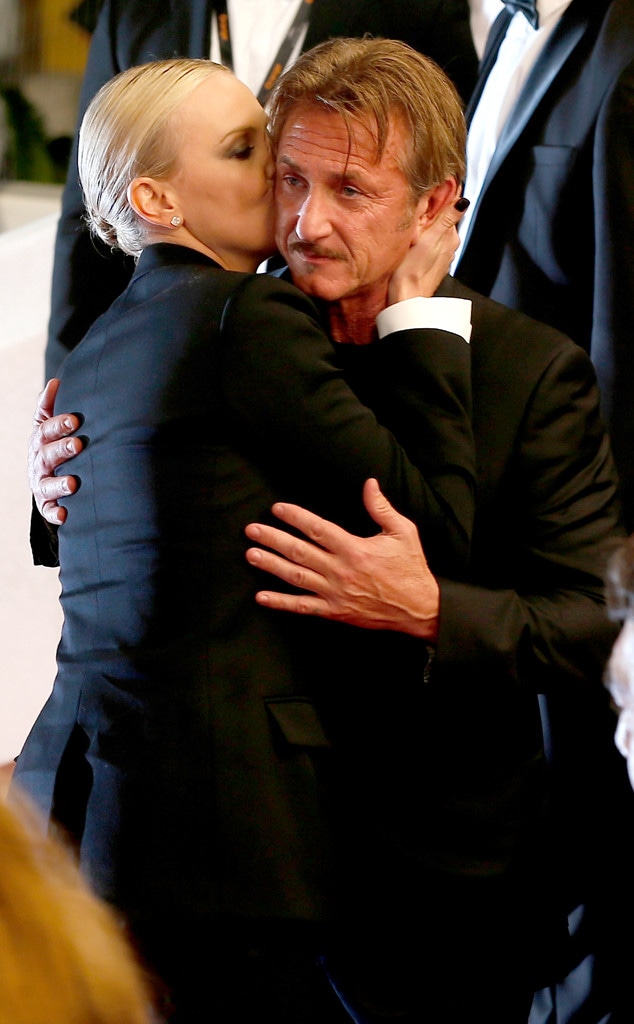 Tristan Fewings / Stringer
Breaking up is never easy, and it's even trickier when you have to work with an ex after you've split.
Imagine being an actor, though, and instead of just having to see your former flame on a regular basis, you have to pretend to still be in love with them on camera! Charlize Theron is luckier than a lot of stars in that respect. She worked with her ex Sean Penn on The Last Face, but in their case, he was working behind the camera directing. Filming is over now, but Charlize and Sean's obligations to the film aren't. They're currently promoting The Last Face at the 2016 Cannes Film Festival.
Initially, it seemed the former couple made every attempt to have as many other people as a buffer between them as possible. On Friday, however, after seemingly avoiding each other throughout the day, Charlize and Sean shared a polite kiss. 
It's called professionalism, people, and the show (and promotional tour) must go on! These two are not the only actors who have had to put their personal feelings aside in order to get the job done...
Seth Browarnik/startraksphoto.com
Gossip Girl stars Penn Badgley and Blake Lively dated and broke up both onscreen and offscreen during their time on the show, and their real lives didn't always match up with their characters'.
In a 2015 interview with Bravo's Andy Cohen on Watch What Happens Live!, Penn described Blake as both his best and worst onscreen kiss. "I'll say Blake [was the best onscreen kiss] because we actually had a relationship at the time," he said. "And worst? Maybe Blake after we broke up."
One Tree Hill stars Sophia Bush and Chad Michael Murray continued working together on the CW show during and after their divorce.
"At the end of the day, we're grown-ups, and I actually think it's interesting that when people split in a way that's unpleasant, they usually just go on quite literally hating each other-or the person in my situation hates the other person, whatever-but when you have to work with somebody for another half a decade, you kind of have to deal with it," Sophia later revealed on Watch What Happens Live! "Because for me, at the end of the day, my job is my priority."
Deana Newcomb/ Summit Entertainment
Quantrell D. Colbert/The CW
Nina Dobrev and Ian Somerhalder continued to work together on The Vampire Diaries after their 2013 breakup and even remained friends. Multiple sources confirmed to E! News the exes had no issues working together after their split.
As Nina told E! News, "If you're with someone for that long, obviously, there's the qualities in them that you enjoy, and it doesn't change because you're not together anymore...I have an enormous amount of respect and love for him and everyone. It doesn't change. It shouldn't. Otherwise, why were you with them?"
Michael C. Hall and Jennifer Carpenter played siblings on Dexter, but in real life, they got married and divorced during their time working on the show.
"Has it changed anything? Yes," Jennifer later told E! News. "[But] he is and always will be one of my best friends in the world. And just because the marriage ended doesn't mean the love isn't still there. We take very good care of each other and our cast, we always have, and I'm just really lucky."
The O.C.'s Rachel Bilson and Adam Brody dated from 2004 to 2006, but continued to play Summer and Seth through 2007.
Admittedly, there are times we wish these two were still together IRL, but both have happily moved on; Adam is married to Gossip Girl's Leighton Meester and has a daughter, Arlo, while Rachel and longtime love Hayden Christensen are the proud parents of Briar Rose.
Rich Fury/Invision for Alzheimer's Association/AP Images
Kaley Cuoco and Johnny Galecki had a secret two-year romance while working together on The Big Bang Theory. "We're dear friends, still," Johnny told CBS Watch! magazine back in 2013. "Kaley's not just an ex, she's a part of my life."
They really do seem friendly, too. Kaley, who is now dating equestrian Karl Cook, posted chummy photos with her ex earlier this year at the 2016 People's Choice Awards with the hashtag #NotDating.
Gotta keep those lines clear.