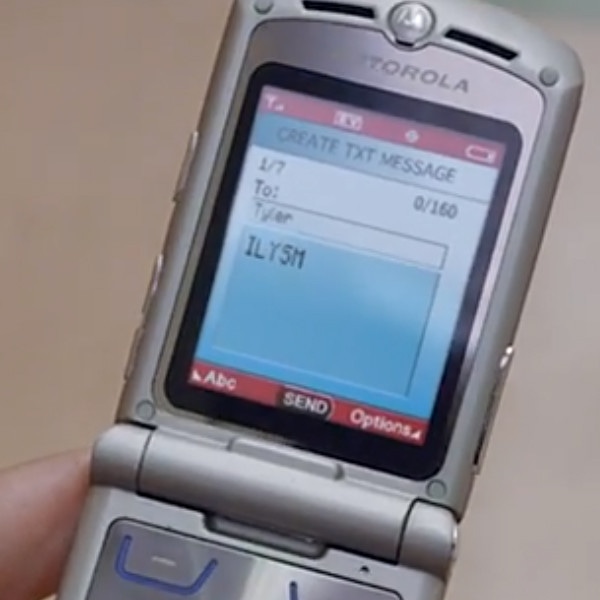 Motorola
Oh HAY Moto! We wish we could write this entire post in T9, but we would be here until Juicy Couture pants became fashionable again. Judging from this amazing announcement, we doubt that event is very far from reality, however. Okay. Here we go. *Yells into megaphone:* THE MOTOROLA RAZR IS COMING BACK. WE REPEAT! THE MOTOROLA RAZR IS COMING BACK. Well, maybe. At least it appears that way according to the commercial they posted to YouTube.
If you went to high school or college in the '00s (and didn't yet have a Blackberry or Sidekick), you had a flippin' Razr. Let's be real, you probably had the pink one just like Paris Hilton, too. You had dreams of getting it bejeweled with rhinestones and could send a text with your eyes closed. Those days have returned, y'all! The Razr has risen, and the commercial is so full of youth angst it hurts.
The music, the emo kid, the EVERYTHING. We'll calm down now, sorry. Seriously, we don't know what's better, the new commercial, or the old school one below it. Side note: is Adele's flip phone secretly responsible for this whole thing? Something to ponder, indeed. 
Moto's YouTube page simply states, "Flip back to the Razr days of yesteryear and get ready for the future." What the frick does that even mean!? Engadget says the news will be unleashed on June 9, and the device will most likely be backed by Android. You can't just make a bunch of nostalgia-soaked millennials mope around until June, Motorola. Ya just can't! What's next? You about to tease us with a new Sidekick too? How about Dunkaroos? You gonna bring those back? Ya gonna reunite Tom DeLonge with Blink-182? Huh? Huh!?
If they can bring back the Razr, they can do anything. Work your magic Motorola, and don't leave us hanging. We want our Razr's back, and we want them now.