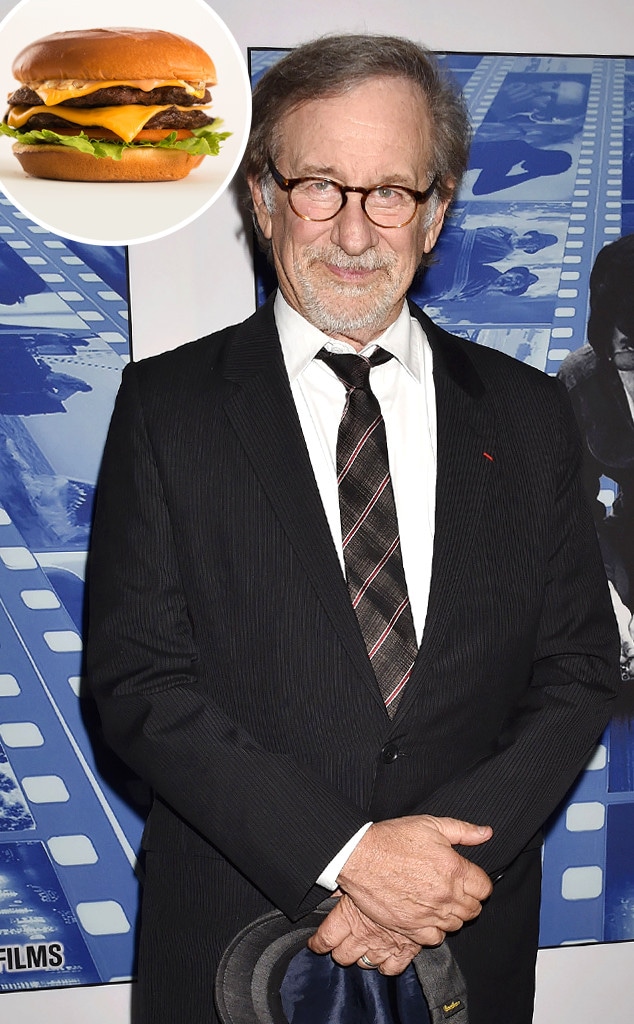 Jeffrey Mayer/WireImage; Carl's Jr.
Carl's Jr.'s "SpielBurger" is a no go.
Steven Spielberg issued an official statement telling the fast-food chain to "cease and desist" in a video shared on Twitter.
"It has recently come to my attention that Carl's Jr. wants to rename their charbroiled sliders 'SpielBurgers' and they're pretty good, but I'm passing," the producer and director announced, officially ending the chain's publicity campaign.
The Ready Player One director's statement comes after the team at Carl's Jr. revealed that they would honor the "legendary director" by renaming their charbroiled sliders, despite not obtaining his approval. In their words, Spielberg "hasn't signed off yet, but we assume he's cool with it."
In their quest to have Spielberg sign off on the use of his name, the company brought burgers to the red carpet and even Spielberg's offices at Amblin Entertainment.
But alas, their hard work did not pay off, with the director telling them, "You can't do it — sorry, guys."
Following Spielberg's video, a representative for Carl's Jr. told The Hollywood Reporter, "SpielBurgers are not a menu item at Carl's Jr. locations. This was a social stunt from the brand to try and get the attention of Spielberg and his team to celebrate the launch of Ready Player One."
At the end of the day though, the fast-food chain did end up getting some good publicity from the stunt, so maybe not all was lost.